Olive & June Teams Up With Megababe For An Epic Collab
It has all your summer essentials.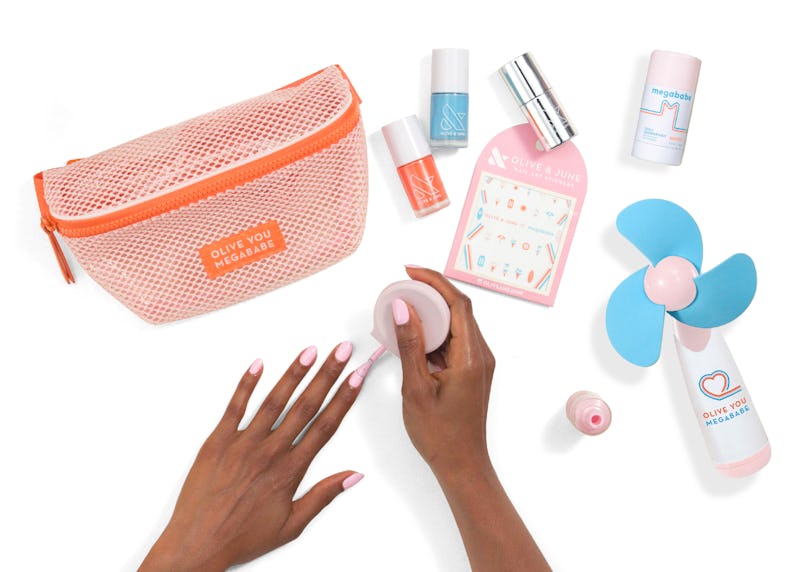 Olive & June
Summer may be a fun time to wear monochrome minimalist 'fits and play around with your manicure and hair color, but let's face it: the season can be so uncomfortable. The oftentimes oppressive heat can leave your pits, thighs, and underboobs in a perpetual state of stickiness. And now that you can finally hang out outside, you'll want to have on-the-go beauty essentials ready to take on the humidity. Thankfully, Olive & June and Megababe have joined forces to launch the coolest collab.
Say hello to the Olive & June Olive You Megababe Set. It includes all the summer must-haves you need and more: a fanny pack (with a waistband that's extendable up to 48"), mini fan, nail art stickers in extended sizes, a trio of nail polishes (Megababe's signature bright blue, a poppy orange, and a rosy pink), a glossy top coat, and a Megababe Rosy Pits Mini Daily Deodorant.
Since both brands have inclusion and comfortability at their cores, founders Sarah Gibson Tuttle and Katie Sturino knew they had to link up. "When we got on the phone for the first time, we both knew there's something really special to be done between our two brands," Gibson Tuttle tells Bustle via Zoom. "We started talking and the team asked, 'what's your dream?,'" Sturino adds with enthusiasm.
Sturino's first dream was to add a fan to the set (it's her favorite product of the bunch) to use when "it's hot from all directions." Then, there's the mesh fanny pack — an iconic '90s favorite, reimagined in a cheery color combo. "I don't think there are two better colors than that orange and pink together," Gibson Tuttle says. "The fact that it's size-inclusive is our greatest dream realized."
The nail art stickers in extended sizes are a particularly important addition to Sturino, who has a clubbed thumb. "It's always weird when I'm doing nail art because nothing ever fits on it," Sturino says. "But this [decal] fits. They made stickers for me and everyone out there with different sized hands and nails."
Ultimately, Sturino and Gibson Tuttle also took the opportunity to bring their two communities together. In May 2021, they held an open casting call in New York City — and surprised everyone who showed up with a spot in the campaign (see more of that below).
The Olive You Megababe Set costs $44 and is available starting today on Olive & June and Megababe's websites.