How To Nail Pamela Anderson's Updo, Straight From A Celeb Hairstylist
Kim K has been wearing the nostalgic style nonstop.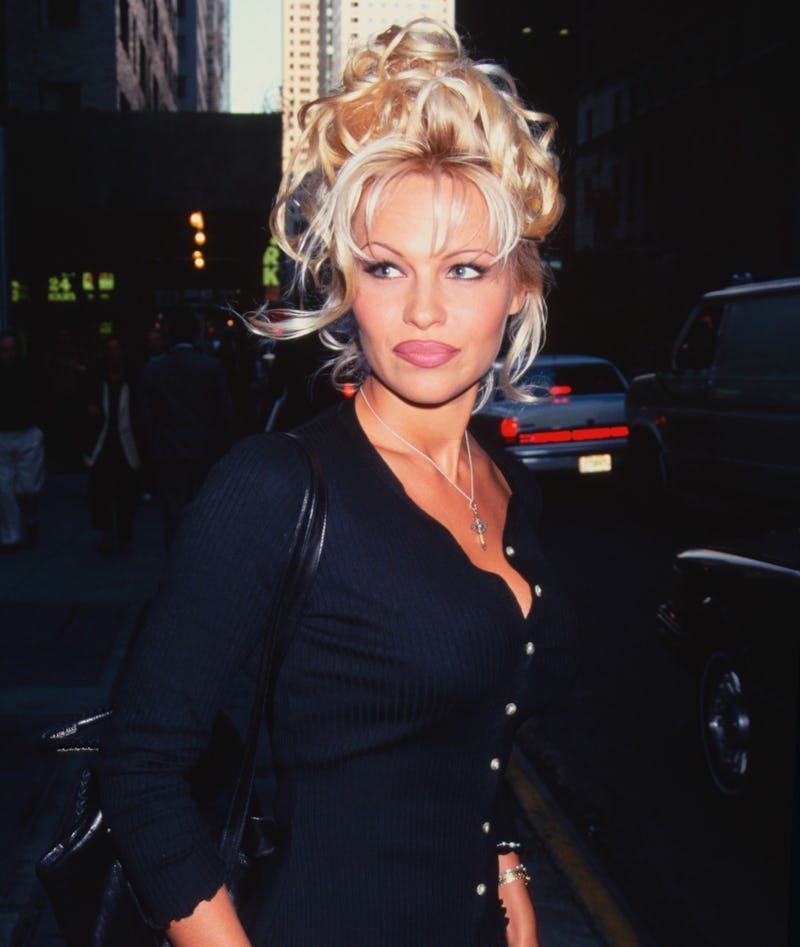 Mitchell Gerber/Corbis Entertainment/Getty Images
From more casual Baywatch moments with her bleach blonde tresses in a beachy updo, to a more recent modern revival of her nostalgic glam at the premiere of her Netflix documentary Pamela, a love story — Pamela Anderson found her signature makeup look and hairstyle early in her career (and remains a complete and utter icon in every sense of the word, in part because of it).
Amidst her personal struggle of reopening old wounds thanks to Hulu's Pam & Tommy (which she had no hand in), younger generations have in turn become more privy to the pop culture phenomena that is Anderson. And as recent months have serendipitously become the perfect moment to finally speak her truth through her own lens by way of a poetry-filled memoir and beyond, countless A-listers beauty lovers alike have taken to the actor and advocate's approach to life, beauty, and glamour. Namely, her voluminous, effortlessly tousled updo has been a go-to for Kim Kardashian as of late.
Cynthia Alvarez — a celebrity hair guru who has worked with the likes of Shakira and Becky G and Biolage brand ambassador — says this of the #PamCore updo's triumphant return: "I think we are in a place where fashion and beauty is so high maintenance and filtered that the minimalism of the '90s is appealing to younger generations now. Trends always make their way back around."
Below, Alvarez shares tips on recreating Pam Anderson's sultry updo.
How To Recreate Pamela Anderson's Iconic Updo
Step 1: Go For Serious Volume
Whether her hair is up or down, one thing is for certain: Anderson is known for her enviable volume. Alvarez notes that it starts with your wash routine: "Firstly, you want to start by cleansing your hair using a volumizing system. [I recommend] Biolage's Volume Bloom Shampoo and Conditioner."
For that '90s blowout moment, she explains: "Blow dry using a round ceramic brush or a blow dryer brush and lift at the roots." Personally? I achieve a lot of extra volume on my thin hair by blowing my strands in every direction, and even upside down for some added lift. Those with curls and coils can use a blow dryer diffuser to enhance their hair's natural curl pattern (all while creating that voluminous vibe).
Going for more of a grunge vibe? Alvarez explains: "This style looks fresh and super bouncy on clean hair. It will begin to morph into sexy grunge after day two once the oils and products begin to weigh the hair down."
Step 2: Add Some Extra Curls
Once your hair is fully dried and filled with a whole lot of bounce, it's time to give yourself some curls (if you don't have them naturally, of course).
"Create barrel curls using a curling iron," Alvarez instructs. Once your locks have cooled off a bit, gently begin to brush out curls with your fingers for a tousled appearance. Adding some texture spray or a hint of hair spray will give your style some extra hold.
Step 3: Create A Messy Top Knot
Next, Alvarez says to pull your hair into a ponytail, leaving your bangs and face-framing pieces out. When you are halfway through wrapping the elastic around the base, create a top knot with the curled ends towards the front so it looks a bit messy and deconstructed.
Step 4: Deconstruct & Secure
Now that your bun is in place, it's time to enhance that low-key look. Alvarez suggests "pulling apart the bun in an effortless way" if it looks much too neat.
Grab a few bobby pins and play with the curled ends, pinning some in place around the bun with with the curled ends still loose — et voilà.
TikTok's #Pamcore Updo Tips For Different Hair Textures & Lengths
Need a visual? Check out some TikTok tutorials that may work for you.
For those with curly and coily hair, the key is some expertly placed bobby pins to create the exact silhouette you want.
If you have shorter hair, this technique will allow a lot more of your curled ends to be out of the bun.
Hair on the thin side? Try adding in a wefted extension for some added volume.