Pavise Skin Care Is Changing The Sunscreen Game
Founder Sophie Bai, an MIT and Harvard-educated scientist, chats with Bustle.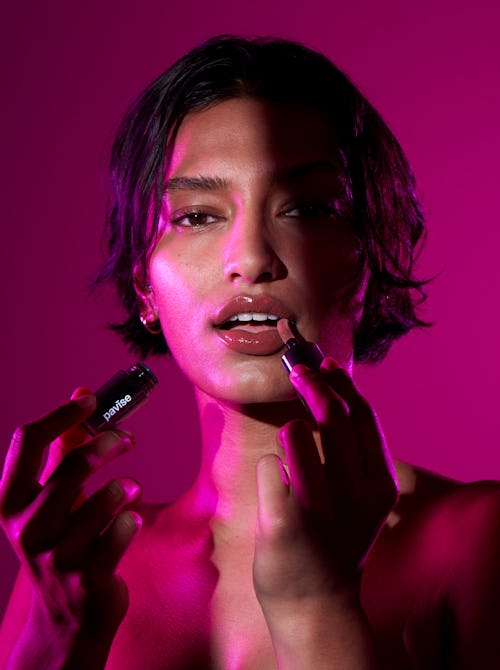 Pavise
Even though sunscreens have gotten noticeably better in recent years, Sophie Bai, an MIT and Harvard-educated scientist, felt that they still didn't quite hit the mark. Chemical filters exacerbated her eczema and gave her contact dermatitis. Most mineral sunscreens still left a white cast on her darker skin tone. And the research that has found certain sunscreen filters get into your bloodstream and probably aren't safe for pregnant women didn't sit well with her. "Finally, I was like, OK — there's no good filter for me to use on the market," she tells Bustle. So she decided to create one herself.
Fast forward to today, and Pavise is finally here — Bai's line of sunscreen products that feature DiamondCore Shield Technology, a patent-pending filter she developed in the lab. Basically, DiamondCore is a form of zinc oxide, aka the staple physical sunscreen filter found in most mineral SPF formulas. "It's a nano-diamond augmented zinc oxide," Bai explains. "It's still a zinc oxide, but we modified the size, shape, and surface chemistry to make it a super zinc — basically to make it 10 times better as a mineral metal oxide UV filter."
To fully understand how innovative Pavise's DiamondCore Shield Technology is, we have to get science-y. Here's the deal: This filter actually combats ROS, aka reactive oxygen species, which come from external aggressors (UV rays are the biggest source) and wreak havoc on the skin. In fact, they're directly linked to skin cancer and aging. As Bai explains, when UV rays hit your skin, they're either absorbed by your melanin or by UV filters (physical or chemical), and this generates ROS. So your skin cells are experiencing a certain degree of damage whether or not you're wearing sunscreen. To more fully protect your skin, then, a sunscreen formula should also contain antioxidants, Bai explains, since these help neutralize some ROS. But DiamondCore actually traps the ROS that hit your skin. "That's the most breakthrough thing about our technology," says Bai. "It's the highest efficiency of eradicating, neutralizing, and getting rid of those ROS before they could even be exposed to your skin." And yes, DiamondCore actually involves diamonds. "It's a core/shell structure with a nano-diamond particle in the center and zinc oxide on the shell," says Bai, who notes that diamonds are the most stable antioxidant on earth.
Beyond relying on an uber-effective filter, the all-star sunscreen in Pavise's collection — the Dynamic Age Defense SPF — is a three-in-one product that serves as your treatment, moisturizer, and SPF in one bottle. The treatment aspect is legit, too: It contains niacinamide, licorice root extract, tranexamic acid, and astaxanthin, all of which help minimize hyperpigmentation while brightening the skin. For moisture, it's got argan seed oil, squalane, and soothing bisabolol. With one to two pumps, you've got your serum, face cream, and (invisible!) sun protection taken care of.
Also in the line are Pavise's Lip Defense SPF lip oils, a trio of pigmented formulas that offer broad-spectrum mineral SPF 30 protection as well as juicy moisture (thanks to high and low molecular weights of hyaluronic acid). They're glossy, lightweight, and come in three super flattering shades. Then there's the Gentle Amino Powerwash, a facial cleanser that's meant to fully dissolve debris, oil, makeup, and sunscreen, all while being really gentle on the skin. It's a gel-like texture with mild exfoliating properties, featuring squalane and amino acid for hydration, niacinamide for combatting oil, and glycolic acid to clear the pores.
True to Bai's mission to protect consumers from sun damage, Pavise also has a UV Camera that you can attach to your phone and use to detect sun damage. Beyond that, it'll also show you if you missed any spots when applying sunscreen, further ensuring that you're effectively shielded from harmful UV rays.
Overall, Bai is excited to bring change to the wide world of sunscreens. "With regulations, it's really hard to create innovations in this field," she tells Bustle. "But we were able to make some baby steps, and we're actually working on other new UV filters hoping to be approved by the FDA. My goal is to truly change people's lives who have skin cancer or a family history of skin cancer. Our team of scientists is working really hard on that and hoping to come to the market with new innovations in the years to come — we want to create products that change how we care for and treat our skin and ultimately end skin cancer." Seeing as one in five Americans will develop skin cancer by the age of 70, according to the Skin Cancer Foundation, this is the kind of newness the beauty industry really needs.
Studies referenced:
Ciganović, P. (2019). Glycerolic Licorice Extracts as Active Cosmeceutical Ingredients: Extraction Optimization, Chemical Characterization, and Biological Activity. Antioxidants, 8(10). https://doi.org/10.3390/antiox8100445
Darr, D. (1996). Effectiveness of antioxidants (vitamin C and E) with and without sunscreens as topical photoprotectants. Acta Derm Venereol. 1996 Jul;76(4):264-8. doi: 10.2340/0001555576264268. PMID: 8869680.
Davinelli, S. (2018). Astaxanthin in Skin Health, Repair, and Disease: A Comprehensive Review. Nutrients, 10(4). https://doi.org/10.3390/nu10040522
Ebrahimi, B. (2014). Topical tranexamic acid as a promising treatment for melasma. Journal of Research in Medical Sciences : The Official Journal of Isfahan University of Medical Sciences, 19(8), 753-757. https://www.ncbi.nlm.nih.gov/pmc/articles/PMC4235096/
Ginzburg, A. L. (2020). Zinc oxide-induced changes to sunscreen ingredient efficacy and toxicity under UV irradiation. Photochemical & Photobiological Sciences, 20(10), 1273-1285. https://doi.org/10.1007/s43630-021-00101-2
Hanson, K.M. (2006). Sunscreen enhancement of UV-induced reactive oxygen species in the skin. Free Radic Biol Med. 2006 Oct 15;41(8):1205-12. doi: 10.1016/j.freeradbiomed.2006.06.011. Epub 2006 Jul 6. PMID: 17015167.
Lin, Q. (2019). UV Protection and Antioxidant Activity of Nanodiamonds and Fullerenes for Sunscreen Formulations. ACS Applied Nano Materials 2019 2 (12), 7604-7616DOI: 10.1021/acsanm.9b01698
Narendhirakannan, R. T. (2013). Oxidative Stress and Skin Cancer: An Overview. Indian Journal of Clinical Biochemistry, 28(2), 110-115. https://doi.org/10.1007/s12291-012-0278-8
Solano, F. (2020). Photoprotection and Skin Pigmentation: Melanin-Related Molecules and Some Other New Agents Obtained from Natural Sources. Molecules, 25(7). https://doi.org/10.3390/molecules25071537