37 Years Ago, Princess Diana Wore Her Most Underrated Look
Regal doesn't even begin to describe it.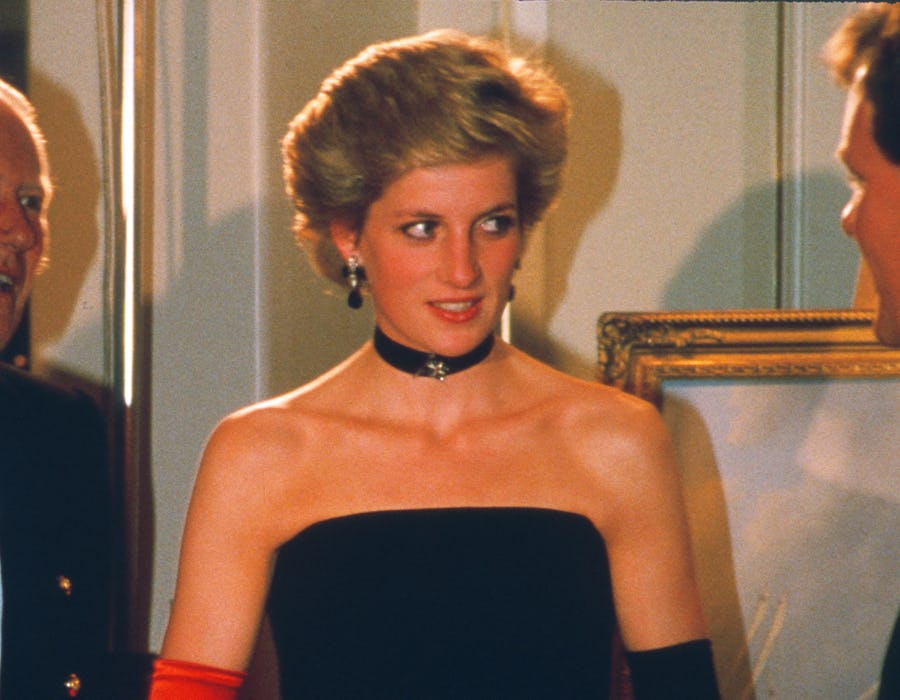 Anwar Hussein/Getty Images Entertainment/Getty Images
The longer Princess Diana's looks live on, the clearer it becomes that no one will ever eclipse her style. She revolutionized the concept of the post-break-up look with her trademark "revenge dress" and, to this day, no one can rock an off-duty sweatshirt and shorts combo quite like her (though many have tried).
Princess Di's sartorial legacy has been immortalized — as it should be — in photos, museums, films and series, and even through copycat 'fits. And while she has countless iconic looks, I would like to shed light on one of her most daring and underrated: a black-and-red, high-low gown that's forever seared into my mind.
Let me backtrack a bit. In 1985, the late royal attended a party to celebrate Prince Edward's 21st birthday. She showed out in a black-and-white strapless number by Murray Arbeid. The gown was, simply put, stunning. At the knees, the velvet bodice opened into a quasi-mermaid silhouette, with a white satin skirt. Another guest wore the exact same dress to the party, however. But Lady Di, ever-the-gracious royal, reportedly had a laugh when she realized.
A year later, Princess Di recreated the look — with a spicy update. To attend the America's Cup Ball in London, the princess wore another two-toned Arbeid number that was so similar to the first one. It also had a strapless torso in black velvet and also opened into a big satin skirt. This iteration, however, had a drop waist and a high-low hemline, so there was more of the billowy skirt to see — this time in ruby red.
To tie the look together, she chose all-black accessories: including sheer tights, a ribbon choker, diamond drop earrings, and kitten-heeled pumps. What really sent the 'fit over-the-top, however, was a pair of mismatched opera gloves: black on one hand and red on the other.
Ahead of her time, the styling hack was a bold, experimental move — not something typically worn in the Royal circles. Naturally, the ensemble caused a "media furor," according to the LA Times.
For reference, below is the original white gown she wore a year prior. She paired it with black gloves, sapphire earrings, and her favorite pearl choker necklace (which she also wore to the 1996 Met Gala and with her famous "revenge dress") that she fashioned to include the sapphire stone — a gift from the queen.
Stunning, as always.