A Deep Dive Into Princess Diana's One & Only Met Gala Appearance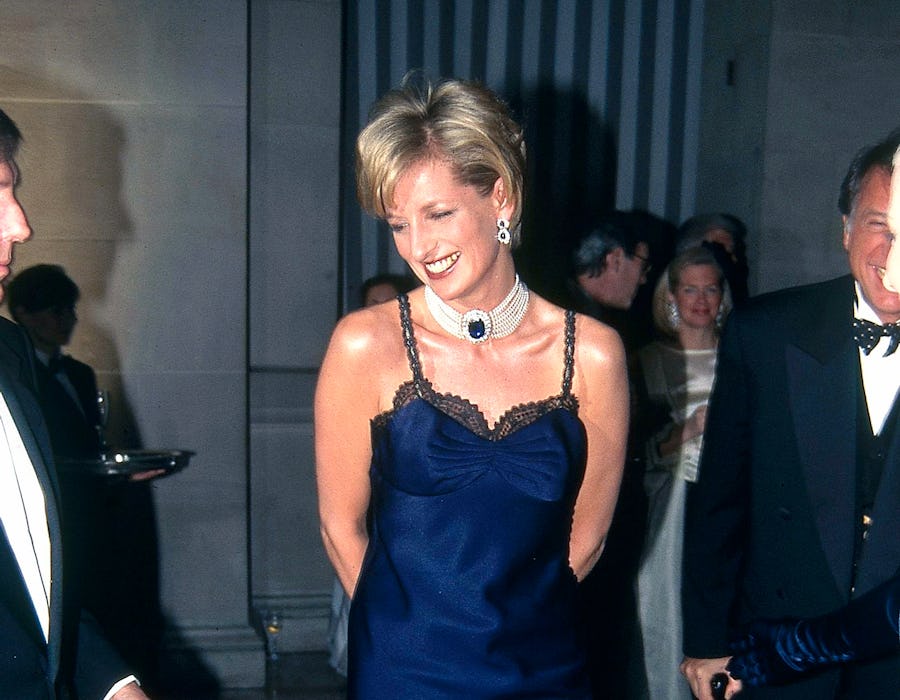 Patrick McMullan/Getty
Long after her passing, Princess Diana's legacy lives on — especially when it comes to fashion. Style stars like Hailey Bieber and daughter-in-law Meghan Markle still constantly draw inspiration from her looks (Kim Kardashian went one step further and bought the late royal's jewelry at auction). Even the "revenge dress" — a concept she introduced — will forever be part of the fashion (and dating) lexicon.
She's given fans countless looks to pay homage to, yes, but there is one top-tier look that is severely underrated. The look in question is form when Princess Diana attended the Met Gala for the first and only time. Appearing at the 1996 gala honoring the legend of Christian Dior, the Princess of Wales unsurprisingly stole the show.
At the famed event, Princess Diana debuted one of her most stunning looks ever, only three months after her divorce from Prince Charles. (It's part of her revenge dressing ethos, if you will.) Naturally, it remains one of the most iconic moments in Met Gala history. Even fellow attendees gushed about seeing her at the gala.
She chose a floor-length slip dress in shimmering navy silk for the annual bash, and it was a total showstopper. The lingerie-inspired gown — which was accentuated by the black lace detail on the neckline and straps — gave serious underwear-as-outerwear vibes.
According to royal biographer Katie Nicholl, the Princess of Wales was reportedly apprehensive of a then 14-year-old William's reaction to the dress, as it was quite revealing. Diana completed the look with a matching silk robe topper.
She paired the dress with her favorite statement necklace: a stacked pearl and sapphire choker. The Princess of Wales famously wore it when dancing with John Travolta at the White House in 1985, and, more notably, when she debuted her famous "revenge" look. The necklace was originally built from a brooch gifted to her by the Queen Mother on her wedding day, which Diana eventually had made into a necklace.
Keeping her accessories in the sapphire family, she also wore her sapphire engagement ring (another sentimental piece) and her sapphire and diamond cluster drop earrings to the event, which were reportedly given to Diana by the Crown Prince Fahd of Saudi Arabia as a wedding present.
Prince William would later gift these earrings to Kate Middleton, who would wear them without the sapphire on a number of occasions (including for an official portrait at Clarence House in 2011).
Diana accessorized the look with her favorite quilted Dior bag. Given to the Princess of Wales by Bernadette Chirac, France's former first lady, Diana's bag was the first of its kind to be made of leather and was produced in one night, per Tatler. Initially called the Chouchou, the bag was eventually renamed Lady Dior following Diana's passing in 1997.
Having only just arrived in New York City, Diana walked up the red carpet arm in arm with former Harper's Bazaar editor Liz Tilberis who was co-chairing the event. The two first met when Diana appeared on the cover of British Vogue, soon after her engagement to Prince Charles.
According to Harper's Bazaar, the two women became close friends following the breakdown of Diana's marriage and Tilberis' cancer diagnosis. Diana and Tilberis were escorted around the event by the then-newly appointed head designer at Dior, John Galliano.
This look will live on in Met Gala history.
This article was originally published on