3 Date Night Outfits To Copy From Princess Diana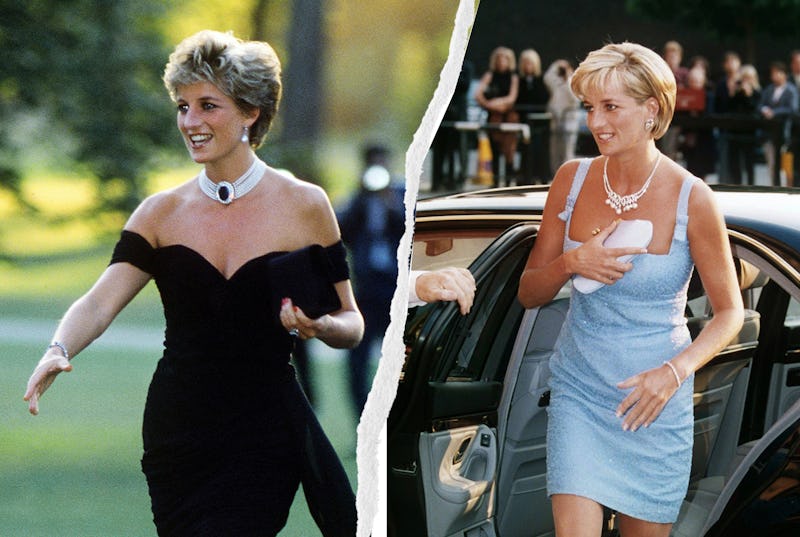 Getty Images
Princess Diana's style was iconic. She made an indelible mark on the world of fashion in a very short time, pushing royal dress code boundaries while forging a sartorial path all her own. Though Lady Di wore everything from ballgowns to overalls with ease, it's her dresses and skirts that still influence wardrobes today.
While her influence is perhaps most palpable in the closets of her daughters-in-law Kate Middleton and Meghan Markle, the fashion industry as a whole is still mesmerized and inspired by the sheer variety of dresses and skirts she wore.
Her mini dresses in particular, worn in the latter years of her life, are so memorable and impactful that they still inspire countless designs, from her famed revenge dress to her light blue mini.
Lady Di's collection of cocktail dresses and skirts ran the gamut from sassy to sweet, with each making a statement fans won't soon forget. No matter the style, however, she always managed to look perfectly polished, romantic, modern, and youthful. It's a formula that will work well for any date nights on your calendar, whether you're headed out dancing or sitting down for a formal dinner.
Ahead, find the best Princess Diana outfits that can be copied for every type of date on your calendar. After all, if you're ever wondering what to wear to make a first impression, all you have to do is ask is "What would Diana do?"
Bustle Shop is Bustle's shoppable guide to editor-approved buys in fashion, beauty, wellness, and lifestyle. We may receive a portion of sales if you purchase a product through a link in this article.
Bustle Shop brings you the editor-approved buys we can't get enough of and think you'll adore, too. Best of all, you can shop all of the products above directly on this page without visiting multiple retailers. Simply click on an item to learn more, choose your size or favorite color (if applicable), and then hit "add to cart." When you're done, you can click over to your cart in the top right corner of your screen to purchase all your stellar selects at once. How easy is that?
Questions about shipping, returns, or your order in general? Click here for more information.
Explore more of Bustle Shop (and our fashion, beauty, and lifestyle must-haves) here.