4 Times Queen Elizabeth Honored Prince Philip With Her Jewelry
She paid tribute to her husband through her choice in brooches.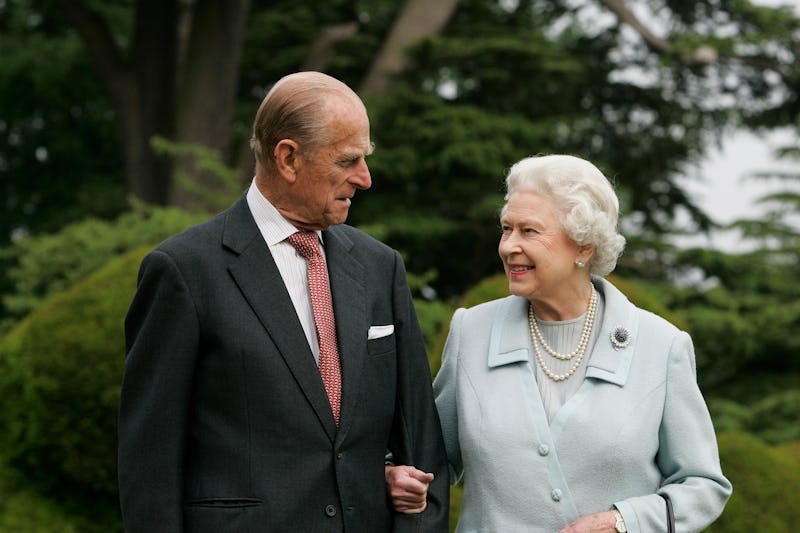 Tim Graham/Getty Images News/Getty Images
Prince Philip, husband of Queen Elizabeth and the longest-serving royal consort in British history, died on Friday at age 99. As the world awaits news of when the Duke of Edinburgh's funeral will take place, fans are looking for ways to pay homage to Prince Philip's life of service.
No one honored the Prince more than his wife, Queen Elizabeth. Her Majesty the Queen rarely speaks publicly, so eagle-eyed royal observers have learned to pay close attention to her sartorial choices, which often have some type of deeper hidden meaning. And the Queen often paid tribute to the Prince through her choice of brooches.
The Queen carefully selects brooches for every event she attends. Her collection is truly massive, and it seems like she's always got one that's just right for whatever the occasion calls for. In the past, she's worn the "Scarab" brooch, a gift from Philip, to celebrate their wedding anniversary. And when the Duke fell ill and was hospitalized last month, she pulled out her chrysanthemum brooch, first worn during their honeymoon, as a loving nod to him.
If history is any indication, the Queen will pay some kind of style tribute to her late husband in the days leading up to his funeral and perhaps at the funeral itself. Ahead, check out all of the previous times she gave a subtle nod to Philip via her celebrated brooches.