All The "Ugly" Trends From SATC That Are In Style Now
Scrunchies, pear-shaped engagement rings, and more.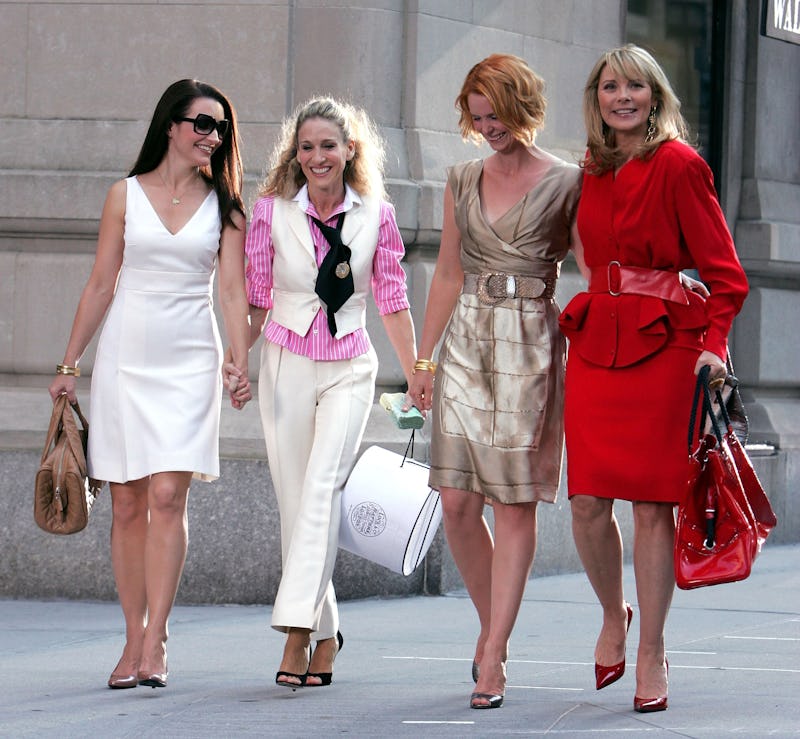 James Devaney/WireImage/Getty Images
Carrie Bradshaw may have been one of the biggest trendsetters of the early aughts, but she was also very much a fashion snob. Not only was she whiny and entitled in the romance department (she once demanded forgiveness from Natasha after having an affair with her husband), she was equally grating when it came to fashion.
Carrie criticized gifts she received from her boyfriends, made fun of Miranda's taste, and dismissed a friends' budding accessory business. And remember the way she dragged the engagement ring Aidan picked out for her? (He later swapped it out for a 3-carat Harry Winston only for her to wear it around her neck as a pendant.) What about the way she plopped Mr. Big's gift — a swan-shaped clutch worth thousands of dollars — on the lunch table so her friends could collectively dunk on the bag? You can't see it, but I'm rolling my eyes.
Thankfully, in the year of our lord 2023 (more than two decades since SATC first premiered), the styles Carrie once loathed are now being fully embraced by the fashion set. Ahead, the five trends Carrie, Miranda, Charlotte, and Samantha (but mostly Carrie) hated, but are so trendy now.
Scrunchies
The SATC fandom knows: Carrie and scrunchies got along even worse than she and Jack Burger did. And when the Post-It Dumper (he will be referred to as such from this point forward), asked her to read his novel in Season 6, she had one single critique.
"You have your leading lady running all over town, wearing a scrunchie. A scrunchie!" she positively shrieked. "No self-respecting New York City woman would be caught dead running around Manhattan in a scrunchie."
Though she wasn't wrong at the time, fashion icons — whether New York-based or not — are now sporting the '80s-style hair accessory with pride. The likes of Ariana Grande, Jennifer Lopez, and Lizzo have all taken to the trend in recent years.
Pear-Shaped Engagement Rings
*Heaves a big, exasperated sigh.* When Carrie was dating Aidan in Season 4, she accidentally uncovered an engagement ring while rummaging through his bag. The drama queen absolutely detested the "pear-shaped diamond with a gold band" — so much so that she literally vomited after seeing it. "I saw the ring and I threw up ... The ring was not good," she told her crew over brunch a day later.
Carrie didn't deserve Aidan nor the '90s-style pear-shaped diamond she so detested. And by the way, teardrop stones are now one of the most popular engagement ring trends of 2023.
Crystal-Encrusted Novelty Bags
Another ungrateful Carrie moment incoming... When Big gave her a crystal-encrusted, swan-shaped Judith Leiber clutch (worth thousands of dollars, BTW), she complained about it to her friends. "It's just wrong," she whined.
While Carrie hated the novelty clutch, her off-screen counterpart, Sarah Jessica Parker was a fan of the designer. To this day, Lieber's influence endures with stars like Kim Kardashian and Jennifer Lopez carrying their own glitzy clutches.
Chunky Kitten Heels
Carrie's mugging scene in Season 3 has gone down in fashion history. It's the episode that helped popularize the Fendi Baguette bag ("It's a Baguette.") and Manolo Blahnik shoes — both of which her robber demanded, leaving Carrie to roam the NYC streets barefoot.
Miranda later came to Carrie's rescue bearing white pumps she could wear on the trip home. Horrified by the pair, Carrie looked at them and said simply, "I can't wear these."
She didn't elaborate on why she had such strong feelings against the shoes. Maybe becuase they weren't Manolos? Maybe it was after Labor Day and she didn't want to wear white? I could not tell you if I tried. What I can tell you, however, is the chunky design is back in style. Lanvin, Prada, and Prabal Gurung all sent iterations of the shoe down their fashion week runways.
Kitschy Bags
Jennifer Coolidge, the internet's favorite rich auntie, once made an SATC cameo playing Victoria, a friend who channeled her heartbreak into a whimsical handbag line. She invited the main foursome to a "purse party," selling her DIY bags, covered in shoe appliques, fruit-shaped baubles, and beaded fringe, among others.
Carrie and the gang all had plenty of mean things to say. "Ladies, these aren't bags, they're baggage," Carrie said. "We are standing among the ruins of her last relationship and it was one ugly breakup." Samantha echoed the sentiment, adding: "I'd rather carry a colostomy bag."
Coolidge's character was way ahead of her time, however. One look at fashion week street style proves that kitschy bags are an influencer favorite. Bags embellished with food, fringe, beads, feathers, and animal print (all Victoria's design details of choice) dominated runways, streets, and even social media during fashion month. TLDR; Victoria has been vindicated.