15 TikTok Eyeliner Hacks, From Totally OTT To Genius
Some of them are... interesting.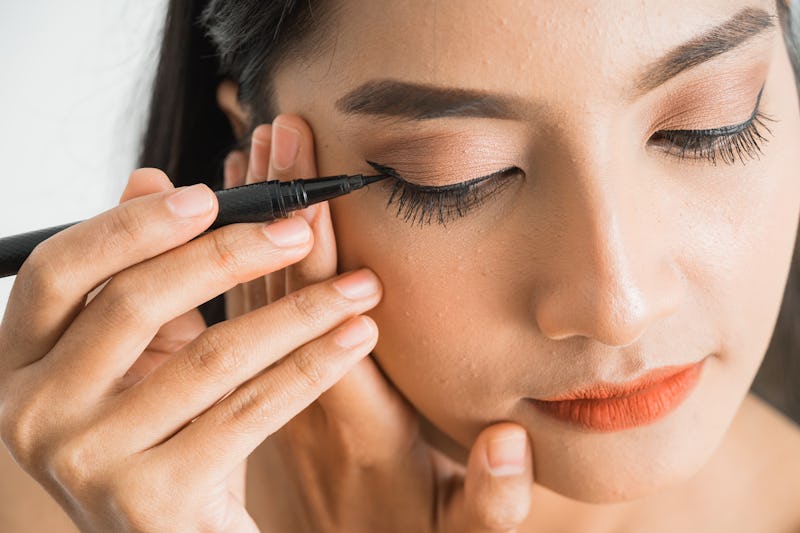 Shutterstock
There's a treasure trove of seriously clever makeup tricks on TikTok. Just search the hashtag #makeuphack — and be prepared to get fully sucked into the abyss of mesmerizing, minute-long videos where users provide genius solutions to otherwise tricky beauty quandaries, from the best eyeshadow application techniques to foolproof ways to prevent your concealer from creasing to eyeliner tips for hooded eyes and everything in between.
Of course, you'll have to do a little bit of wading to uncover the real gems. As any TikTok user knows, there are quite a few head-scratching (or comedic) makeup tutorials out there as well. (See: Using a red M&M — yes, the candy — as blush and lipstick.) Some DIYs can also veer into dangerous territory (ahem, sunscreen contouring). In other words, using your best judgement is definitely a good strategy to adopt here.
In the case of TikTok's many eyeliner hacks, there's a mixed bag of how-to videos that claim to give you that perfect flick in no time, often by using common household items like tape, bobby pins, dental floss, and — get this — even the end of a banana.
Below, see 15 winged eyeliner hacks from TikTok, from the totally simple to the downright extra.
This article was originally published on