11 Low-Key Valentine's Day Date Ideas For New Couples
From psychic Zoom readings to ordering take out.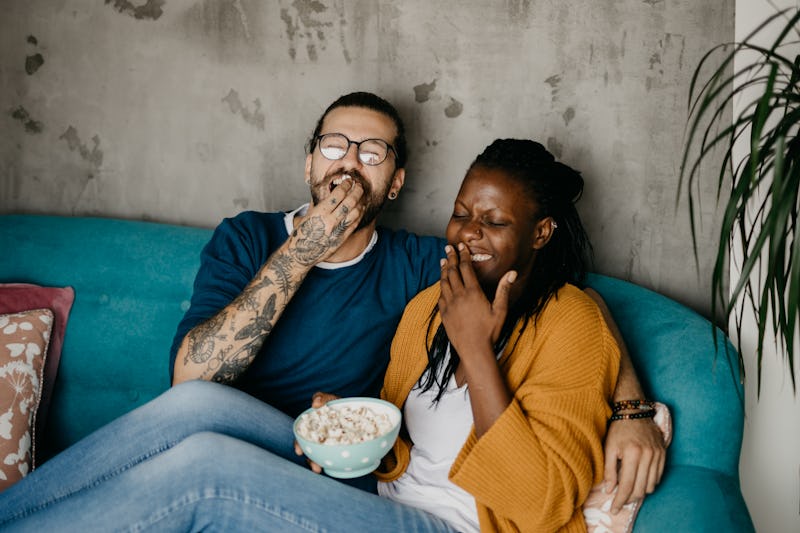 MilosBataveljic/E+/Getty Images
Dating can be a lot of pressure when throwing holidays into the mix. So with a certain heart-themed one quickly approaching, you might be wondering how to celebrate, especially if you just started dating someone. Luckily, there are lots of Valentine's Day date ideas for new couples that are fun, easy, and never awkward.
"For a new couple coming up to Valentine's Day, it can be a confusing time," James Preece, a dating coach also known as The Dating Guru, tells Bustle. "You don't want to make an over-the-top gesture, in case they don't do the same and it scares them off. On the other hand, you know you have to do something to mark the day."
It can be tough to figure out where you're at in the relationship in terms of lovey-dovey stuff. So if you aren't sure, go ahead and talk about it. "Have a short conversation [...] about what you both might like to do together," Preece says. "This can save embarrassment later on — and give you something to look forward to."
Then, of course, there's also the pandemic to contend with, which means most traditional date night sports will be closed. So, with all that in mind, here are 11 Valentine's Day date ideas for new couples that'll feel just right for this stage of your relationship.
Sources:
James Preece, dating expert
Davida Rappaport, psychic
Susan Winter, relationship expert and bestselling author
Rhonda Milrad, relationship expert and founder of Relationup
This article was originally published on