7 Signs You're Ready To Move In Together
Experts reveal when it's time to make the move.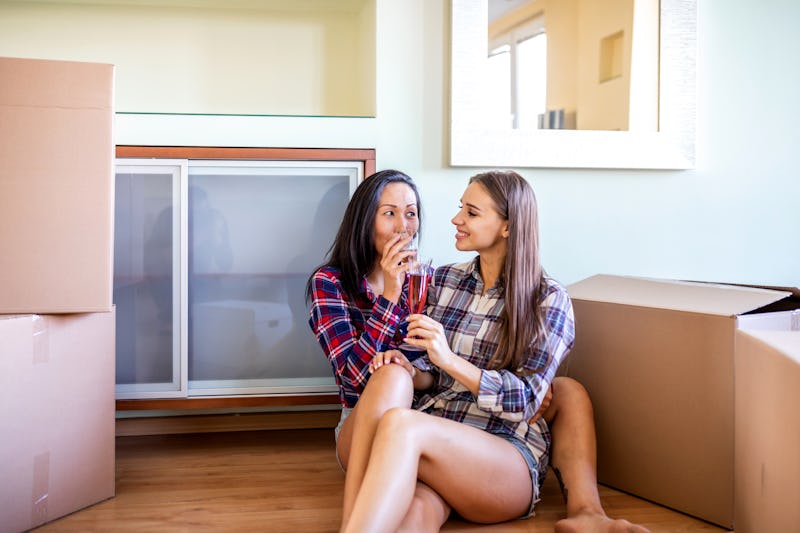 RealPeopleGroup/E+/Getty Images
Moving in together can be a huge step in a relationship. A lot of my married friends have said that moving in together was actually more significant than getting married, because it was a much bigger change. And there's no right time to do it— though taking it slow is advisable, simply because it's a huge decision.
"Moving in together creates a lot of pressure for a new relationship, and has extreme consequences if it doesn't work out," life coach Kali Rogers tells Bustle. "You could lose thousands of dollars, fight over personal belongings, and get in trouble with landlords, etc., if things go south. Always wait at least a year before moving in with someone, to be sure the relationship is stable enough to last under the same roof."
But how do you know when it's time to make the move? Firstly, it's shouldn't be something you do for any other reason than wanting to take that next step. Saving money is not a good enough reason to move in together. Neither is the fact that you spend a lot of your time together — lots of people do that in the honeymoon period. The signs for you to look out for should be ones that show that you're actually ready to make the move for your relationship, rather than just thinking it's convenient or what you're supposed to be doing. So, here are seven ways to know when it's time to move in together, according to experts.
This article was originally published on