9 Audio Erotica Sites, Apps, & Podcasts
Listen and get turned on.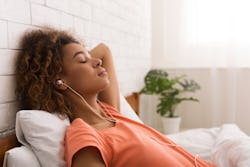 Shutterstock
A lot of people watch porn if they want to add excitement to their solo (or partnered) sex lives. But not all arousal aids are visual. Written erotica used to be the main alternative to videos, but now, there's a another option: audio erotica.
Several audio erotica apps and sites now let you listen to erotic stories whenever and wherever you want. The advantage to this is that it requires no balancing your computer on your lap, scrolling down, or reading. Your whole body is free to do its thing.
"There's so much focus on visual stimulation when it comes to porn and erotica, but our hearing plays an important role in desire and sexual response," Anne Hodder-Shipp, a sex educator, tells Bustle. "Anyone who enjoys listening to podcasts or audio books, or gets turned on by their partner's voice or sounds during sex, might really connect with audio erotica, and there's no hurt in trying it out to see for yourself."
Who knows? It might even end up being your new favorite thing. As Hodder-Shipp says, "The more we explore what does (and doesn't) turn us on, the more aware we'll be of our own desires and, in turn, the better sex we'll have!" Here are some audio erotica sites, apps, and podcasts to check out if you're craving auditory stimulation.
If you usually reach for video porn, audio erotica may be a fun way to switch things up.
Expert:
Anne Hodder-Shipp, sex educator