These Couples Were On The Brink Of Breaking Up. Then The Pandemic Hit.
"It required us to be completely honest with one another and hear some truths that were hurtful."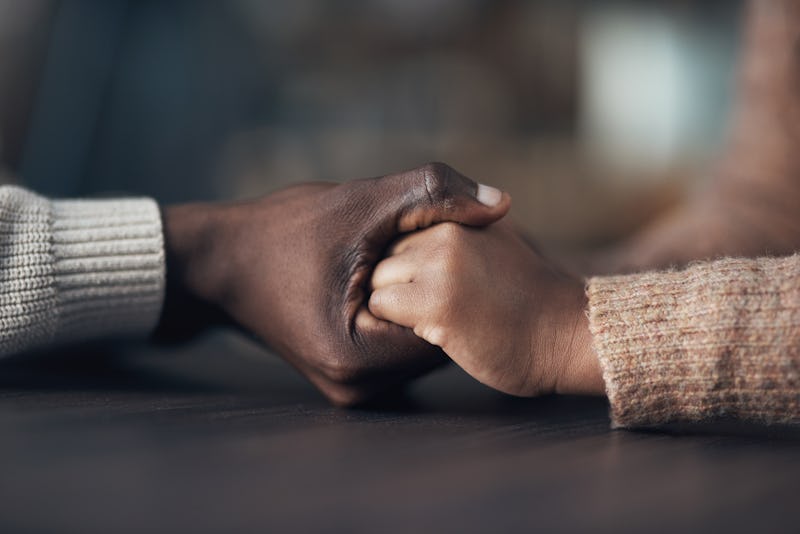 PeopleImages/E+/Getty Images
Before the pandemic, tension in Jacqueline's 10-year relationship was already brewing. Jacqueline, who is based in Ontario, Canada, and is the founder of a finance blog, was pregnant at the time with their second kid and wanted her husband to help out more with child and household responsibilities, and he hated being reminded of it. Once the lockdown began and they were under the same roof, the conflict in their marriage only intensified.
Jacqueline recalls numerous talks with her husband about divorce in the thick of quarantine. "I went so far as to actually look up a local lawyer who could assist," the 38-year-old tells Bustle.
While things were rocky initially, the pressure-cooker scenario surprised them. "Quarantine forced us to pick a direction and either give up on each other or figure out a way to move forward," Jacqueline says. "Going down the path of seriously contemplating a divorce made us realize that we just couldn't live without each other. We just needed to figure out a way to make things work."
Experts say quarantine held a magnifying glass up to relationships. "[It] either exacerbated existing problems or exposed those which were just below the surface," Marisa T. Cohen, Ph.D., a relationship scientist and relationship coach, tells Bustle. Then, she says, you have the added stress, anxiety, and lack of boundaries, for many, of being home all day — on top of the health and financial uncertainties of living through COVID-19. All of this made it more challenging for partners to generate potential solutions, and as a result, some relationships came crumbling down during those first few months of the pandemic.
But staying at home had the reverse effect, too. As Andrea Dindinger, a San Francisco-based licensed family and marriage therapist, tells Bustle, "Each partner had to be able to look at their side of the equation and make a conscious choice to do things, communicate, and think and behave differently." And for some who were headed toward divorce or broken engagements, quarantine didn't just help them confront their issues — it was what saved their relationship.
"It required us to be completely honest with one another and hear some truths that were hurtful."
For some, like 31-year-old family and travel blogger Corritta, communication was one of the biggest relationship-strengtheners. Corritta and her wife of three-and-a-half years, who are based in Oceanside, California, were discussing separation and potentially divorce pre-pandemic due to communication issues and a lack of honesty. Anger and resentment had already been building up, and quarantine only amplified things.
But with nowhere to go and no distractions, the time at home eventually forced them to address their issues head-on. This led to an initial conversation between them that Corritta describes as brutal but necessary. "We picked a day and spilled everything to one another, with the expectation there would be no anger or judgment," Corritta says. "It required us to be completely honest with one another and hear some truths that were hurtful."
For Jacqueline and her husband, their increased communication also helped shift their relationship toward reconciliation during the pandemic. Given that household duties were a big stress point for them, sitting down and dividing up the tasks that needed to be done was a turning point. That led to even deeper conversations where they learned a lot about each other — their strengths, weaknesses, trigger points, and what was or was not important. And asking each other simple questions like, "What do you need from me?" and, "What do you expect from me?" was a game-changer. "This made us realize how there's a big gap between what our expectations are of each other, what we're both actually doing, and what we can both realistically do given our current situation," she says. This deeper understanding of each other led to them being more empathetic toward one another and learning to work as a team.
Communication, however, is not just a one-time fix. The ritual of having honest conversations a few times per week is what helped Corritta and her wife work through their issues without letting things linger.
"We can have a discussion without worrying if the other person is going to get angry because we know it is coming from a place of love."
Now, more than a year into the pandemic, Corritta says their marriage is stronger than ever. "We can have a discussion without worrying if the other person is going to get angry because we know it is coming from a place of love," she says. "We also gave each other permission to remind the other person if they were slipping back into old habits." During these conversations, they also discussed what specific actions they would each take based on the issues that were brought up, such as carving out an hour each morning to be fully present with each other or taking turns making dinner and doing school pickups.
Although quarantine provided ample time for couples to spend together at home, quality time was what made the difference. When the pandemic hit, Lauren, an executive director for a nonprofit based in Idaho Springs, Colorado, and her now-husband, then-fiancé, had pushed back their wedding two years due to their constant arguing, inability to communicate properly, and lack of quality time. Working 60-70 hours a week at her job left her with little bandwidth to give her partner the attention he needed. Lauren, 28, remembers feeling worried about having to spend more time together given their preexisting friction.
To their surprise, their arguing actually decreased during the first few months of quarantine. Fights were replaced with joy and laughter, leading them to elope in October 2020. What got their relationship to this point? One word: boundaries. "The pandemic really forced me to reevaluate how I spent my downtime, which resulted in me setting better boundaries with work," Lauren tells Bustle. "We not only spend more time together [now], but since I'm not constantly drained with work, that time is much more engaging."
More quality time led to more open conversations, which helped cultivate a healthier relationship. "We discovered we're like every other couple with basic communication problems," Lauren says. "Adequate emotional support and more intentional quality time are necessary for us to function in a healthy way and something we will have to continue working on for eternity, pandemic or not."
The importance of quality time and getting to know each other on a deeper level is why Cohen advises couples to continue dating each other, no matter the relationship stage. Regardless of the activity, Dindinger says practicing presence — putting screens away and actually making eye contact — lets partners witness each other's humanness, allowing love to grow.
Despite the relationship stress it intensified in the beginning, Corritta credits quarantine with being a pivotal moment in her and her wife's relationship because they could no longer hide behind their busyness and were forced to confront issues they hadn't previously addressed.
"I learned that marriage is a living, breathing thing that you have to feed," Corritta says. "You feed it with care, love, appreciation, understanding, communication, and time."
Experts:
Andrea Dindinger, a San Francisco-based licensed family and marriage therapist
Marisa T. Cohen, Ph.D., a relationship scientist and relationship coach