Hilary Duff Likes To Relax With A Nice True-Crime Podcast
The actor chats with Bustle about her self-care practices.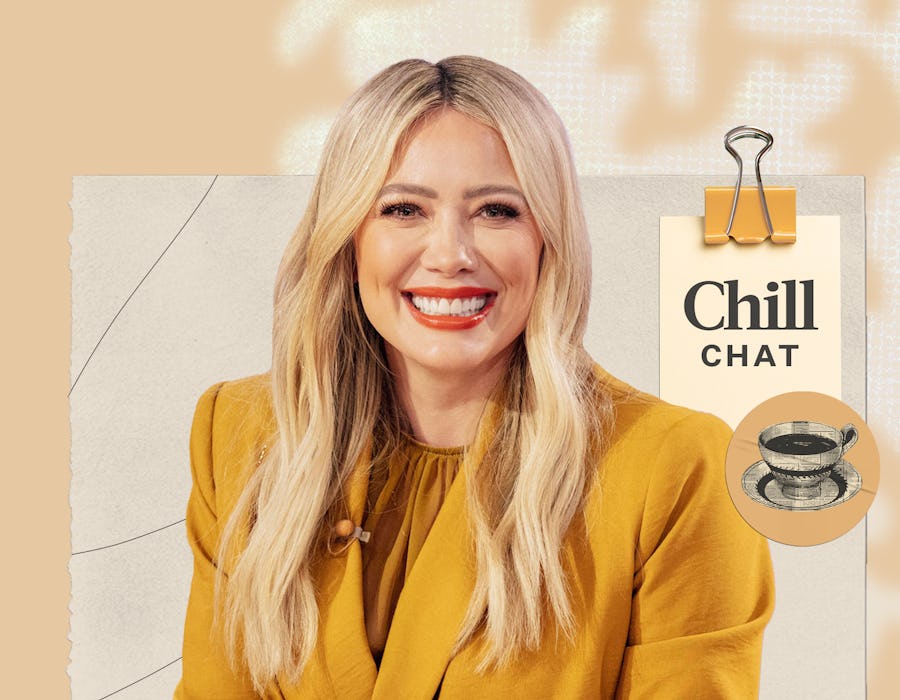 Getty Images
In Chill Chat, Bustle sits down with stars to chat about all things wellness, from their favorite skin care products to their hacks for getting a good night's sleep. Here, Hilary Duff shares her morning routine, the wellness class she hates, and how she likes to unwind.
Hilary Duff may be the most relatable celeb of our generation. From her days as Lizzie McGuire to her role as Sophie on How I Met Your Father, the actor-singer has been getting the world through its adolescent angst and adulthood struggles since 2001. And although she hasn't yet played a mother onscreen, she's well-versed in the sometimes chaos of parenthood.
Duff is mom to 11-year-old son Luca and shares two daughters, 4-year-old Banks and 2-year-old Mae, with husband Matthew Koma. Needless to say, her house gets quite busy. "The girls are a bloody nightmare with their hair, outfits, and jewelry they want to wear," she tells Bustle. To deal with the madness, Duff turns to hikes near her Los Angeles home, as well as to true-crime podcasts. "I used to be really into murder," she says. "I've gotten a little tamer as I've gotten older. I recently listened to The Retrievals, about the Yale nurse who was stealing fentanyl from the girls getting [egg retrievals]."
More recently, Duff has turned to Olly's Goodbye Stress gummies to reset after a hectic morning, and she takes their melatonin for a good night's sleep. "I use it most nights, but I do feel like every once in a while I'm like, 'Can I sleep on my own?' I don't know," says Duff, a recent partner with the brand.
Below, Duff shares her favorite workouts, her "really weird" relaxing activity, and the wellness practice she'd never do again.
Walk me through your morning routine.
My kids are early risers — I'm usually up by 6:15 or 6:30. I have this new Hatch alarm clock. It's gorgeous, it sits on my nightstand, and it uses this ambient light to wake me up with these amazing sounds. I'm getting to that age where I want to be woken up gently.
I'll brush my teeth, then grab my kids and start making breakfast. My husband and I do it together, which is very sweet. He's a very good lunch packer. After I run upstairs and take care of myself for a minute, there's the rush of getting the kids dressed. Luca's the easy one — he goes to private school so he wears a uniform. But Banks asks for makeup every morning. I'm like, "This is only going to get worse."
What are your favorite workouts to do?
I recently started doing Tracy Anderson, which I love. It's like yoga meets Pilates meets dance and some cardio in a hot-as-hell room. My skin really likes that heated room. I've also been playing tennis, and I hike. I do some weightlifting when I feel motivated, but I just haven't been as on it.
What songs are on your workout playlist?
A lot of '90s hip-hop. I love Electric Light Orchestra. I love Harry Styles and The 1975 right now. I love Beyoncé, Taylor Swift, Tame Impala, King Princess. I listen to a lot of old music, too, like Sam Cooke and Fleetwood Mac. It always feels right to listen to older stuff, but I'm also a pop princess queen.
Does any of your own music sneak onto your workout playlist?
No, but it sneaks into my life a lot because of my daughter. She loves to listen to it. At least a few times a week, it's bumping in my car and it's so embarrassing, but I'm also like, "That's your mom."
How do you deal when you feel stressed or overwhelmed?
I usually phone a friend, my husband, or my mom, and hash some thoughts out. Playing tennis has also helped with my stress and overthinking, because there's so much to learn and think about when you're playing that your brain really shuts off and takes a break. I take a lot of baths. I read, or I scroll, or I'll have a glass of wine or two.
What's the most out-there wellness practice that you've ever tried?
Honestly, maybe sound baths. If I never get invited to another sound bath again, I'll be fine. I prefer to stare at a wall than have a sound bath. I don't want to sit in a circle and heal. By the way, you're talking to someone who has had home births and does some really hippie things, but sound baths — not for me.
How do you like to unwind when you have time to yourself?
This sounds really weird, but sometimes when my kids are off to school and my dogs go on romps with the dog walker, my house will be quiet for an hour or two, and I just walk around and rearrange things. It's so nice.
What do you need for a good night's sleep?
A giant glass of water beside my bed and my phone to be charging. I've been trying to put my phone 3 feet from my head. That's what I heard the rule is.
What is the best wellness advice that you've ever received?
Stay hydrated, get enough sleep, and do what works for you. I think everyone's doing so much these days. What I've learned is how important it is to be still and quiet, hunkered down in our house together, not feeling like we have to fill every moment of every day with something exciting for the kids or myself. We're so overstimulated that just winding down is important.
This interview has been edited and condensed for clarity.