Yeah, You Might Wanna Rethink Having Sex In A Hot Tub
Great idea in theory, not so much in reality.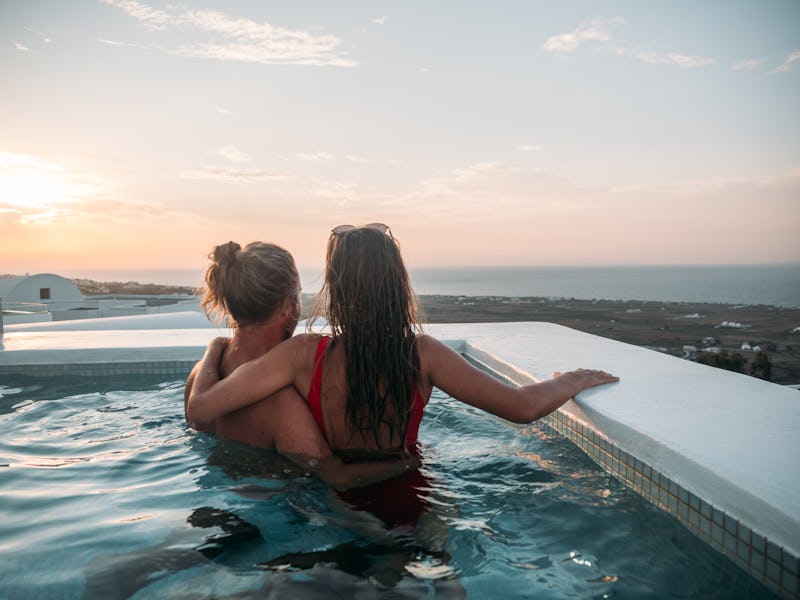 lncreativemedia/E+/Getty Images
Getting it on in a hot tub is one of the ultimate fantasies. Maybe it's all those steamy movie scenes. There's also the thrill of getting caught. Or perhaps it's just because, given that you're already practically naked, you might be tempted to go all the way.
Unfortunately, having sex in a hot tub is better left to your imagination than played out in reality. The hot, chlorinated water can cause irritation and bacterial infections. Plus, water doesn't lubricate in the way you're thinking; it actually has the opposite effect. And it can sabotage your efforts to practice safe sex, because the heat weakens condoms and dental dam materials, and the water can cause awkward slippage.
Dr. Staci Tanoyue, board certified OB/GYN (and popular TikTok sex educator) and board certified OB/GYN Dr. Sheila Loanzon, a fellow of the American Congress of Obstetrics and Gynecology (ACOG) and author of Yes, I Have Herpes: A Gynecologist's Perspective In and Out of the Stirrups, weighed in about why the fantasy might be more trouble than it's worth. Here are eight things you need to consider before having sex in a hot tub — no matter how sexy it might sound in theory.
Experts:
Dr. Staci Tanouye, board certified OB/GYN
Dr. Sheila Loanzon board certified OB/GYN
This article was originally published on