Here's Why Some People Fall In Love Faster Than Others
Experts explain why it takes time to go all-in.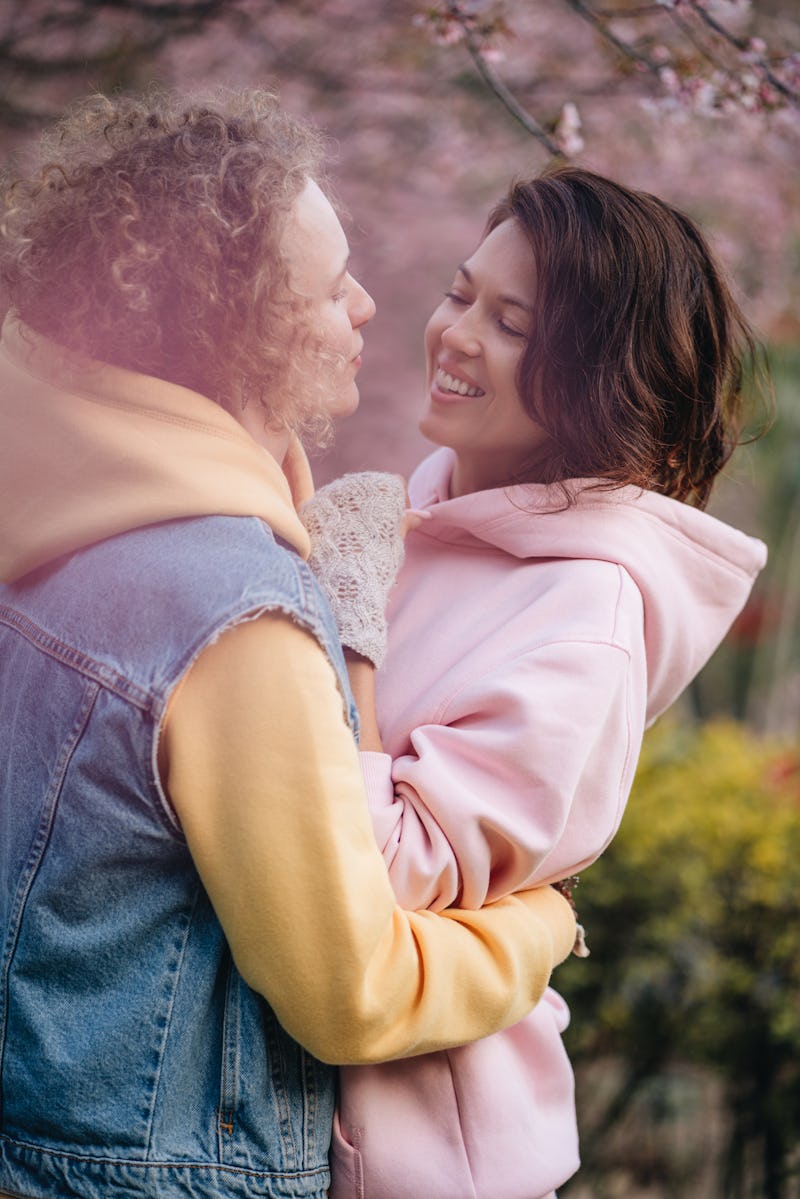 Natalie Zotova / 500px/500px Prime/Getty Images
You may have had friends who say that they fell in love a couple of weeks after meeting someone, but other people can be together for months and months and still not be sure. While there's no one-size-fits-all algorithm for how long it takes to fall in love with a new partner, experts say there are a few common factors that influence the pace of how long it takes to love someone.
When you have a new datefriend and it feels like you're not falling at the same speed, it can make you question whether the relationship is right. The reality is that there's so much that goes into falling in love with someone that has nothing to do with them, personally. ("It's not you, it's me" isn't always a lie.) Your upbringing, your mental health, your values — all of these things can affect your ability to fall in love. And often, says relationship therapist Aimee Hartstein, L.C.S.W., a slow burn often indicates a brighter future.
"There's no one answer or time frame, but I generally find that when people say they are in love after four weeks or even after eight weeks, they are talking about lust! We can have lust and passion at first sight, but it takes longer than that to really get to know someone and figure out who they are and how the two of you connect. Love is definitely something longer term," she says.
Patience is a virtue when it comes to assessing a budding relationship, and Hartstein says each person deserves feel free to fall at their own pace. "Even if the person you are dating proclaims their love early on, that's no reason for you to start questioning yourself and your feelings. Everyone is different."
Though we can't pin down exactly when someone will become aware of their feelings, there are some factors that can make people to fall in love quickly, on average. Or, at least think they have. Here are some things that can affect influence how long it takes to love someone:
Studies Referenced:
Harrison, Marissa A. and Shortall, Jennifer C. (2010) Women and Men in Love: Who Really Feels It and Says It First? The Journal of Social Psychology. https://www.tandfonline.com/doi/full/10.1080/00224545.2010.522626?src=recsys
Aron, Arthur. (1997) The Experimental Generation of Interpersonal Closeness: A Procedure and Some Preliminary Findings. Personality and Social Psychology Bulletin. https://journals.sagepub.com/doi/pdf/10.1177/0146167297234003
Experts:
Aimee Hartstein, L.C.S.W., relationship therapist
Yvonne Thomas, Ph.D., psychologist
Rachel Needle, Psy.D., psychologist and sex therapist
Margaret Clark, Ph.D., professor of psychology, Yale University
Harville Hendrix, Ph.D., psychologist and founder of Safe Conversations
Helen LaKelly Hunt, Ph.D., psychologist and founder of Safe Conversations
Terri Cole, L.C.S.W., psychotherapist
This article was originally published on