7 Scientifically-Proven Ways To Calm Down During A Panic Attack
Here's how to bring yourself back to reality.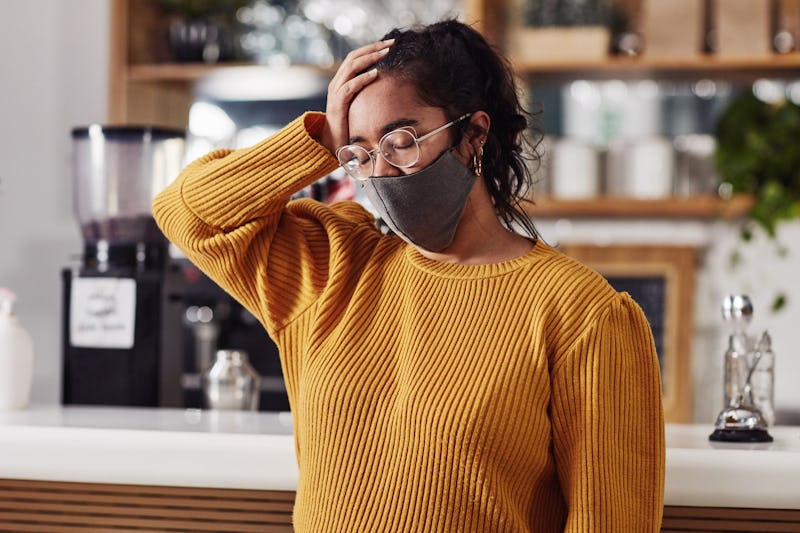 LumiNola/E+/Getty Images
If you have an anxiety disorder — or are experiencing a lot of stress — then you're likely familiar with how difficult it can be to calm down during a panic attack. Once your mind starts racing, and your body fills with dread, it's really tough to relax and bring yourself back to reality.
Because a panic attack is anything but pleasant. "A panic attack is a sudden surge of distress that takes over and makes you feel loss of control and intense fear," Dr. Danielle Forshee, a psychologist, tells Bustle. It can cause scary symptoms, such as shortness of breath, a pounding heart, tingling sensations in the body, nausea, sweating, and even a sense that you're going to die, Dr. Forshee says.
While that's not going to happen — and panic attacks tend to quickly pass all on their own — these symptoms can be upsetting, especially if you're having a panic attack for the first time. It's not uncommon for people to confuse panic attacks with heart attacks. And the fear only makes things worse.
Luckily, there are quite a few science-backed tricks that help ease panic attacks, and make them easier to handle. If you have panic attacks regularly, you'll want to seek the help of a therapist, so they can address the underlying anxiety or panic disorder that's causing them.
In the meantime, tuck the tips below in the back of your brain, so you can utilize them the next time you start to panic.
If you're prone to panic attacks, or are having one for the first time, you can always sit down and wait for it to pass. But these tips ma.y help speed the process along.
Of course, if you're experiencing ongoing anxiety that's holding you back in life, you'll also want to seek out the help of a therapist, as soon as possible. In doing so, you can get to the root of your anxiety and eventually overcome your panic attacks, no matter how bad they might seem.
Experts:
Dr. Danielle Forshee, a psychologist
Mary Beth Cooper, mental health expert
Dr. Prakash Masand, MD, psychiatrist
John Hamilton, LMFT, LADC, licensed marriage and family therapist
This article was originally published on