7 Signs You're Having An Anxiety Attack Versus A Momentary Freak-Out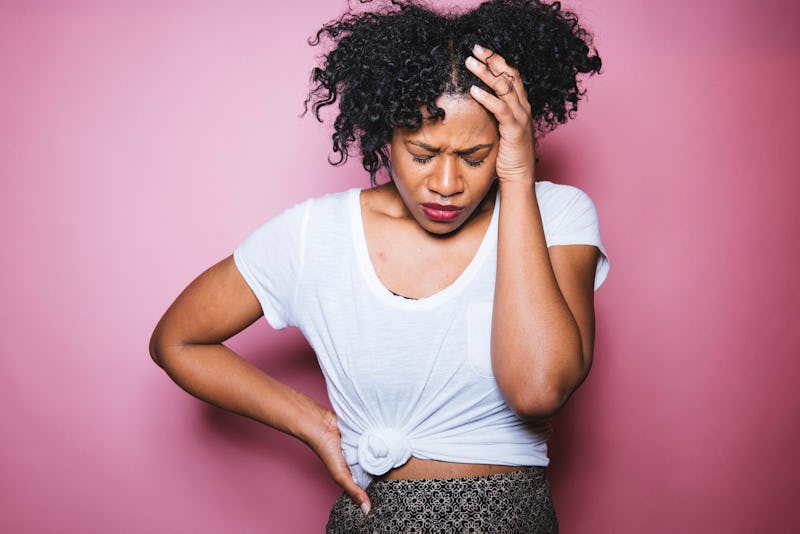 BDG Media, Inc.
As someone who's been diagnosed with both major depressive disorder and an anxiety order, I know all too well what it means to suffer an anxiety attack. Although I'm in the 36.9 percent of people who receive treatment and take medication daily for both of my disorders, it doesn't guarantee that my depression won't occasionally kick into high-gear or that I'll never have anxiety attack. And, depending on what's going on in my life, either outside struggles or internal ones, my anxiety attacks can pop up more than usual. Or I can go months without one. For example, just in the last couple weeks, I've suffered two major anxiety attacks. Before that, it had been a few months.
According to the Anxiety and Depression Association of American, anxiety disorders are the most common mental illness in the United States. Every year, 18.1 percent of the population, ages 18 and older, are affected — that's roughly 40 million people. Although anxiety disorders are treatable, the majority of people skip treatment, with only a fraction, 36.9 percent, receiving treatment for their anxiety, despite the fact that those who have anxiety disorders are six times more likely to be hospitalized for psychiatric disorders, than those who don't have anxiety disorders. Basically, treatment is absolutely key.
But the thing with anxiety is that it's a legitimate disorder and not just some momentary freak-out. I have freak-outs all the time (I'm like a walking bundle of nerves), but there's a clear difference between an anxiety attack and a freak-out. So before you label your next freak-out an anxiety attack, know the difference because an anxiety attack makes a freak-out look like a walk in the park. Here are seven signs experts say it's an anxiety attack.