Here's Exactly Why You Get Bored Easily In Relationships
Experts say your attachment style may be to blame.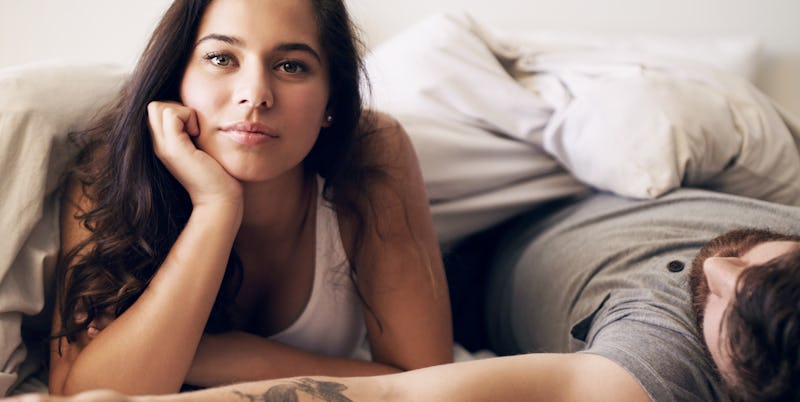 PeopleImages/E+/Getty Images
Long after the first kiss fireworks, you may find yourself eating leftovers for the third night in a row, as your long-term partner snores through their TMJ mouthguard, with Sports Center playing in the background. Needless to say, if you're getting a little tired of your romance routine and starting to wonder why you get bored in relationships so easily, experts say there may be something deeper going on.
"Getting bored in a relationship might be a sign that your partner isn't a good match for you," Elizabeth Earnshaw, LMFT, certified Gottman couples therapist and clinical director of A Better Life Therapy, tells Bustle. "However, having a pattern of getting bored in relationships over and over again may be a sign that you have an insecure attachment style."
Your attachment style is developed in childhood and is based on how your parents or primary caregiver interacted with you. If your parents were emotionally unavailable or were inconsistent with their affection, you may have developed an insecure attachment style. As Earnshaw shares, this means you'll likely feel avoidant and withdrawn when you sense strong feelings of intimacy.
"While pop culture likes to call these people commitment-phobes, in reality, most people that struggle to commit and feel bored in relationships are actually just struggling with feeling safe and secure in a relationship," she says. "They often find that once they begin to feel intimately close to someone, they start to be hyper-aware of flaws like boredom."
Of course, feeling bored in relationships at some points is normal. While it may not be as exciting and new as it once was after the honeymoon stage, you and your partner have the opportunity to deepen your bond and solidify your commitment to each other. Still, constant boredom might mean it's time to check-in. Here are 13 reasons you might feel bored in your relationship.
Experts:
Elizabeth Earnshaw, LMFT, certified Gottman couples therapist and clinical director of A Better Life Therapy
Dave Wolovsky, relationship expert and positive psychology coach
Bobbi Palmer, relationship coach and founder of 'Date Like a Grownup'
Paul Bashea Williams, LCSW-C LICSW, relationship specialist and owner of Hearts In Mind Counseling
Tom Ella, dating expert and one of the hosts of 'The Undesirables' dating podcast
Raffi Bilek, LCSW-C, a relationship counselor and director of Baltimore Therapy Center
Dr. Josh Klapow, a clinical psychologist
This article was originally published on