Here's Exactly What Causes Boredom In A Relationship
The thrill of your honeymoon phase doesn't last forever.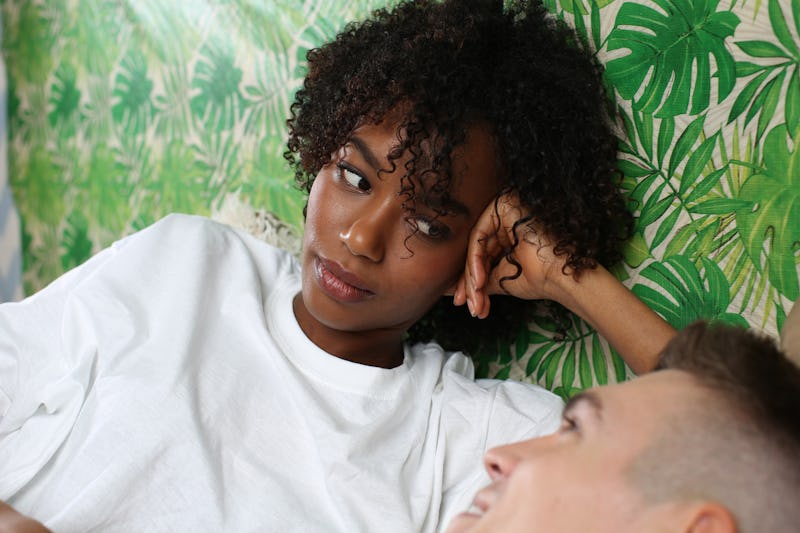 Ashley Batz/Bustle
By knowing what types of mistakes can lead to boredom in a relationship, you and your partner will be better equipped to keep things fresh and fun — even if every single day can't and won't be the most thrilling.
While relationships typically start off in a flurry of passion and excitement, also known as the honeymoon stage, says therapist Julie Williamson, LPC, NCC, RPT. But, she explains that such a high level of joy and newness simply can't last forever. "It's natural that those feelings may wane after settling into a life with someone that involves daily routines," she tells Bustle.
The honeymoon stage fades away, but that isn't necessarily a bad thing. According to Dr. Marisa T. Cohen, a relationship expert at the couples app Paired, you'll eventually start moving into a phase that includes getting to know each other on a deeper level. For some couples, it may be interpreted as "boring." But there are ways around it.
"Avoiding boredom is simply about making an effort to keep things fresh, avoiding complacency, and remaining individuals — despite the fact you're very much together," Cohen says. It'll be up to you both to keep an eye out for unhealthy patterns and habits that suck the joy out of the room or make you feel stuck.
With that said, here are a few mistakes that have a way of contributing to a boring relationship that you'll want to avoid.
This article was originally published on