7 Reasons You Get Bored Easily In Relationships, According To Experts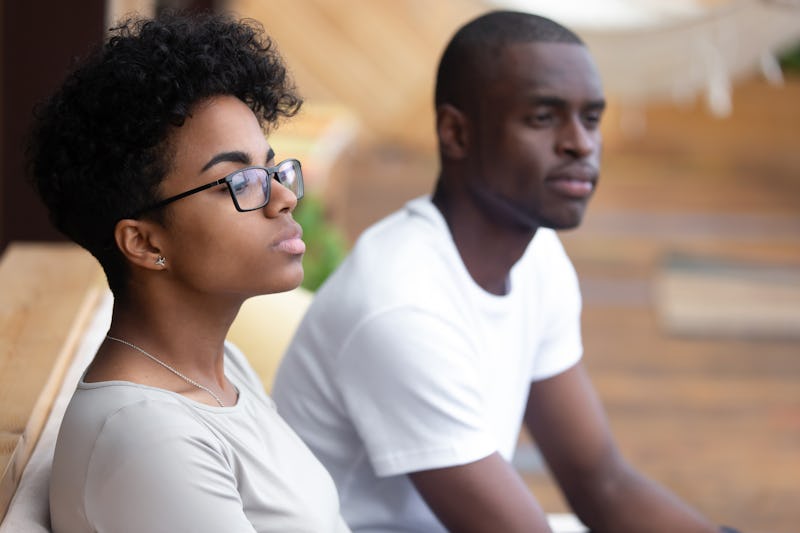 Shutterstock
Feeling bored at some point in your relationship is normal. Once the honeymoon period ends, you'll enter into the comfortable stage. While it may not be as exciting and new as it once was, you and your partner have the opportunity to deepen your bond and solidify your commitment to each other. But boredom in a relationship can be a problem if it happens to you all the time. According to experts, if you constantly find yourself getting bored easily in relationships, there may be something deeper going on.
"Getting bored in one relationship might be a sign that your partner isn't a good match for you," Elizabeth Earnshaw, LMFT, certified Gottman couples therapist and clinical director of A Better Life Therapy, tells Bustle. "However, having a pattern of getting bored in relationships over and over again may be a sign that you have an insecure attachment style."
Your attachment style is developed in childhood and is based on how your parents or primary caregiver interacted with you. If your parents were emotionally unavailable or were inconsistent with their affection, you may have developed an insecure attachment style. According to Earnshaw, you'll likely feel avoidant and withdrawn when you sense strong feelings of intimacy.
"While pop culture likes to call these people commitment-phobes, in reality most people that struggle to commit and feel bored in relationships are actually just struggling with feeling safe and secure in a relationship," she says. "They often find that once they begin to feel intimately close to someone, they start to be hyper aware of flaws like boredom."
Here are some other reasons behind why you easily get bored in relationships, according to experts.