An Honest Review Of Kane's Revive Post-Workout Recovery Shoes
What happened when I put the squishy footwear to the test.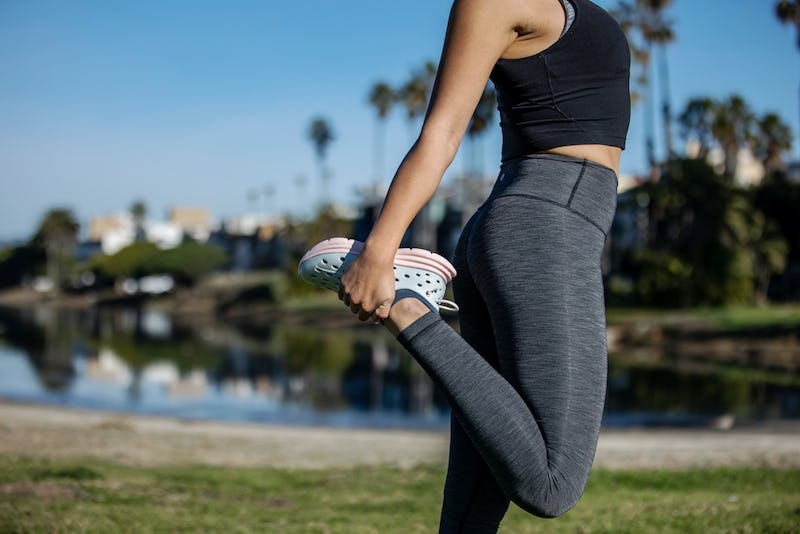 Kane
My go-to workouts are yoga, dance cardio, and running. (OK, jogging.) And after each one, my feet feel some type of way. When I do yoga, they feel over-stretched and sore. After dance, they're tired and achy. And following a run, my feet practically scream for a massage.
That's why I was super excited to hear that post-workout recovery shoes exist. Instead of keeping your running sneakers on post-workout or cramming swollen feet into sandals, you pull on a pair of recovery shoes and stroll around town in footwear specifically designed to help your tootsies relax and readjust after a tough workout. While there are quite a few options on the market, I gave the Kane Revive shoes a try.
Recovery shoes are usually made with a lightweight, high-density foam that cradles and gently stretches your foot as you walk to prevent further foot fatigue, says Matt Scarfo, a NASM-certified personal trainer and running coach. Many recovery shoes also provide a gentle massage for your arches and heel, he says, thanks to nubs on the sole.
The Kane Revive shoes look like a mix between regular sneakers, Crocs, and water shoes — but every aspect of their design, from the closed heel to the super-wide toe box, is purposeful. They were created alongside podiatrist Dr. Dan Geller with the ultimate goal of making your body feel better after a run or gym session. Well, regardless of how funky they look, my sore feet were begging me to at least give them a shot. Here's my honest review of Kane's Revive active recovery slip-ons.
We at Bustle only include products that have been independently selected by our editors. We may receive a portion of sales if you purchase a product through a link in this article.
BDG product reviews and recommendations are written and conducted by writers and editors with expertise in their fields. Testers often have specific experience with the situation or product at hand, and/or their review or recommendation is provided in consultation with experts. You can learn more about our standards here.
Fast Facts
Price: $75
Best for: Recovery after a workout
Rating: 3.5 out of 5 stars
Brand: Kane Footwear
Material: Made from sustainably-sourced sugar-cane based EVA foam
What we like: They're lightweight and breathable
What we don't like: The shape takes some getting used to
The Experts
Matt Scarfo is a NASM-certified personal trainer and running coach.
Dr. Dan Geller is a podiatrist who collaborated with Kane Footwear to design the Kane Revive Active Recovery Shoe.
My Issue
I try a lot of different workouts (I am a fitness and wellness writer, after all), and I also walk a lot. Something I've noticed is that my feet often feel achy, tight, and sore. This stems from the repeated impact of running, the fancy footwork required in dance classes, and the extra flexion necessary in yoga. While I try to wear sneakers with sufficient cushioning and support, my dogs are always barking after a solid sweat sesh — so I thought maybe a recovery shoe could help them feel better, faster.
The Kane Revive Active Recovery Shoe
According to Dr. Geller, Revive shoes are all about support, structure, and cushioning. The first two functions come from the "anatomical design" that secures the heels and supports the arch, and the cushioning from the thick sole made of BounceBack™ foam created from Brazilian sugarcane. "Post-workout, this translates to less fatigue, quicker recovery, and less potential for injury," he tells me.
The shoes are extra breathable thanks to all the perforations and interior channels for airflow. Then there are the raised footbed nodes, which stimulate blood flow in key pressure points of your foot. Your feet also don't have to grip to keep the shoes on, as there's a secured heel and oversized channels along the soles for traction.
Kane Footwear points out that many folks keep their running sneakers on after a workout or slip on a pair of slides to walk home from the gym. But here's the potential issue: Fitted sneakers don't allow your feet to breathe or bend, and slides only make your feet and legs more tired because your muscles have to work to keep them on. Because Revive slip-ons are secure, you can pull them on and go about your post-workout life, all while your toes freely wiggle around and air out.
First Impression
When I pulled the Kane shoes on after a run, the first thing I noticed was the squishy sole and the fact I was practically an inch taller because of it. While my running sneakers have a decent cushion, the extra foam made it feel like I was walking around on clouds — a welcome change after pounding the pavement. It was also a new sensation to have all that extra room around my toes. In fact, the wide toe box almost made it feel like I wasn't wearing shoes at all.
Another feature that stood out — and one that felt extra nice after the strain of dancing and yoga — was the tiny raised nodes along the insides of the shoes. These nubs are supposed to stimulate your feet after exercise and basically provide a mini massage. And you know what? It did feel like a massage sensation on my soles. I pulled them on after doing a dance workout, and it felt like my feet were getting a well-deserved dose of TLC.
How To Use
I wore these slip-ons following a run, after a yoga class, and after a dance class to test how (or if) they helped my feet rebound. I also wore them on long walks outside.
When I asked Dr. Geller how long I need to wear the shoes after each workout to see a benefit, he said to keep them on for as long as they feel functional. "The more we wear shoes with cushion and support, the better our recovery gains are," he added. To me, that was the green light I was looking for to wear them for pretty much the rest of the day after my morning workouts.
The Results
I really enjoyed how these shoes let my feet air out and stretch. They did, however, take some getting used to. Because the shoes have a wide toe box, it sort of feels like they're too loose. It helped to keep in mind that that's precisely the point of recovery shoes: You want the extra room to get all the benefits. I've worn these shoes regularly for going on two weeks now, and they are scuff-free and just as comfy as they were right out of the box.
Worth It?
According to Scarfo, you don't need to wear recovery shoes in order to recover after a workout. "There are many stretches and strength exercises you can do while walking barefoot to help your feet recover from long runs, including stretching your arches in a deep lunge and moving your toes independently of one another to help improve coordination of the muscles," he tells me.
That said, Scarfo says recovery shoes are better than wearing your workout shoes, particularly if your exercise of choice includes a lot of impact. "Recovery shoes are generally better after running because you're often putting a lot of stress on the muscles and the joints in the foot," Scarfo says. So if you're diligent about your fitness regimen or often struggle with foot pain, I'd say these shoes are worth it.
Final Verdict
Because they're light, supportive, and oh so very comfy, I can see myself wearing these slip-ons after a workout and even on the days when I'm not exercising. They're that game-changing for my active feet — and I'd recommend them to anyone else who deals with foot aches on the reg.