The Best Lat Exercises With Dumbbells, According To Trainers
Don't forget those back muscles.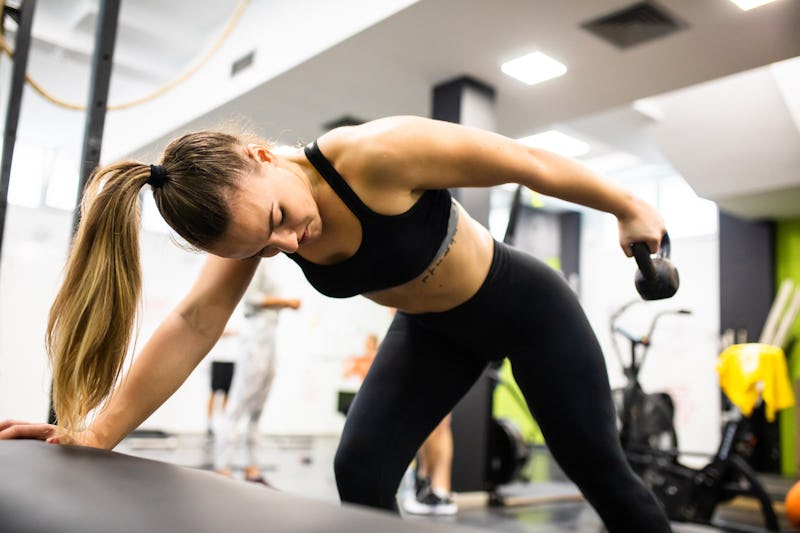 Getty Images/Aleksandar Jankovic
It's easy to forget to work your back muscles. Sure, they may not be as fun as glute exercises, but they're still important for your overall fitness game. Don't worry, though — you can just incorporate some moves that target this area into your workout routine with nothing more than a set of dumbbells — and no trip to the gym required.
"As the largest upper body muscle spanning most of the back, the lats are incredibly important for posture and stabilizing your posterior chain from your neck to your hips," says Nikka Saadat, a personal trainer at Vitruvian. The latissimus dorsi, as they're officially called, are the muscles below the shoulder blades that run down the spine to the pelvis and across the width of your back, so they play a major role in keeping you upright — which is why it's totally worth it to give this area a little extra love.
The lats also play an important role in any strength training program, adds Rob Wagener, a NASM-certified personal trainer. "In addition to strengthening the muscles, lat exercises also help to improve your flexibility and range of motion," he tells Bustle. "As a result, they can help to prevent pain and injuries in the lower back, shoulders, and hips."
While there are specific machines that focus on the lats at the gym — like the lat pulldown — you can always reach this area with a set of dumbbells, says Lalitha McSorley, PT, a physical therapist and personal trainer at Brentwood Physio. "Dumbbells allow you to move through a greater range of motion than the weight machine, which can result in a better muscle-strengthening workout," she tells Bustle. "They're also great at engaging the surrounding stabilizing muscles."
Read on below for a list of lat exercises with dumbbells to try.
Studies referenced:
Aerenhouts, D. (2020). Using Machines or Free Weights for Resistance Training in Novice Males? A Randomized Parallel Trial. International Journal of Environmental Research and Public Health, 17(21). https://doi.org/10.3390/ijerph17217848
Fenwick, CM. (2009). Comparison of different rowing exercises: trunk muscle activation and lumbar spine motion, load, and stiffness. J Strength Cond Res. doi: 10.1519/JSC.0b013e3181942019.
Jeno, SH. (2022). Anatomy, Back, Latissimus Dorsi. In: StatPearls [Internet]. Treasure Island (FL): StatPearls Publishing; 2022 Jan–. PMID: 28846224.
Lehman, G. J. (2003). Variations in muscle activation levels during traditional latissimus dorsi weight training exercises: An experimental study. Dynamic medicine : DM, 3, 4. https://doi.org/10.1186/1476-5918-3-4
Vishwakarma, V. (2019). Effect of Latissimus Dorsi Muscle Strengthening in Mechanical Low Back Pain. https://www.ijsr.net/archive/v9i8/SR20730124217.pdf
Sources:
Nikka Saadat, personal trainer at Vitruvian
Rob Wagener, NASM-certified personal trainer
Lalitha McSorley, PT, physical therapist, personal trainer at Brentwood Physio
TJ Mentus, certified personal trainer
Julie Bobek, trainer at FlexIt