How The Creator Of The Hot Girl Walk Takes Her Strolls Up A Notch
TikTok creator Mia Lind chats about wellness, the perfect avocado toast recipe, and how she de-stresses.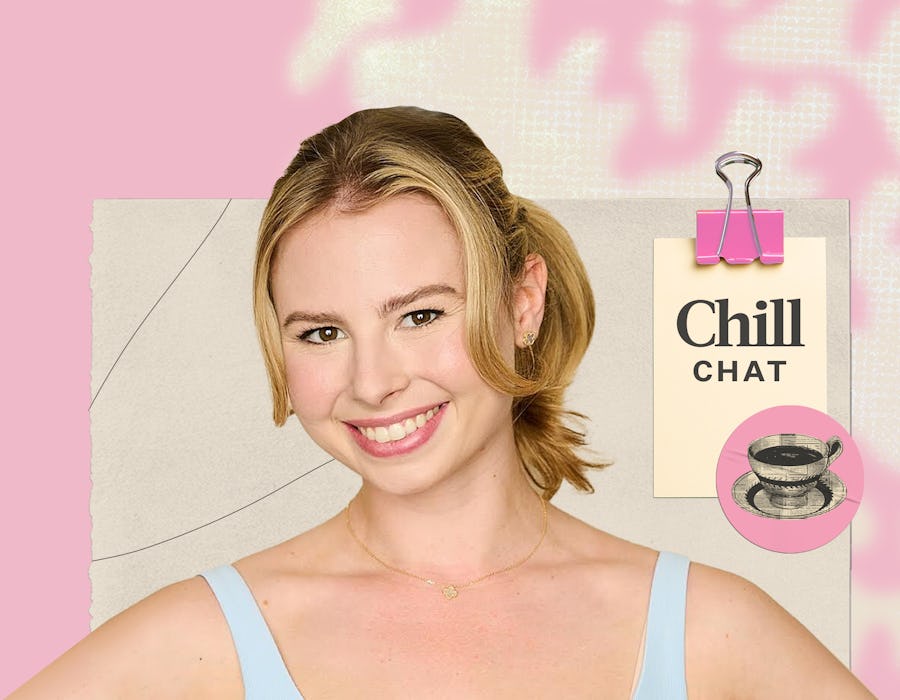 In Chill Chat, Bustle sits down with stars to chat about all things wellness, from their favorite skin care products to their hacks for getting a good night's sleep. Here, hot girl walk founder Mia Lind shares her morning routine, favorite dessert, and the one Taylor Swift song she's been playing on repeat.
Before Mia Lind created the hot girl walk, her daily 4-mile strolls were always more stressful than relaxing. To give herself something positive to focus on, she decided to think about three things: what she was grateful for, her goals for the future, and her own hotness.
"I'd always come back from my walks and my parents would notice that my mood was super different," she tells Bustle. "I posted about my walks on TikTok, and it was clear a lot of people resonated with them and were searching for something similar."
Lind shared her first hot girl walk on TikTok in 2020. By 2021, her videos had racked up millions of views. (The number is now nearly a billion.) "The hot girl walk is more than just a walk," Lind says of its success. "It's about how you live your entire life. I always say that your hot girl walk doesn't end once you're done walking — the energy continues throughout the rest of your day."
Now, Lind has partnered with Reebok to rep the DMX Comfort Plus — the comfy, cloud-like sneakers inspired by her love of walking. "They are my absolute go-to shoe, whether I know I'm going on my hot girl walk or out to get coffee and then meet a friend."
Below, Lind shares the perfect avocado toast recipe, her go-to way to de-stress, and her favorite workout (besides walking).
Walk me through your morning routine.
I'm definitely someone who likes to sleep in as late as I can. Once I'm up, I'll make my morning coffee, which is usually two shots of espresso with oat milk.
After that, I'll work for a while and then make the avocado toast that I've perfected. It's dill and chives in the avocado, then eggs cooked in chili oil on a sourdough baguette. I live pretty close to grocery stores and farmers markets, so I stop in during my walks. If the bread's looking good, I know my avocado toast is going to be extra great that day.
How do you stay hydrated?
I never got in on the Stanley Cup thing, since they're too heavy to carry on my walks. Instead, I tend to drink before I leave and once I get back home. I'm also a big fan of diet soda as a sweet treat, so I'll sometimes stop into a McDonald's. Their drinks are always so crispy.
Besides walking, what's your favorite way to exercise?
I think cross-training is really important, so I've been religiously going to SoulCycle. I love spin; it's low impact, which I really like, and there are no numbers on the screen. It's got a very similar vibe to the hot girl walk, where it's all about your soul. I also love that you can sit down if you get tired since the bike seat is right there.
On the weekends, I also like to go with my boyfriend for what I call the hot girl walk extreme. It's either a hike in nature or we'll just go out around town and walk for 10 miles. It's like urban hiking.
You log so many miles. What's your go-to blister-healing trick?
My best blister trick is a lot more about prevention, because once you get a blister, there's not too much that you can do about it. I think having a shoe that's comfortable and that actually fits properly is so important. Wearing a nice, thick sock helps, too.
What's on your hot girl playlist?
I actually created a walking playlist that's four hours long so you won't ever run out of music. It's called "Hot Girl Walk" on Spotify by Mia Lind. I've also been listening to Taylor Swift's entire collection. My favorite Taylor song is "The Man." It just pumps me up.
I also love Beyoncé, Megan Thee Stallion, and Olivia Rodrigo. Her new album just came out, so I've been blasting that one as well.
How do you cope with stress?
If I'm having a really overwhelming day, I like to call my mom. I'm sometimes on the phone with her for up to six hours a day. I also love cold-calling my boyfriend or my friends so they can help me put things into perspective. I do this all the time when I'm walking. I'll send so many voice messages, and my girlfriends will do the same.
I also love a puzzle game. I play the daily New York Times ones like Wordle, Spelling Bee, the crossword, and I just got into Connections. It's all so relaxing. I feel like it's a good way to get your mind off things.
What does a typical evening look like?
I'll make dinner, even though I haven't perfected my dinner game just yet. Then, one nonnegotiable for me is that I have to have dessert. I eat chocolate every single day. Right now I'm obsessed with Tru Fru. They're frozen raspberries or strawberries covered in dark chocolate and milk chocolate. I keep them in the freezer, and they always taste so fresh. I'll crush a whole bag in two days.
What's next for hot girl walks?
I've been hosting hot girl walks in Los Angeles on Thursdays. It's growing so quickly. I used to work for a really large tech company, and I actually just left that job to do hot girl walking full time. It's a little bit scary to do things on your own, but we have a lot of really exciting stuff coming up.
This interview has been edited and condensed for clarity.