The Mobvoi Home Treadmill Helps Me Reach 10,000 Steps A Day
It's foldable, durable, and has an incline feature.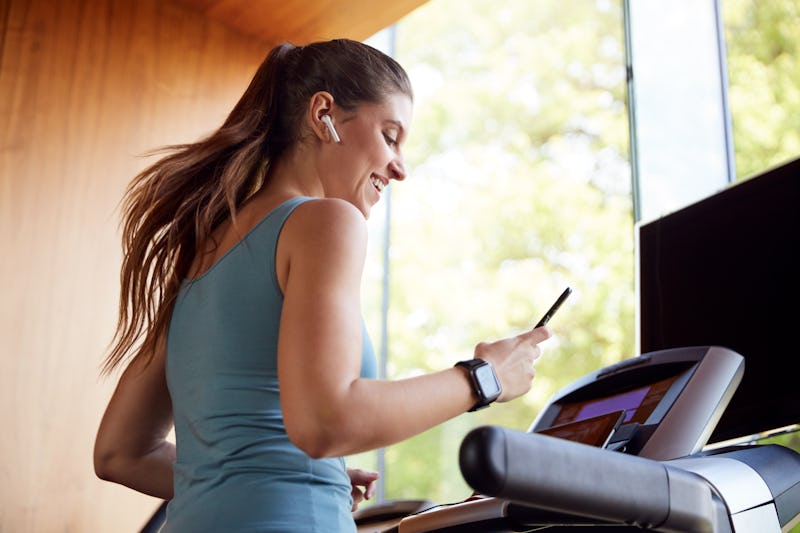 Shutterstock
We may receive a portion of sales if you purchase a product through a link in this article.
When you live in an apartment, you don't really consider getting a treadmill. Large pieces of fitness equipment are typically reserved for the gym where there's way more space. Noise is a factor, too. If you have downstairs neighbors, you think twice before doing a 45-minute foot-pounding workout, especially at 11 p.m. And yet, as someone who's always trying to snag those elusive 10,000 steps a day, I wanted to try the Mobvoi Home Treadmill Incline, aka a much smaller, portable version of a typical tread.
Even though I have a gym membership and thus access to 50 different treadmills, it's so much easier to just... not go. Sometimes it's too cold or dark out to schlep to the gym, or maybe I'm not in the mood to be around 100 people. The same is true for sticking to an outdoor walking routine. Even when I want to go for a stroll, the weather doesn't always cooperate. What I'm trying to say is: There are countless reasons to sit on the couch and watch Love Island instead of working out. But once I got my mitts on my very own apartment-friendly treadmill, that all changed.
Ever since this fitness contraption has come into my life, I've racked up my daily step count, switched up my workout routine, and added way more movement to my day. Keep reading for my review of the Mobvoi Home Treadmill Incline, which may inspire you to snag one for yourself.
Fast Facts
Price: $599.99
Best for: At-home workouts, 12/3/30 workout girlies
Your rating: 5/5
Brand: Mobvoi
What we like: The incline feature and how compact it is.
What we don't like: It's not your best bet for sprint workouts
The Mobvoi Home Treadmill Incline
The main draw of the Mobvoi is its size. You can fold the tread up so that it isn't in your way and store the whole machine upright in a corner. Even when it's open, the machine isn't that big. It's 51.9 inches long and 26.2 inches wide, which is about the size of a dresser. It also has four wheels that allow you to easily slide it out of your way, so you can really make it work for your space.
When it's open, the treadmill is pretty standard. It has handlebars, an LED touchscreen that displays your distance and speed, and a motorized tread belt that goes up to 8.5 mph. Unlike most walking pads and treads that are designed for small spaces, however, the Mobvoi has an incline feature, which is a nice treat. You can bump it up from totally flat to a 15% grade in 1% increments for a steeper climb or interval training. That means that yes, you can do a 12/3/30 workout from the comfort of your home. Plus, it comes with 25 preset walking programs that guide you through a workout, but you can walk, jog, or run at your own speed.
The machine is also waterproof, durable, and soundproof. Its running belt is designed to absorb shock, so it's super quiet — the company says the noise it makes is below 74 decibels, so your neighbors won't wonder what the heck is happening next door when you're jogging.
First Impression
I'll admit I was a bit shocked when the treadmill showed up. The box was way bigger and heavier than expected. I needed to call in reinforcements to get it upstairs to my apartment, but once I had it inside I realized some of the weight was from the packaging, so don't let the heftiness freak you out.
The setup requires a little bit of assembly, but the machine comes with everything you need for the job. You'll just want to put it by an electrical socket that can handle the power of your run. Get past the initial setup stages, though, and you'll have yourself a foldable treadmill that neatly stands up when you're done using it.
I opened my Mobvoi one dark and stormy night and was super tickled to be doing an actual walking workout as I watched Love Island.
The Experience
As part of my ongoing quest to reach at least 10,000 steps a day, I decided to start a ritual where I'd walk on the treadmill whenever I wasn't in the mood to hit the gym or take a stroll outside. I put on my Fitbit to track my steps, set the speed to a cool 3 mph, and did easy strolls that lasted anywhere from 20 minutes to an hour.
When I wasn't catching up on a podcast or matching my steps to the beat of a playlist, I'd put on a movie or show. Unlike the TVs at the gym that often have just one fuzzy channel, this meant I got to watch exactly what I wanted to. Ah, the benefits of home gyms.
I rack up my steps in the mornings and evenings, and I'll sometimes hop on the treadmill a few times mid-day to take a break from sitting. The convenience of it all is a huge draw; I don't have to put on a gym-worthy workout 'fit or layer up to go outside in the cold. I simply hop onto my tread in anything I happen to be wearing (with sneakers, of course), and I'm able to get those steps.
Why I'm Obsessed
What sets the Mobvoi apart from other at-home treadmills is its size and accessibility. I have an apartment in a city, which means I have limited space. The Mobvoi solves that issue with its folding "soft drop system" that allows you to store it upright and closed, then gently extend it down when you're ready to walk. (Seriously, it slowly lowers down by itself like a dream.)
The incline feature is another reason why I'm a fan of the fitness contraption. Pitching the treadmill up just 5% made a big difference when I wanted to turn a meandering, movie-watching walk into more of a workout. It's tough to come by compact treadmills that have an incline, especially compared to walking pads and treadmill desks, so I appreciated the option to work my glutes on an incline from the comfort of my living room.
While I might save my sporty, full-out sprints for the larger, sturdier treadmills at the gym that have a longer footbed, I did attempt some light jogs — and the treadmill belt was able to keep up with my pace. It wasn't too loud when I increased my speed, either.
The Bottom Line
I'm all about having quick access to a walking workout, no matter the time or weather. Even though it's the middle of winter, I almost always reach my 10,000-steps-per-day fitness goal — which is a win in my book.
Studies referenced:
Husted, HM. (2017). The Accuracy of Pedometers in Measuring Walking Steps on a Treadmill in College Students. Int J Exerc Sci. PMID: 28479955; PMCID: PMC5214549.