20 New Year's Eve Ideas For New Relationships
Get to know each other, have fun, and count down to 2021.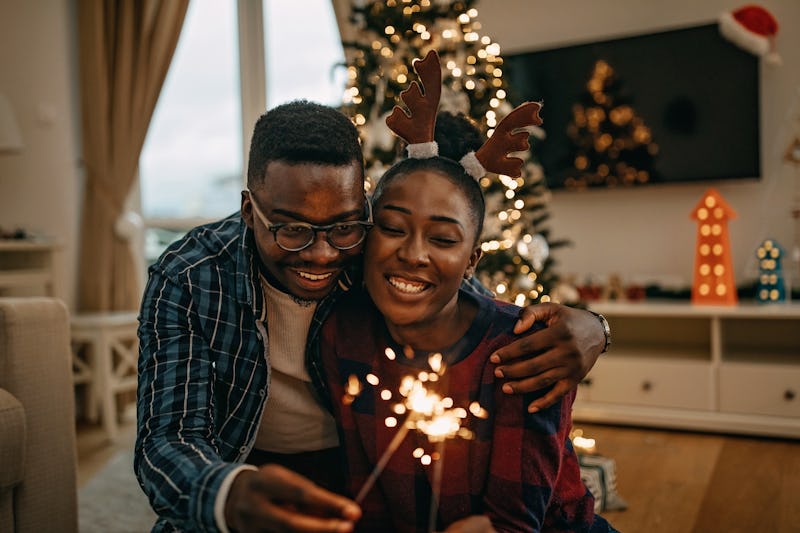 supersizer/E+/Getty Images
If it wasn't 2020, you'd probably throw on a glittery top and go out to a bar with your new partner. Or maybe you'd find yourselves at a friend's rooftop party, or in the middle of a club with really great music. But this year, all the usual, go-to New Year's Eve ideas for new couples — or anyone, for that matter — will have to look a little bit different. And that's completely OK.
It's still possible to have a good time, but before we jump into what to do on NYE, take a deep breath and let any intense expectations — or fears of boredom — slip away. "The less pressure you put on the night itself the better," Susan Trombetti, a matchmaker and CEO of Exclusive Matchmaking, tells Bustle. "You are in such an exciting time of your relationship. Just enjoy the night together instead of focusing on what you think 'should be.'"
Sure, it might seem like a letdown to stay in and talk on the couch, especially when you have new relationship energy. But you know what? That's actually a really great way to spend your time, and get to know each other better.
That said, in honor of the holiday, here's a whole list of other fun, intriguing — and maybe even a little bit sexy — ways to spend New Year's Eve that are perfect for new couples.
Experts:
Susan Trombetti, matchmaker
Dr. Jacqui Gabb, professor of sociology
Sulonda Smith, LMFT, CLC, licensed marriage family therapist
Dr. Terri Orbuch, professor of sociology
Yue Xu and Julie Krafchick, relationship sociologists and hosts of the Dateable podcast
Zoe Kors, sex and intimacy expert
Stephania Cruz, relationship expert
Cassandra LeClair, PhD, relationship expert and communication studies professor
Cathy Sullivan-Windt, PhD, licensed psychologist