7 Partner Yoga Poses To Try With Your BFF
For a deeper stretch that's way more fun.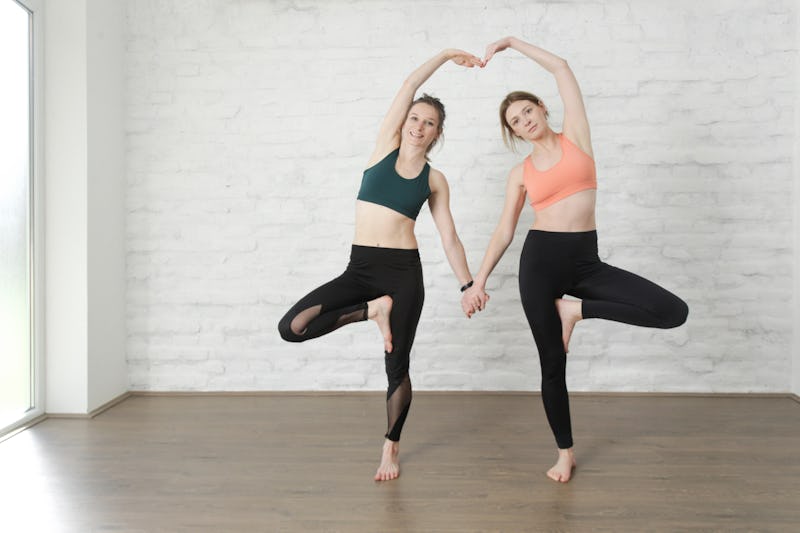 Shutterstock
Doing yoga by yourself is great and all, but you could share the experience with someone else. There are countless partner yoga poses you can do with a friend or significant other as a way to deepen your stretches, build your relationship — or simply have more fun.
Partner yoga poses are an opportunity for two people to challenge themselves together, says Steph Ball-Mitchell, a certified yoga teacher and founder of Online Yoga School. "Overcoming the challenge with one another strengthens your bond," she tells Bustle, whether you do poses with a friend or your boo. They also make for a fun way to work out together, especially if you'd like some assistance with stretching your tight hamstrings.
When you do partner poses with an actual partner, of course, you'll definitely feel closer, both physically and figuratively. You'll have to communicate — and quite literally lean on each other — as you maneuver into tricky postures. Plus, it'll be super cute if you end up toppling over. "It teaches you to physically and mentally let go," says Patrick Franco, yoga director at YogaRenew Teacher Training. "It's a completely different experience than rolling out your own mat and practicing on your own in silence."
Whether you're looking for a simple stretch to try with a pal or a challenging pose that'll require a lot of mutual effort — and lots of finagling — with a partner, read on below for seven different partner yoga poses to try.
Sources:
Steph Ball-Mitchell, E-RYT-500, RPYT, RCYT, YACEP, certified yoga teacher, founder of Online Yoga Schoo
Patrick Franco, yoga director at YogaRenew Teacher Training
Leslie Shull, NBC-HWC, MBA, RYT200, yoga instructor
Madeline Alfiero, certified Yoga Alliance yoga instructor