11 Physical Signs You're Having An Anxiety Attack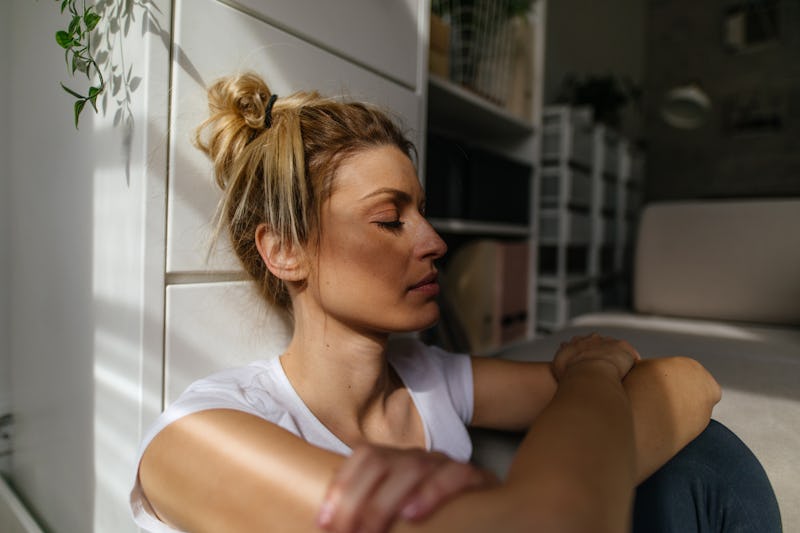 Getty Images/AleksandarNakic
Anxiety attacks can be confusing, scary, and physically distressing, especially if you don't understand that you are having one. Though over 40 million adults in the United States are diagnosed with an anxiety disorder, including panic disorder, there are still some major myths surrounding anxiety attacks. Though you may envision anxiety attack symptoms like crying, screaming, or breathing into a paper bag (and that can be true) there are actually a lot more physical signs of anxiety attacks than you may know about.
If you have anxiety, you're not alone: Nearly a third of American adults experience an anxiety disorder at some point in their lives, according to the National Institutes of Health (NIH). And anxiety levels have peaked during the pandemic, with nearly half of Americans reporting feeling anxious in the last two weeks, according to the American Psychological Association's Stress in America 2021 report. "Anxiety is when your brain is telling you that you don't have control over something," says licensed counselor Nawal Alomari. "The flight or fight response kicks in, which is your brain telling you to attack this thing and handle it or run away. When that happens, you get physical symptoms."
If anxiety is so common, then it must be easy to spot those symptoms, right? Not necessarily, says Alomari. Anxiety attacks (just like anxiety in general) can vary from person to person, she says. One person might feel sweaty and dizzy, while another might get a stomachache. And anxiety attacks differ from a panic attack in that they don't always come on as suddenly or as strong, says Kanani Stephens, registered nurse and co-founder of hemp wellness brand Plant Love Naturals. That's why you might feel the symptoms of an anxiety attack for hours or even days before understanding what's causing your discomfort, as opposed to the typically sudden and intense surge of panic attack symptoms like crying, trouble breathing, and overwhelming fear.
So whether you're unsure if that chest pain you experienced was COVID or anxiety or you just want to get to the bottom of how your mental health is impacting you physically, being aware and educating yourself on the physical symptoms that accompany your anxiety can help you better navigate panic attacks. Here are 11 common physical symptoms of an anxiety attack that are completely normal, and why they occur in the first place.
This article was originally published on