15 Important Questions To Ask Your Partner Before Getting Engaged
It's time to get uncomfortable.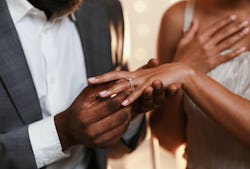 Shutterstock
If you and your partner are considering marriage, it's natural to allow the excitement to take the reins. After all, feeling ready to make a lifelong commitment to someone implies that you both have created a strong foundation of love and a shared vision for the future. Before letting the sound of wedding bells come to the forefront of your mind, however, it's important to have some honest conversations together. You'll definitely want to come up with questions to ask your partner before getting engaged.
While some topics might be uncomfortable to discuss, having candid conversations with your partner is beneficial to your relationship. "One of the most important qualities of a relationship and an indicator of its ultimate success is its ability to adapt and to be flexible," licensed professional counselor Megan Broadhead, LPC tells Bustle. "This requires two people who are open to the other's opinions and needs." Both you and your partner should be open to having a wide range of discussions — from financial logistics to your plans for having kids — before you take that next step.
Once you both feel ready for the ring, consider these 15 expert-approved questions to ask your partner before getting engaged.
Sources:
Megan Broadhead, LPC, licensed professional counselor
Jim Urban, LMHC, licensed mental health counselor
Maria Inoa, LCSW, licensed clinical social worker and relationship coach