Experts Explain Why You're Still Dehydrated After Drinking Water All Day
TFW H2O just isn't doing the trick.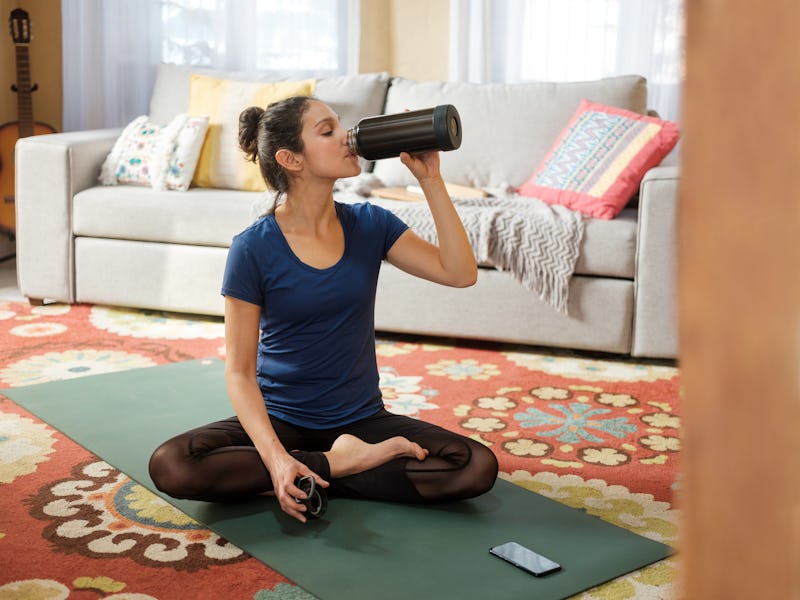 aldomurillo/E+/Getty Images
You often hear the old "eight glasses of water a day" adage as a way to stay hydrated. But unfortunately, hydration isn't as simple as refilling your Nalgene and chugging plenty of H2O. In fact, it's possible to still feel thirsty and dehydrated, even if you're someone who prides themselves on their water-drinking game.
If you drink a lot of water and still feel dehydrated, something else may be to blame. "Typically, dehydration means a loss of fluid in the body," says Kelly Unger, a certified personal trainer, nutritionist, and co-founder of Epic Fitness. While it's typically caused by not drinking enough, other factors like certain illnesses or excessive sweating can throw your body out of whack.
Since dehydration is never a good feeling, it'll be important to get to the bottom of your thirst and pinpoint the exact cause so you can get yourself back on track. Some signs of dehydration to watch for include dry mouth, bad breath, extreme thirst, less frequent urination, and dark pee. And if you're really dehydrated, you might feel dizzy, tired, or stop sweating completely.
It might be confusing if you experience these signs even after drinking lots of water, but drinking water isn't all that it takes to stay hydrated. Here are some reasons you might feel dehydrated despite seemingly adequate water intake, according to experts.
Studies referenced:
Belasco, R. (2020). The Effect of Hydration on Urine Color Objectively Evaluated in CIE L*a*b* Color Space. Front. Nutr., 26 October 2020 | https://doi.org/10.3389/fnut.2020.576974
Freund, B. (1996). Nutritional Needs In Cold And In High-Altitude Environments: Applications for Military Personnel in Field Operations. Institute of Medicine (US) Committee on Military Nutrition Research; Marriott BM, Carlson SJ, editors. National Academies Press (US); 1996. https://www.ncbi.nlm.nih.gov/books/NBK232870/
Giersch, G. (2020). Fluid Balance and Hydration Considerations for Women: Review and Future Directions. Sports Med. https://pubmed.ncbi.nlm.nih.gov/31641955/
Maughan, R.J. (1991). Fluid and electrolyte loss and replacement in exercise. J Sports Sci. https://pubmed.ncbi.nlm.nih.gov/1895359/
Popkin, B. M., D'Anci, K. E., & Rosenberg, I. H. (2010). Water, hydration, and health. Nutrition reviews, 68(8), 439–458. https://doi.org/10.1111/j.1753-4887.2010.00304.x.
Experts:
Scott Michael Schreiber, DC, board-certified rehabilitation specialist
Dr. Natasha Trentacosta MD, sports medicine specialist and orthopedic surgeon at Cedars-Sinai Kerlan-Jobe Institute
Shena Jaramillo MS, RD, registered dietician
Filipa Bellette, Ph.D., board-certified clinical nutritionist and functional medicine practitioner
This article was originally published on