Yes, Your Partner Could Be Hurting Your Mental Health
Relationship experts weigh in.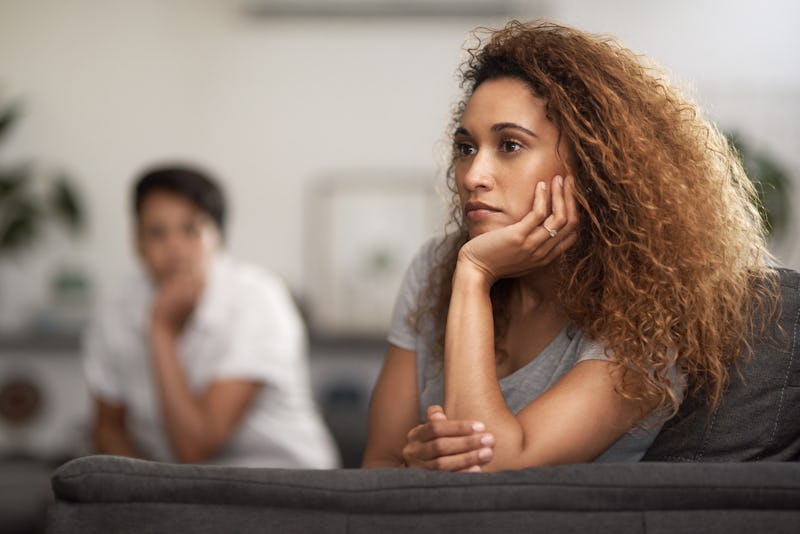 PeopleImages/E+/Getty Images
When entering into a new relationship, we're always on the lookout for red flags, like if a wanna-be suitor is controlling, complaining, or emotionally immature. But what if you've settled into a relationship and things still feel off kilter? Maybe your partner is wonderfully hunky dory, but your mental health is deteriorating. What now?
Focus instead on the "green flags," says Sarah Louise Ryan, a dating and relationships expert. "The foundations of a healthy relationship [should include] boundaries, verbal and nonverbal, and you should always feel seen, heard, and like they get you and accept you for who you are." If those are absent, she says, your mental health could be at risk.
"Relationships are arguably the most impactful, meaningful aspect of life, and they can impact us in very different ways, depending on the relationship," adds psychologist Holly Parker, the author of If We're Together, Why Do I Feel So Alone?: How to Build Intimacy with an Emotionally Unavailable Partner. "Some [people] have the power to uplift our spirits, to lend comfort during life's strains and stresses, to weave fun and playfulness into our day, and to imbue life with a profound sense of purpose. Sadly, others can pull us down, drain our energy and emotional reserves, fill us with heartache, and erode our happiness," she says.
Below, experts share seven signs that your relationship may be hurting your mental health and exacerbating conditions like depression and anxiety.
Editor's Note: If you or someone you know is experiencing domestic abuse, call 911 or the National Domestic Violence Hotline at 1(800) 799-SAFE (7233) or visit thehotline.org.
Experts:
Sarah Louise Ryan, matchmaker and dating and relationships expert
Holly Parker, Ph.D., psychologist, educator, and author
MoAndra Johnson, MFT, therapist