Here's What Sex Is Really Like With A Smaller Penis
"I'll watch porn where the man has a similar penis size to me to make sure that I'm staying in touch with reality."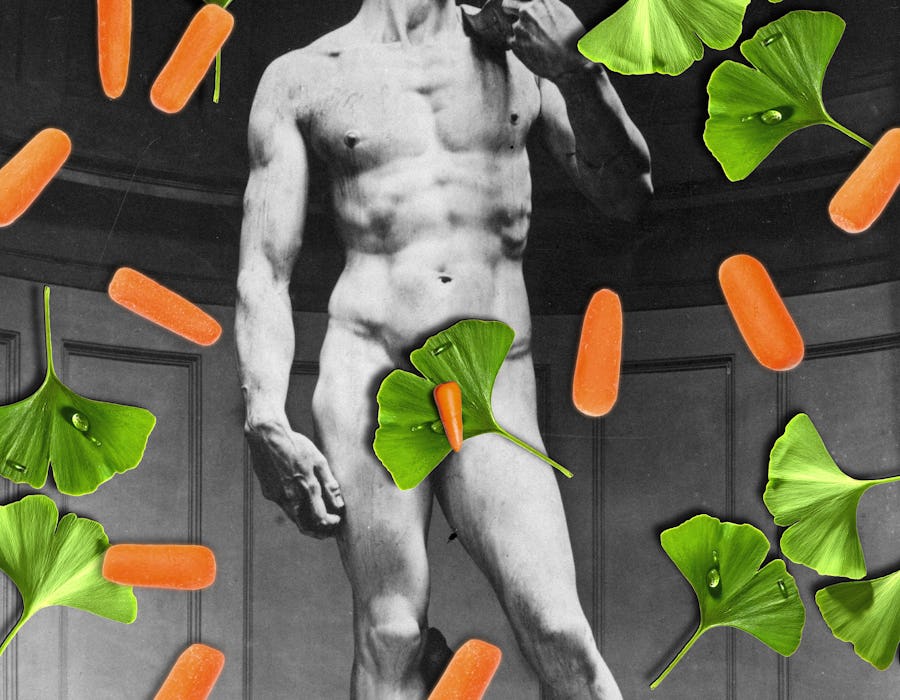 We live "in a world that's obsessed with penis size," as sex expert Zachary Zane puts it, and nothing quite sums that up like the premiere of Showtime's The Curse. During the Nov. 12 episode, it's implied that Nathan Fielder's character Asher has a small penis that more or less resembles a baby carrot.
Asher is portrayed as being very uncomfortable with his size. He refuses to penetrate his wife (played by Emma Stone) with his penis, and his similarly sized father-in-law makes a self-deprecating joke about their packages, saying their "cherry tomato penises" don't measure up to "heirloom tomatoes."
He's not alone in his anxiety. This is one of the most common body image concerns among cisgender men, Zane explains, even though the vast majority of people are around the same size. The average length of an erect penis is about 5.1 to 5.5 inches, and about 95% fall within that range.
Nobody should be defined by their size, Zane says, and anyone can figure out how to make their anatomy work for their sex life. Take it from the following folks — men in the smaller camp and their partners.
Don't Sleep On Foreplay
In the past, I've had women tell me that what I have doesn't satisfy them, which was traumatizing. When it was a girl I really liked, it tore me apart. When you hear this stuff, it creates anxiety. It becomes a mental thing that you have to break out of.
Because I've had to, in response, I've learned to become better than average at foreplay. I realized that if I can warm up a girl better than most guys, I could give myself an even balance compared to guys that are huge. To learn, I bought a lot of programs and asked a couple girls how to perform oral sex better. I learned that if I can make a girl orgasm, or close to it, with just oral, sex will be a lot easier.
When I've had women come back to me for sex, it's a boost in my confidence.
When it comes to penetrating positions, what works best is doggy style or missionary, where I lean more to the edge of the bed and clench a girl's legs together so that it's tighter around that area when you're thrusting. Then they can feel your penetration better, since the first 2 inches of the [vaginal opening] are the most sensitive. I would shy away from any positions that require length for you to thrust inward, like if you're spooning, because it might not work as well. I've also learned that caressing your hands along a woman's body while you're doing foreplay allows them to feel more comfortable and settle in.
When I've had women come back to me for sex, it's a boost in my confidence and it's a win for me amid the trauma of all this. I know other men feel like this, but they don't talk about it, even though we should be able to express ourselves. — Manny, 31, 4 inches
Therapy Can Help
You know the saying: "It's not the size of the boat; it's the motion of the ocean." As someone on the smaller side, I've found that to be true over time. Even though I used to be insecure about my size, I've also learned that having a bigger penis isn't always going to be conducive to having better sex. If you know how to use what you have, the size doesn't matter as much.
The more sex I've had, the better I've been able to understand the anatomy of people with vulvas, that they're all different sizes, too, and the importance of clitoral stimulation and grinding, all that good stuff, to make your partner feel good. Being good in bed is also about having confidence when you're going into the experience, which I haven't always had.
Like there was this one time I was with a girl, and I couldn't get hard because I was so nervous about her judging my size. I excused myself to the bathroom, and I took some deep breaths, but I couldn't get myself to calm down, so we didn't end up having sex. The next week I talked about what happened in therapy, and I realized that I couldn't stop myself from having a pleasurable experience because I was scared of being judged. — Curtis*, 25, 4.5 inches
Some Porn Stars Smaller Actors
I realized I was on the smaller side as a teenager, but I don't let it make me feel insecure anymore. When I was younger and noticed that everyone in the pornography I was watching had a bigger penis than me, it was rough. Over time I realized, though, that pornography presents an unrealistic standard of what a penis should look like, and I don't feel bad while watching it anymore. Sometimes I'll even try to watch videos where the man has a similar penis size to me to make sure that I'm staying in touch with reality.
If it feels realistic, I'll take some of the moves I see in that porn and use them in my own sex life. The one that sticks out to me most is grinding on a woman with my entire pelvis when I thrust so that they feel more pressure and weight. I've gotten a lot of good feedback from that one. And if the person I'm with has sex toys like vibrators that they like to use, I have no problem incorporating those and using them on the people I'm with, too. I just want the both of us to feel satisfied by the experience. — Vikas*, 23, 3.5 inches
Remember, "Too Big" Is A Thing, Too
When you first see that someone has a small penis, it's always a bit shocking, but it never really makes that much of a difference to me when the sex actually starts. Plus, people are always talking about what it means to be too small, but there's also definitely such a thing as too big. So everyone is different. The best indicator that the sex will be good is the amount of effort a person is putting into it anyway.
Younger generations are more open about body insecurities and sex.
The first date I went on with my partner, we came back to my place after meeting on an app and started having sex. They told me they preferred to be on top, even though I offered. I think it's because they're able to get a better angle and rub their groin into me with more control. They also are great at spending lots of time giving me oral. Outside of my partner, an enthusiasm for oral has been a common theme among most people I've slept with who have small penises.
Overall, I think younger generations are more open about body insecurities and sex, which I think destigmatizes the small penis thing. — Amy*, 21, whose partner is 4 inches
Love Conquers All
The first time I slept with my partner, we were both tipsy but were having the best time. He was really cute, a little bit older than me, and I loved his personality. But he pulled down his pants, and I saw that his penis was quite skinny and small. He is also a bigger, hairy guy, so I just wasn't expecting it.
I thought it wouldn't be a big deal, but then we started in missionary and when he went inside of me, I didn't really feel it, so I was disappointed. He didn't address his size or anything during the sex, so I didn't either, and I didn't want to make him insecure. But during our sex he did a lot to make up for his size, giving me oral and moving into different positions, like doggy, to make it feel good for me. Once we relaxed and got a bit more comfortable, we ended up having a lot of fun during the sex, talking and laughing the whole time and doing funny bits.
I know it sounds weird, but I really fell in love with his personality then, so the size didn't even matter anymore. The whole social aspect of things kept me coming back. We kept sleeping together and eventually started dating. I always thought that a small penis would be a huge turnoff for me, but now I realize I was just being closed-minded and I totally love the person I'm with. — Riana*, 24, whose partner is 4 inches
Expert:
Zachary Zane, a sex expert at Fun Factory, sex advice columnist, and author of Boyslut
*Name has been changed.