7 Shoulder Bursitis Exercises Physical Therapists Swear By
The simplest moves can make the biggest difference.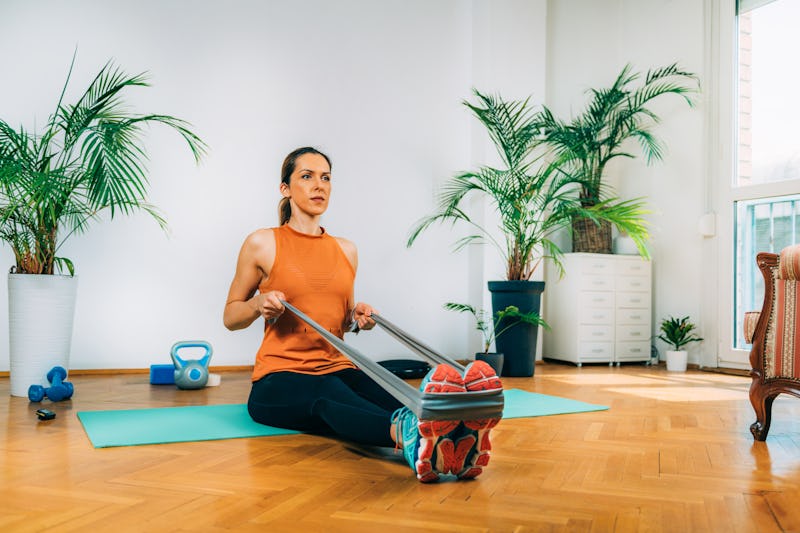 Shutterstock
If you reach for something and feel a twinge in your shoulder, it's possible you've got a case of shoulder bursitis. This painful condition can make even the simplest movements really uncomfortable, but there are (thankfully) quite a few exercises and stretches that can make a big difference.
Shoulder bursitis simply means inflammation (itis) of the bursa, says Rafael E. Salazar II, MHS, OTR/L, an occupational therapist and owner of Proactive Rehabilitation & Wellness. "The shoulder bursae are small, fluid-filled sacs in the shoulder that reduce friction between moving parts in the shoulder." This happens between bones and tissue in your joints.
Most commonly, shoulder bursitis stems from overuse or repetitive motion. "Typically, these involve overhead movements," Salazar tells Bustle. "Symptoms typically include pain, swelling, reduced movement or motion, and weakness in the shoulder." It might also be hard to lift your arms up due to pain or stiffness. "Some people experience a sharp, sudden pain with certain movements," he adds.
If your shoulder is really bugging you, it's best to go to a doctor to double-check what's causing those aches. Sometimes the symptoms of bursitis can be similar to other issues, like tendonitis, Salazar says. Once you've identified the pain as bursitis, that's when you can do a few simple moves throughout the day to feel better. Here are seven shoulder bursitis exercises to try that should help set things right.
Studies referenced:
Castelein, B. (2016). Man Ther. Modifying the shoulder joint position during shrugging and retraction exercises alters the activation of the medial scapular muscles. doi: 10.1016/j.math.2015.09.005. Epub 2015 Sep 16. PMID: 26409441.
Faruqi, T. (20220> Subacromial Bursitis. In: StatPearls [Internet]. Treasure Island (FL): StatPearls Publishing; 2022 Jan-. Available from: https://www.ncbi.nlm.nih.gov/books/NBK541096/.
Klatte-Schulz, F. (2022). Subacromial Bursa: A Neglected Tissue Is Gaining More and More Attention in Clinical and Experimental Research. Cells. doi: 10.3390/cells11040663.
VanBaak, K. (2020). Shoulder Conditions: Rotator Cuff Injuries and Bursitis. FP Essent. PMID: 32315143
Sources:
Rafael E. Salazar II, MHS, OTR/L, occupational therapist, owner of Proactive Rehabilitation & Wellness
Dr. Shannon Cabral, PT, physical therapist, owner of Shannon Lynne Physical Therapy
Lalitha McSorley, PT, physical therapist, personal trainer at Brentwood Physio