9 Row Variations That'll Boost Your Strength & Improve Your Posture
Fire up those back and shoulder muscles.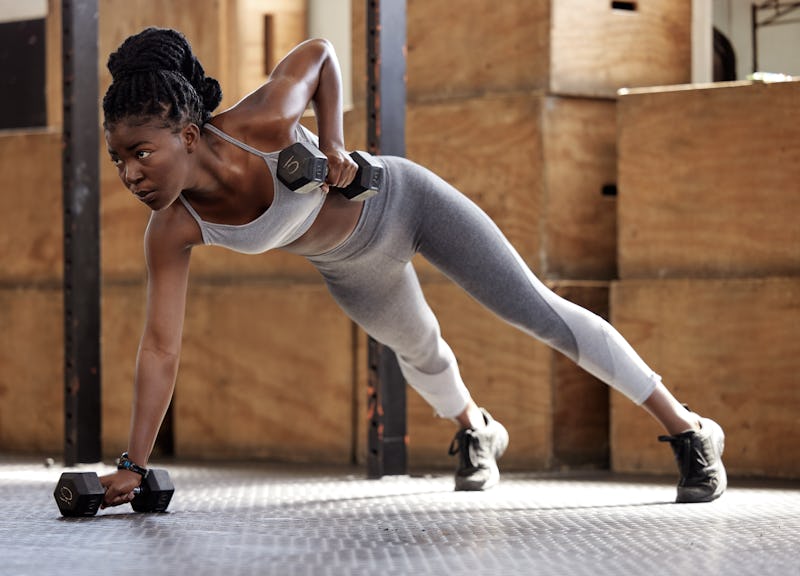 Shutterstock
If you're looking for an exercise that works your upper body, the row has got your back. (Literally.) Depending on the row variation you choose, you can effectively work your arms, shoulders, chest, and back simply by rowing with a weight, resistance band, or cable.
The row exercise gets its name from the rowing motion that happens when you pull your arms towards you, says Alexander Joseph, NASM-PES, a trainer and client experience specialist with OnPoint Nutrition. Whether you work one arm or both at the same time, "the primary muscles targeted when performing rows are the latissimus dorsi, trapezius, and/or rhomboids," he tells Bustle. Rows zero in on these posterior muscles of the upper body, he says, as well as the biceps and triceps.
According to Joseph, there are countless benefits that come with working these particular muscles. For one, strong back and shoulder muscles help support your postural alignment so that you can sit up and stand straight without it feeling like your shoulders are rounding inwards.
A stronger upper body can also help prevent potential pain from muscle weakness, he says. And, to top it all off, Joseph says that rows aid in the health of your "accessory muscles" that assist in the rowing motion, like your shoulders and forearms, which are helpful for things like your overall posture and stability. Here, trainers share their favorite row variations that'll work the muscles of your upper body.
Studies referenced:
Kim, D. (2015). Effect of an exercise program for posture correction on musculoskeletal pain. Journal of Physical Therapy Science, 27(6), 1791-1794. https://doi.org/10.1589/jpts.27.1791
Sherman, A. (2022). Muscle Strength Grading. StatPearls. Treasure Island (FL): StatPearls Publishing; 2022 Jan
Sources:
Alexander Joseph, NASM-PES, trainer, client experience specialist with OnPoint Nutrition
Lalitha McSorley, BSc.PT, MCPA, CAFCI, GTT, physical therapist with Brentwood Physio
Emily Higgins, CTP, CNC, trainer owner of Girl Let's Glow