Allyson Felix Is Not A Fan Of The Phrase "No Days Off"
Plus, the biggest lesson running has taught her.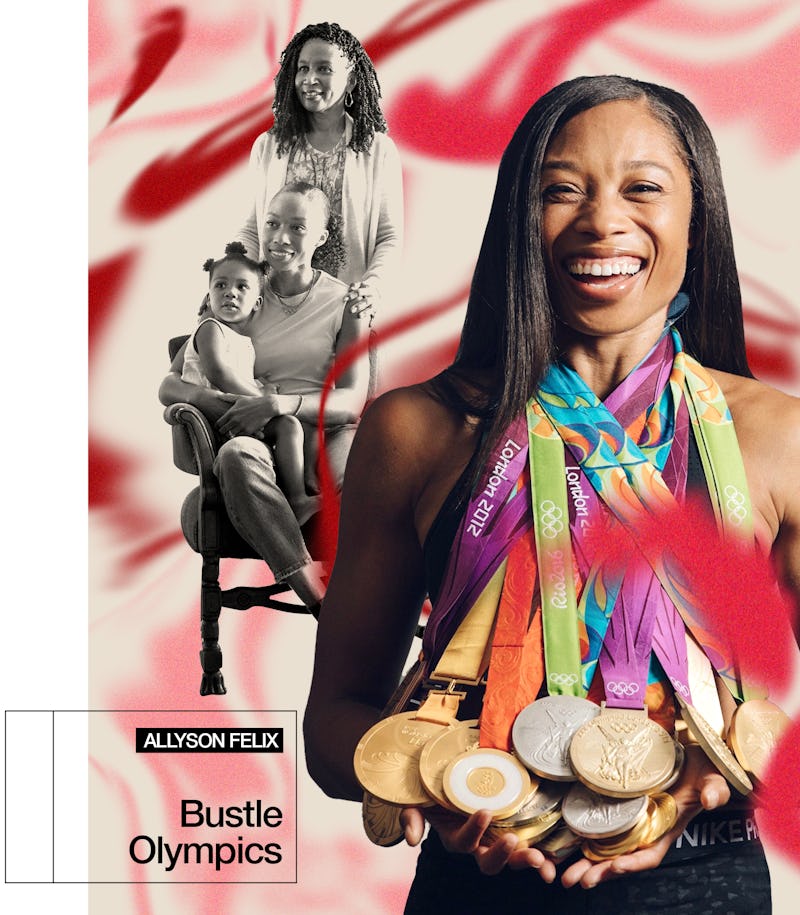 Allyson Felix's training routine is keeping her busy, to say the least. But as the sprinter hops onto our Zoom call between practices (five days a week for about five hours per day, for those keeping track), she makes it clear that running hard is just one of her many goals. "I want to have gratitude for every step of the way, even the little things," she says, "and not take anything for granted."
Felix, 35, is gearing up for her fifth and final Olympics — she qualified for the 2021 Games after finishing second in the 400-meter race at trials on June 20 — but she's been making waves on the track for nearly two decades. The nine-time medalist made her Olympic debut at Athens in 2004 and has appeared in every Summer Games since. Oh, and she's won 13 gold medals at the World Championships over the years, setting the record for the most golds won in the competition.
Felix stumbled into track after her father and brother, both runners themselves, encouraged her to try it out as a way to make friends at her new high school. "And then when I did, I fell in love with the sport and found out that it was my thing," she says. "I also met some of my closest girlfriends!"
As Felix approaches her last Olympics, she's partnering with Pantene's "What's Your Legacy" campaign to celebrate the moments that make her who she is. Besides being the most decorated woman in U.S. track and field history, she's also a proud mother to a 2-year-old, Camryn, and an advocate for other Black mothers and athletes.
In between juggling training, motherhood, and advocacy, the athlete tells Bustle about the wellness rituals that get her through it all.
The Olympics are coming up soon. How do you pump yourself up before a big race?
Lizzo has really been inspiring me lately. I also visualize the race in my head and try to get in the zone by focusing on the technical things I need to do. That helps me not make the moment bigger than it needs to be.
What's your go-to hairstyle for a meet?
I wear my hair in braids and buns a lot when I compete — anything to keep it out of my face!
How about makeup?
During competition, I keep things really light. I might put on a tinted moisturizer, fill out my brows, [and wear] some gloss or moisturizer on my lips. Those are the key things that make me feel confident.
What do you do to recover when you're not training?
Recovery is so important. I'll do a bit of a longer run that's easier on my body, and then I'll see my chiropractor, massage therapist, and either take an ice bath or go to cryotherapy. I'll also use Normatec [compression boots to boost circulation and speed recovery] a lot. I just try to bring some life back into my body to make it through the rest of the week.
Besides the Normatec boots, what's your go-to recovery tool?
I'm all about the foam roller, even though I love it and I hate it. I also love my Theragun. They get into those little muscles [for] a nice roll-out and stretch.
What part of your training do you still find so hard?
Being a sprinter, I run the shorter stuff [like the 200-meter and 400-meter races], and that's what's fun to me. Any time I have to do a longer run — like, 20 minutes — that's really difficult.
How do you stay focused during those longer runs? Or on hard training days in general?
I make smaller goals. I'll look at the week and say, "OK, I need to get here," and push through in order to put it all together for this bigger picture. Having other people to train with is also key because it's really important to get that encouragement and go through something with somebody else. Whenever I can connect and have an accountability partner, it always makes it easier.
That's good advice! On the flip side, what common piece of fitness advice is the biggest B.S.?
People always say, "No days off" — that's not OK! You need to take days off, and you need to rest — it's just as important as training. It's time to take away this idea that you're really tough [if you] power through.
What other self-care habits help you relax?
During the pandemic, I started a gratitude journal, and it's really been good for me to start my day off with positive vibes by focusing on things that I'm grateful for. I also try to recognize when I need time for myself. It's always hard for me to ask for help, but leaning into the support systems that I have and saying when I need a minute makes me happy.
This is your final Olympic Games. Looking back, what's the biggest lesson your sport has taught you?
[Running has] definitely changed my life for the better. The biggest lesson that I want to share with others is overcoming adversity. We all face it at some point. Being able to not quit is important [because] on the other side of that, there are really good things.
What do you look forward to post-Olympics?
Having time for things I'm passionate about, like doing more work around the Black maternal mortality crisis. I'm also looking forward to doing similar work for women in the sports industry, like pushing for more equality and pay equity.
This interview has been edited and condensed.
To learn more about the Team USA athletes, visit TeamUSA.org. Watch the Tokyo Olympics beginning July 23 and the Tokyo Paralympics beginning Aug. 24 on NBC.