12 Texts To Send A Family Member With Anxiety
#8: "Do you need an ear to listen, problem-solving, or both?"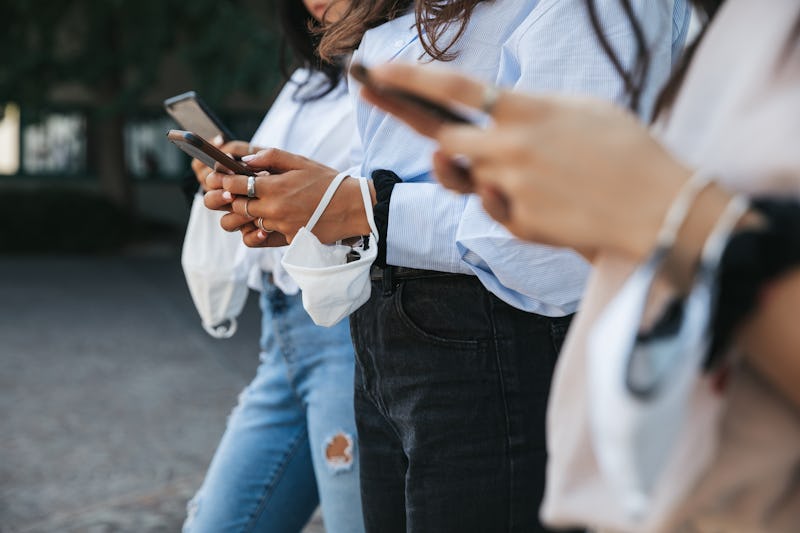 LeoPatrizi/E+/Getty Images
Noticing an uptick in anxious texts from your found and blood family members? When your sibling or cousin is in crisis, there's no one-size-fits-all approach to help them out. Figuring out how to respond when someone you love is freaking out might look like creating an arsenal of texts you can send to help a family member with anxiety so you can best support your loved ones. It's important to consider your person's specific likes, dislikes, and communication styles to craft a situationally appropriate, supportive text.
"You've got to really think about the family member individually," says mental health counselor intern Brianna Wolf, MHC-I at Cazenovia University. "If you know they have a primary therapist, you could ask them what they think their therapist would tell them so it doesn't put the therapist work all on you. If they don't have a primary therapist, you could always start by acknowledging that they trust you enough to come to you with their anxiety."
Even when you know your fam like the back of your hand, it's not always easy to know what to say. Especially if you're overwhelmed or anxious yourself, it can help to have some basic texts in your back pocket. Here are nine therapist-approved, customizable texts to send a family member with anxiety.
Experts:
Brianna Wolf, MHC-I, Cazenovia University
Lillyana Morales, L.M.H.C., psychotherapist
Sarah Rice, MHC-I, NYU