The Sculpt Society Workouts Bring Out My Inner Backup Dancer
I see why the fitness app is wildly popular.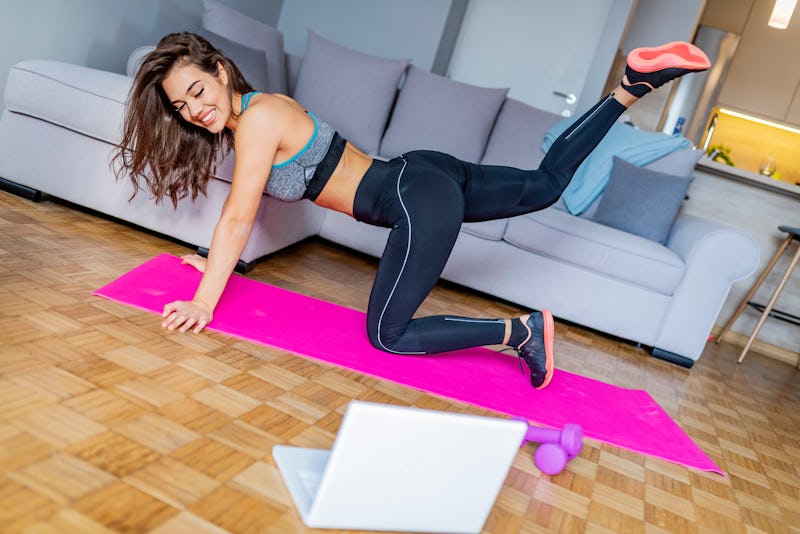 Shutterstock
There's just something about dancing around your apartment with abandon that feels so right. Everyone has an inner backup dancer, right? Well, as a certified apartment dancer myself, I was very into the idea of trying The Sculpt Society, a fitness app that harnesses your desire to groove and turns it into a legit workout routine.
The Sculpt Society, also known as TSS, is the brainchild of Megan Roup, a professional dancer turned fitness trainer with a dedicated following (including celebs like Karlie Kloss and Miranda Kerr). Her app features a wide array of low-impact sculpting workouts, dance cardio classes, and some more traditional strength and cardio-based classes that range from 10-minute "Quickie" videos to 45-minute full-body workouts. Every single workout is designed to be fun as you move through easy-to-follow sequences set to upbeat music... all while your muscles quake.
Typically, I stick with an at-home yoga regimen with some running days in the mix, but I'm always looking to add some variety to my workout routine — especially if they involve some bopping. I decided to try The Sculpt Society classes for a month straight. Read on for my honest review of the fitness app.
What Is The Sculpt Society?
The goal of TSS? To provide great workouts that last less than an hour and fit a variety of fitness levels, whether you're a beginner or advanced exerciser. Roup's classes are divided into three main categories: Sculpt, which involves low-impact workouts featuring exercises like arm circles, leg raises with ankle weights, and squat pulses; Sweat, which incorporates strength training and cardio; and Dance, for sweat-inducing dance-based cardio. Quickie workouts are available in all three, so it's easy to find a class to fit into a tight schedule.
Roup is a huge fan of mini workouts and making fitness fun, which is why TSS has such a wide variety of classes. You can sign up for a seven-day free trial to see if they're a fit for you, then join TSS for $179.99 a year or $19.99 a month.
First Impression
When I first got the TSS app on my phone, I immediately appreciated its sleek and user-friendly features. It has tabs across the top to help you find live and streaming classes, targeted programs, and workout collections, and also has tabs across the bottom that lead you to a workout tracking calendar and a place to save your fave routines.
The homepage also has a personalized workout finder, so if you don't know where to start you can answer a few quick questions about your fitness level and class preferences for some recommendations. I answered the questionnaire and got a list of customized workouts and programs that happened to all be short, fun dance videos. (I like what I like.)
Sometimes navigating a new workout app can be dizzying, so I was super relieved to see TSS is pretty straightforward. The same is true for the website version of the app, which is what I used for my workouts.
What A Sculpt Society Class Is Like
My first recommendation was a 10-minute Quickie featuring Roup and her pal Kate Bock, who both had on cute matching workout sets. The class featured a mix of bouncy dance moves like heel-toes, jacks, grapevines, and turns set to upbeat music. While it was simple, the kicker is that Roup literally didn't stop moving for the entire 10 minutes.
At first, I thought the workout was too easy. By minute three, however, I was fully glistening all over my (not matching) workout set. Right when I considered taking a break, Roup chimed in with a few encouraging words that kept me going. "Be here with us!" she said while grapevining, which made me feel like I was working out with friends. Even though the class was quick, it felt like I got a full-on exhilarating workout in. I was super sweaty by the end, and so was Roup. (It's why she encourages you to take a sweaty selfie after class.)
The next day, I tried a 19-minute Stylized Dance Cardio class with TSS trainer Matt, who broke down dance combos like tap backs, slides, and body rolls. It was basically a mini master class on how to look cool when you're dancing at home, and it was so fun. I stacked that with a 14-minute Dance Cardio Quickie with Roup who guided me through more fun moves that made me feel like a legit backup dancer.
I noticed that TSS workouts seemed to get easier as the weeks went on. That's why Roup recommends updating your personalized workout finder as you progress from a beginner to an intermediate-advanced. There's also the option to choose postpartum or prenatal. Just for fun I put in intermediate-advanced, upped my preferred workout length to 30 minutes, and said I'd be down for dance and sculpt.
The app suggested I try a 30-Minute Sculpt video, which would certainly be more difficult than grapevining and heel-toeing for 10 minutes. I followed along without using any equipment, which is totally fine, but Roup says you can use hand weights, ankle weights, and a TSS Pilates ball for an added challenge if you're so inclined. The 30-minute routine featured Pilates-inspired moves like tricep extensions, pulsing leg lifts, planks, and side-lying leg lifts that zeroed in on the glutes. I'll admit I did stop a few times to wonder how sculpted a butt really needs to be. But Roup is so good at counting down, showing modifications, explaining the moves, and offering encouragement that I really did want to see it through to the end — or the finale, as she likes to say. Let me just say this: If you're looking for a tough workout, go ahead and click on any of the TSS Sculpt videos.
Regardless of the workout category you go with, each TSS class features exercise sequences that look a bit tricky when you see Roup breeze through them — but they're easier to follow along than you might think. And they're fun. Roup offers the Goldilocks level of friendly but firm workout motivation that kept me going even when I thought I couldn't do one more donkey kick. I know I said I was an Apartment Dancer Extraordinaire, but I'm not exactly J.Lo. With TSS workouts, though, I've become a lot more confident in my get-down abilities.
My Takeaway
TSS seems to have a workout that fits any mood, and that's what I like about it. If you're looking to dance around your apartment, it's got you covered. If you want to lie on a mat and zero in on your butt or your arms, you can do that, too.
Another cool thing about the workouts on TSS? Even though Roup is super strong, her workouts always feel fun and welcoming. My favorite thing she said during a workout was, "No one's watching you. Get messy with it." If that isn't the battle cry of at-home dancers everywhere, I don't know what is.