17 Fitness Products Perfect For Your Outdoor Summer Workouts
From a weighted hula hoop to smart goggles.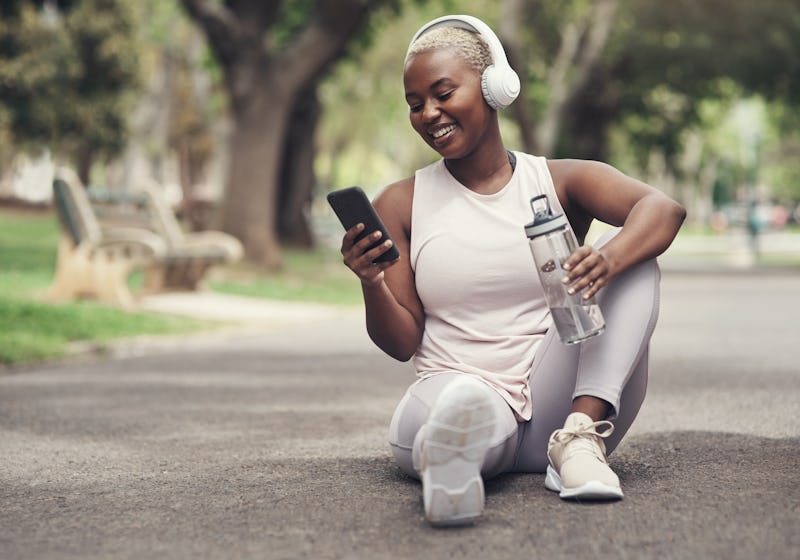 PeopleImages/E+/Getty Images
With summer just around the corner, it's time to head back into the great outdoors — fitness routine included. And if a jog around the block isn't the al fresco activity for you, no sweat: There's plenty of fitness equipment for outdoor workouts that can help you get your sweat on in mother nature, whatever your preferred exercise may be.
If you're already a regular open-air exerciser, you're not alone — many gyms and fitness studios moved their workouts outside during the pandemic. But even as COVID cases decline in the U.S., outdoor workouts still have much to offer. For one, it's a welcome way to get out of the house after more than a year of staying cooped up indoors. Science also shows that outdoor activity can benefit your mental and physical health. A 2013 study found that exercising outdoors increased people's activity levels while also lowering their perceived exertion and reducing stress. And 2010 research published in the journal Environmental Science and Technology found that even short periods of exercising in nature can boost self-esteem and mood better than indoor activity.
Sound too good to pass up? Whether you want to swim, bike, strength train, or something else entirely, these outdoor fitness equipment buys have got you covered for your sweat sesh. Below, browse 17 pieces that will take your summer workouts to the next level.
We only include products that have been independently selected by Bustle's editorial team. However, we may receive a portion of sales if you purchase a product through a link in this article.
Studies referenced:
Barton, J. (2010). What is the best dose of nature and green exercise for improving mental health? A multi-study analysis. Environmental Science and Technology, https://pubmed.ncbi.nlm.nih.gov/20337470/
Gladwell, V. (2013). The great outdoors: how a green exercise environment can benefit all. Extreme Physiology & Medicine, https://www.ncbi.nlm.nih.gov/pmc/articles/PMC3710158/