We Asked Doctors If You *Really* Need To Shower Every Day
Here's how avoiding a wash affects your skin, hair, and smell.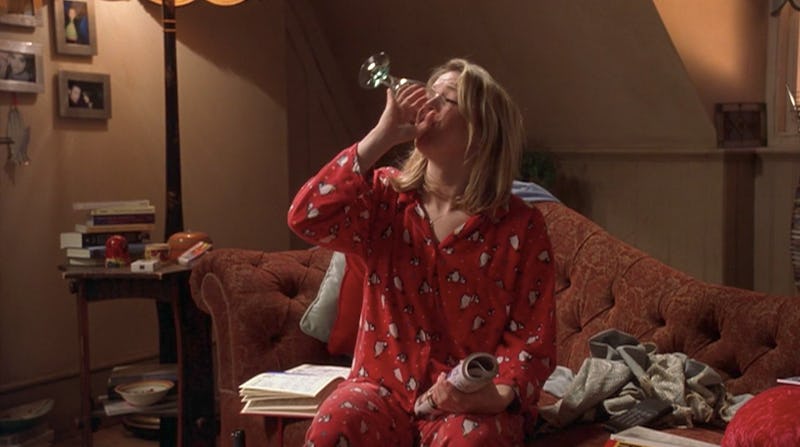 Bridget Jones' Diary/Hulu
Picture this: You've been working from home in your pajamas all day, save for a quick break for yoga. Maybe you have a little hot sauce in your hair, but the inertia of the couch is real. You might find yourself asking, "Do I really need to shower?" What about those times when you promise yourself that you'll shower in the morning, knowing good and well that you won't have time? Suddenly, it's been two days since you last washed, and you're wondering how often do you actually have to shower?
If you didn't take a shower this morning, "for most people, there is absolutely no health risk in skipping that shower," says Dr. Edison de Mello, M.D., Ph.D., the founder and director of the men's clinic and chief medical officer of the Akasha Center for Integrative Medicine. "Sure, if you sweat you could develop a bit of body odor and have a stinky afternoon. Even so, a daily shower is not really necessary."
Showering each day is not only unnecessary, but it can feel impossible for some folks. Shower avoidance syndrome — sometimes referred to as ablutophobia — is a form of anxiety that manifests in an overwhelming fear of bathing. For people without this phobia, but who need a couple of days to build up the energy to brave the water, experts say not showering for a week probably won't dramatically impact your physical health.
How often you should shower also depends on your own skin type and activity levels. It's important to know when and how to shower for your own body and lifestyle. If long hours on the job make you sweaty every day, showering more often is probably going to help you feel less gross. Is your skin prone to being super dry? Make extra sure you're moisturizing after you bathe.
While there's no serious health risk to skipping a shower, there are some effects to be aware of, especially if you're predisposed to certain skin conditions like eczema. Here's what can happen to your body if you don't shower for two days.
Studies Referenced:
Jonason, P.K. (2015) Relationship deal-breakers: Traits people avoid in potential mates. Personality and Social Psychology Bulletin, http://www.mysmu.edu/faculty/normanli/JonasonGarciaWebsterLiFisher2015.pdf.
Lam, T.H. (2018) Understanding the microbial basis of body odor in pre-pubescent children and teenagers. Microbiome, https://microbiomejournal.biomedcentral.com/articles/10.1186/s40168-018-0588-z.
Experts:
Edison de Mello, M.D., Ph.D., founder, director of men's clinic, and chief medical officer of the Akasha Center for Integrative Medicine
Dr. Aishah Muhammad, M.D., pediatrician and personal trainer
Additional reporting by Syeda Khaula Saad.
This article was originally published on