Drunk Ryan From 'Bachelorette' Is Way Better Now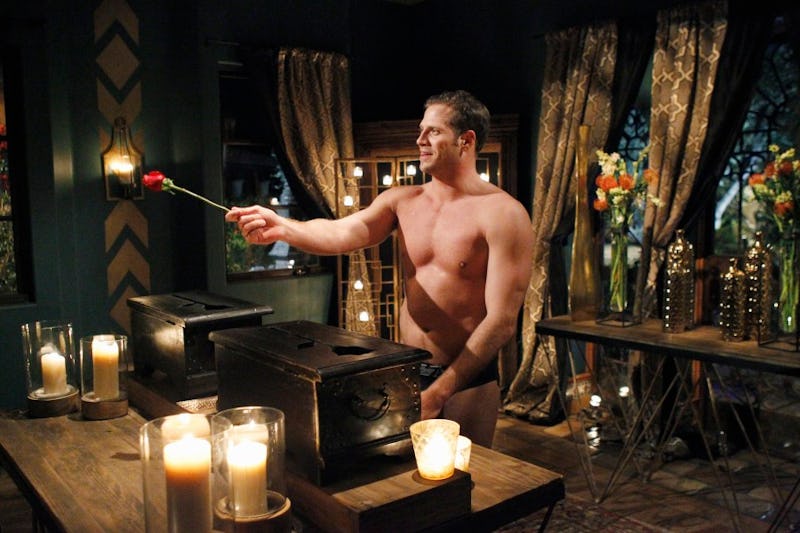 Get your roses, kleenex, and sauvignon blanc ready, because The Bachelorette finale drops tonight, July 27. The ending of Kaitlyn Bristowe's turn as Bachelorette is bittersweet, as this has been a truly epic season. I'm eagerly anticipating the finale and learning who Kaitlyn will choose, but — like Rose from Titanic — I don't know exactly how I'll be able to "let go." As dramatic reality television goes, this season of Bachelorette hit every exhilarating mark. There was a surprise addition to the fold (hi, Nick Viall), Amy Schumer showed up (YASS!!), and the season started off with a belligerent bang when contestant Ryan McDill got kicked out of the house on the first night due to his obnoxious level of inebriation. Yeah — remember that? Oomph.
ICYMI, Ryan proved himself to be that guy everyone avoids at a party right from the get. While the other bachelors were attempting to make a good impression, Ryan was downing Fireball on the rocks, instigating fights, and disrobing to take a graceless dip in the pool. "I'm horned up" was his mantra throughout his brief stint, he got handsy with poor Kaitlyn's derriere, and successfully made a nation of fans think, "Who is this drunk monster?" the second he graced our respective screens.
Oh, Ryan. Of course, if you saw this season's Men Tell All, you were treated to a kinder, sober version of the booted bachelor. Ryan appeared to be endearingly sheepish about his faux pas, and even Kaitlyn didn't have any hard feelings. When you take away the layers (fountains?) of booze, Ryan actually seems to be a pretty nice guy. In anticipation of the season finale, I was inspired to take a look back at Ryan's stint and to see what the stumbling suitor has been up to. Through shrewd observation of Ryan's activity on social media, I discovered a few things.
1. He Goes Fishing
That is one good catch. Also, I'd like to not that the Instagram handle @turtleconvertible might be the best handle ever.
2. He Is Now Kaitlyn Approved
Aww! Check out this sweet tweet from my favorite Bachelorette and Ryan's even sweeter response! Am I the only one that's starting to crush on this guy a little bit?
3. He Doesn't Update His Twitter Very Much
The above is his latest tweet — and it's not the most flattering one. Yikes.
4. He Also Doesn't Update His Facebook Very Much
If you are going to have a public profile, give an Entertainment Writer something to work with, bro. Yeesh!
5. He Is Now Cool With The Other Contestants
Former contestant JJ Lane may have been the most vexed at Ryan's behavior on Bachelorette. Judging by this bromantic pic, it looks like any bad blood between the two has completely dissipated. How sweet!
6. He's Been Hanging Out With Itty Bitty Turtles
I would once again like to point out that @turtleconvertible is the best Instagram handle in existence.
7. He's Been Winning Best Uncle Of The Year
Ryan features his darling niece frequently on his Instagram, and this little diddy is enough to melt your heart. Seriously, guys, is anyone else really crushing on Ryan right now?
8. He's Been Hanging Out With His Bros
So bromantic!
9. He's Proving He Has A Good Sense Of Humor
His level of witty self-deprecation is making my heart sing. Ryan has been quick to poke fun at his staggering turn on Bachelorette, as is the case with the post above. He also poked fun at himself with this post...
...and this one...
...and this one...
P.S. This Is @turtleconvertible
Nice.
Ryan, I officially forgive your blunder from this season. In fact, I would even like to give you a rose.
Images: Rick Rowell/ABC; Giphy (2); Ryan McDill/Instagram (10); Ryan McDill/Facebook; Clint Arlis/Instagram