Everything You Need To Know About Extensions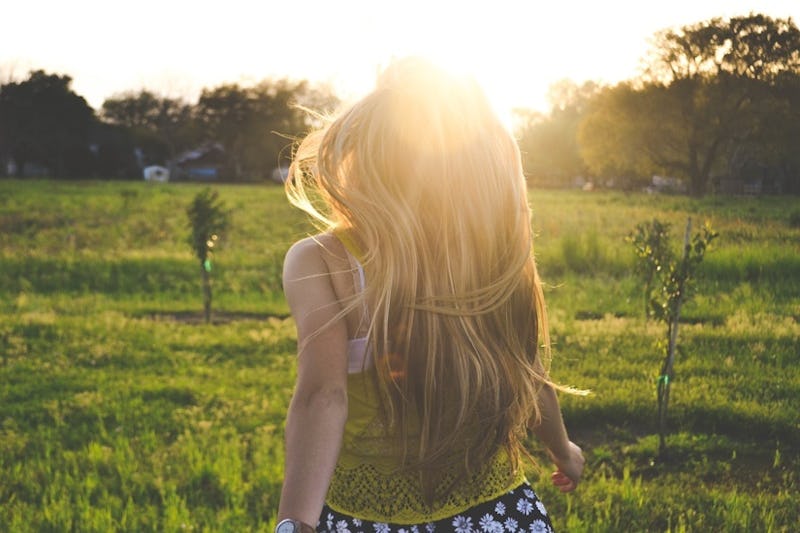 As they are appearing more and more on Instagram and in salons alike, there are a lot of things to know about hair extensions before diving into this beauty trend. Extensions are a Hollywood beauty shortcut that can give your strands instant length, volume, and sex appeal. For celebrities like Vanessa Hudgens, Nina Dobrev, and Julianne Hough, extensions can be a quick and glamorous way to go from a short bob to long beachy waves. But how do you know if extensions are for you?
Like the various types of lipsticks that promise all different kinds of finishes, there are several types of hair extensions that can help you achieve that red-carpet ready look. Depending on your product preference, day-to-day lifestyle, and the amount of money you're willing to put into upkeep, understanding the different types of extensions can really be helpful in finding your best product fit.
To help select your best extension match, I've consulted some haircare experts to help deliver a better understanding on how extensions work IRL. With styling tips, affordable alternatives, and more, chances are you will be an extension whiz when it's all said and done with. Whether you prefer clip-ons or prove to be more of a tape extension kind of girl, here's how to use hair extensions like a A-list celebrity.
1. Avoid Synthetic Extensions
An initial Google search on extensions can be quite confusing, especially since there are so many application methods available. Instead of focusing on how you'll apply on your extensions first, beauty expert Kacey Welch recommends choosing hair type first before booking an appointment. Extensions are usually made with either synthetic or human hair, and while synthetic extensions are relatively cheaper, human hair products last longer, and are highly recommended.
"The trick to extensions is using 100 percent human hair," explains Welch, master colorist and extension expert at the Jonathan and George Salon in Beverly Hills. "And while it's an affordable alternative, synthetic extensions are made of plastic, restricting you from heat styling your hair."
2. Keep It Natural As Possible
Aside from selecting human hair, another key factor to consider when it comes to extensions is keeping your look as natural as possible. While it's easy to get excited about lengthening abilities of any extension piece, mismatched extensions can look awkward and unnatural, so it's always best to match your piece to your original hair. To avoid any extension blunders, elements like texture, cut, and color are extremely important, as they ultimately guarantee a flawless yet natural finish.
"To start, test the color of your extensions against your real hair color in natural light," says Nikki Lee and Riawna Capri owners of NINE ZERO ONE salon. "This will give you the most natural looking blend possible.
To keep your extensions from looking harsh, try opting from some face framing layers to help your extensions blend in naturally with your hair.
"It's always important to find the right cut too," adds Lee. "Adding a few face framing layers to your style helps extensions blend seamlessly, and gives you a more natural look overall."
3. Consider Time And Cost
While the price of extensions can be costly, you don't have to be a celebrity to afford great quality hair. However, if you want the full on celebrity finish, know that some hair extensions can be a pricey and time consuming investment.
"The best stylist will work with your lifestyle and budget," says Kacey Welch. "But the hair itself, depending on the type, can start at $500 per piece for individual extensions. In addition, custom-made wefts cost about $600 to $700, and tape extensions can range between $250 - $1500."
Equally important to consider comes time which plays a big part in regards to extensions. Not only can time determine how much you'll be spending in the chair, but it can also determine how much you'll be paying once your service is completed.
"The service itself can range from $1000 to $2000 depending on how much time is needed to apply the hair," adds Welch. "The application usually takes anywhere from two to four hours."
4. Consider Time-Saving Alternatives
While in salon application can be a costly priceless, there are affordable and time saving alternatives that guarantee lush and lovely locks. For a quick and glam extension hack, trying either clip-in or tape extensions can surely get the job done easily.
"Adding clip-in extensions for volume is a very popular trend," explains Matrix, SOCOLOR celebrity Stylist, George Papanioklas. "For those planning to wear their hair up in an updo or ponytail, clipping in your extension upside down is the ultimate hack! Simply place the clip-ins upside down, secure clip against the root, and underneath a layer of your hair, and secure with an elastic. Finish with Matrix StyleLink Volume Booster for added volume."
Unlike clip-in pieces which uses special clips to attach pieces onto the hair, tape extensions use a special tape to securely fasten extension pieces onto the hair. And while you'll definitely have to visit the salon for proper application, tape extensions are usually less costly than regular extensions.
"For tape extensions, the hair is reusable for up to a year," says Welch. "Hair cost depends on the quality, and can range between $250 to $1500."
5. Keep A Good Hair Care Routine
Although some extensions last only for a few months, it's important to upkeep a solid routine to prolong the life any extension pieces in your hair. Having a good shampoo, conditioner, and hair brush on hand can keep pieces clean, while also reducing tangles and knots too a minimum.
"Having the right shampoo, conditioner and hair brush for extensions is essential," says Angelo David Pisacreta, owner of Angelo David Salon. "For an effective haircare routine, try the Angelo David VOL shampoo ($22.00) and VOL conditioner ($24.00). And for your effective hairbrush, the Angelo offers a Couture Hair Brush collection which keeps strands ultra smooth."
Even with a solid routine, it's always best to take caution with any extension pieces, as over drying and washing extensions can leave them dry and lifeless. To be extra careful, try using dry shampoo in between washes to give your extensions a break.
"You should always be careful with extensions when it comes to over washing and over blow drying if you can skip a few days between blow drying you definitely should, dry shampoos are always a great help with this," says Nikki Kearney of Pierre Michel Salon. "Also, when you do shampoo, only condition the ends of your hair stay away from the roots where extensions are taped."
6. Ask Yourself Again If You Should Try It
If you've always wanted to transform your tresses in an instant, extensions definitely are an amazing shortcut to test out. And being that there are so many methods readily available, you don't have to worry about it being extremely exclusive trend. But before you hop off to the salon, it's always wise to consider factors like cost, upkeep and management when contemplating a Hollywood ready style.
There is a lot to think about before getting extensions, but it's important (for any beauty procedure) to do your homework before making a commitment to a look — especially one that costs a lot of money.
Images: Kevin N. Murphy/Flickr, Giphy (6)