When 'RHONY' Returns, This Is What Needs To Happen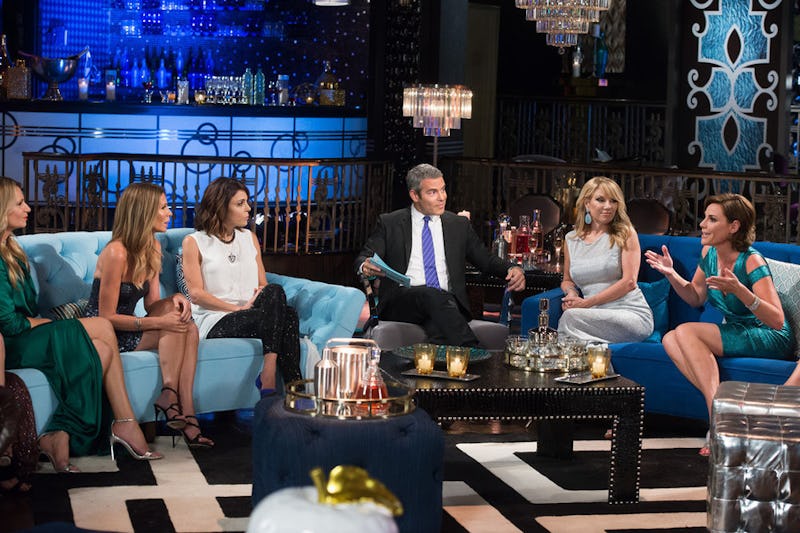 Ironically enough, Ramona Singer's "New Beginnings" party featured during last Tuesday night's episode of The Real Housewives of New York City marked the end of Season 7 of the Bravo reality show. Yes, we've only got three parts of a reunion and a "Secrets Revealed" episode left before we put one more RHONY season in the can. Don't get me wrong. The Season 7 RHONY reunion looks positively juicy what with revisiting the feuds surrounding "Girl Code," Sonja Morgan's behavior, and Ramona Singer stealing the dresses she wore on Bethenny Frankel's talk show. However, as I'm watching what is sure to be an epic three-parter, I won't be able to help but think when RHONY will return for Season 8.
Unfortunately, it's a bit too early to start plugging in a RHONY Season 8 premiere date into your smartphone's calendar. There have been no official announcements from Bravo regarding a premiere date for the next season of RHONY. Heck, we don't even know for sure if there will be a next season. However, seeing as how Bethenny helped give the series a much-needed kick in the pants, and the fact that she recently hinted to E! News that she might be willing to come back for another season, I have a good feeling about RHONY's fate.
Still, it's going to be a while before we know when RHONY will be back for sure. Bravo doesn't typically announce premiere dates for series until about a month to a month-and-a-half before they're supposed to debut. However, RHONY has typically premiered in early spring, so we can probably expect Season 8 to drop some time in March or April 2016, if all goes according to plan.
So, like I said, even though Season 7 is technically not over yet, my mind is already on Season 8. And, because so much has happened since filming on Season 7 of RHONY ended, I can only imagine that next season might just be one of the most explosive yet. If these seven storylines based on what the Housewives have been up to since the cameras stopped rolling actually happen, Season 8 is definitely going to be one to remember.
1. Carole & Luann Continue Their Feud
Carole and Luann bickered over Carole's relationship to 20-something Adam, the breaking of the "Girl Code" of knocking before you barge into your girl's room, and the ex of Luann's ex this season of RHONY. However, what we saw on TV was apparently only the tip of the iceberg. It looks like it's going to get real ugly between these two during the RHONY reunion, but even more than that, it looks like Carole tore into Luann on Twitter during the show's finale last Tuesday night. She called out Luann for also dating younger men and even married ones, said she was a hypocrite, and professed that she doesn't need a friend like her anymore.
Luann didn't really respond to Carole, probably because she was too busy watching her Watch What Happens Live performance of her new single "Girl Code" over and over and over again (it's actually not terrible!). Will these two ever work their drama out? I hope not, because I definitely want to see them continue to go at it during Season 8 of RHONY.
2. Heather Needs To Go
I actually really like Heather as a Real Housewife and a person, but I think we've gotten all that we can get from her storyline on RHONY. Even what looked like it was going to be some major drama between her and Bethenny and her and Luann kind of came and went this season without much consequence. She was barely featured on the show this season as a result. When I heard that Heather is rumored to not be returning to RHONY next season, I was pretty glad because she's taking up the spot of someone who will add some excitement to a show that can get stale if it doesn't have the right cast. So go, Heather, and holla off into the sunset.
3. Eric Stonestreet Makes An Appearance
The big news on the Bethenny front since filming on Season 8 of RHONY ended has been her rumored relationship with Modern Family star Eric Stonestreet. Bethenny has denied this on Twitter, although she did jokingly address it once again during last Tuesday night's episode of Watch What Happens Live. Weeks or months from now, we could all find out that they are, in fact, a real-live couple, in which case I better see Stonestreet yuk it up with Ramona, Sonja, et al. next season. Even if they really do remain just friends, I bet Bethenny would still invite Stonestreet on the show just to mess with us. That certainly sounds like something this Housewife with a wicked sense of humor would do.
4. Ramona Embraces Single Life
It looks like Ramona has not yet officially divorced her husband of more than 20 years, Mario, after the two went through a nasty breakup last year. Ramona tried her best to move on during this season of RHONY, dipping her toe into the dating pond. However, Ramona was still pretty bashful and reserved about the whole dating thing on RHONY, even if she did go on a tirade over the lack of hot guys at Bethenny's "Skinnygirl Meets Boy" party.
Next season of RHONY, I want to see Ramona be more open about her love life and really go after what she wants. On Twitter, it looks like she's having a lot of fun and hanging out with a lot of different people, so why can't we see her seize the day like that on RHONY? The other Housewives won't judge you, Ramona... much.
5. Dorinda Brings Along Her Famous Friends
People are loving Dorinda on RHONY, even celebrities. Dorinda has been caught hobnobbing with tons of famous faces since she joined RHONY, including Lady Gaga, Orange is the New Black star Samira Wiley, and famous historian and author Robert A. Caro. I think that last guy would especially be fascinating to watch interacting with the ladies of RHONY, don't you?
6. Sonja Revives Her Toaster Oven
Kristen helped remind us all of Sonja's ill-fated toaster oven from a couple of seasons ago when she was asked about it by a New York Post reporter on the red carpet of Sonja's long-awaited fashion show, causing a whole mess of trouble during the RHONY season finale. But, now that Kristen has brought it up... where is your toaster oven, Sonja? The whole idea of you having a toaster oven not only provided me with a lot of amusement, but as someone whose idea of cooking is popping something into the microwave, I would also love it for you to teach me your ways.
If you look at Kristen's blog on Bravo's website that went up after the episode, you'll see that she's clearly not over this whole ordeal. I really do hope Sonja brings her toaster oven back into the fold so I can get my hands on one, but if she doesn't, it's nice to know that Kristen will most likely continue to make the most ridiculous of RHONY arguments a thing if she returns next season.
7. Brandi Glanville Takes A Bite Out Of The Big Apple
Brandi isn't returning to The Real Housewives of Beverly Hills next season, so she must have some room in her schedule. Why doesn't she fill it by making an appearance on RHONY next season? She's actually really good friends with Kristen, who even defended her behavior on the last season of RHOBH during the RHONY reunion. Brandi could make an appearance during one of her visits to Kristen or something, plus she already made a cameo on RHONY last season. Clearly, bringing her back for a couple more guest spots isn't a totally far-fetched idea. So, this better happen, or else someone might be told to "back it up, and back it up quick."
Images: Charles Sykes/Bravo; Giphy (2)