Woodland Animals & Forests Inspire Fall Fashion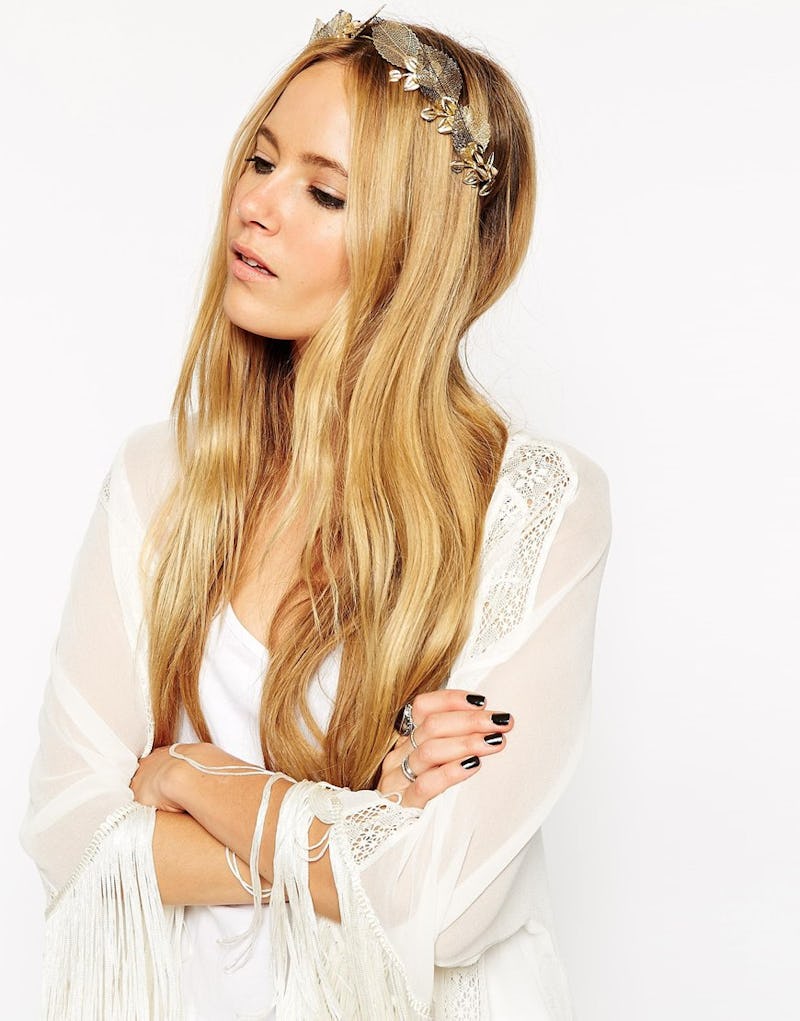 Fall is my favorite time of year. I just love the sights, sounds, and smells of autumn and IMO, no other season compares. There is also nothing like forest inspired fashion, which arguably takes inspiration from the various flora and fauna of stunning woodlands and from the almost magical creatures who dwell in the enchanted woodlands of our imaginations. One of my favorite activities in the entire world is crunching, kicking, and skipping through autumn leaves. The only thing that could top that off would be if I was leaping though leaves while wearing a vixen inspired ensemble complete with a velvet skirt in a burnt, leafy shade of orange and some conker colored ankle boots.
There are so many ways to get in on this fabulous, fall inspired trend. If you wish to fully embrace the trend, choose to channel your favorite woodland animal in an animal pattern piece. Or if you just fancy a touch of fall fashion, take a leaf out of Mother Nature's book with nature inspired jewelry. If you have more of a whimsical style, you may want to channel Titania the Queen of the Fairies. Truly quirky gals even might find themselves dressing like a Gelfling.
Whichever path you choose to adventure down this autumn, make sure your wardrobe is seasonally appropriate and super cute with fall inspired fashion.
1. The Forest Green Dress With Golden Embellishment
Save this dress for special occasions when you want to look and feel like a total fairy. This long, forest green dress juxtaposes a demure hemline with a racy, thigh-high split. The decadent, detailed sleeves with their lavish beading and embellishments take this dress into the realm of red carpet attire. A slinky, low back is a modest yet sensual touch that finishes off this gorgeous gown perfectly.
Virgos Lounge Laila Embellished Midi Dress With Thigh Split Detail, $154, asos.com
2. The Acorn Necklace
Look absolutely adorable in this sweet, acorn necklace that is comprised of smoky quartz and gold plated brass. I've yet to encounter such a luxe nut.
Acorn Smoky Quartz Oak Leaf Black Silver Necklace, $67.87, etsy.com
3. The Sweet Squirrel Dress
This squirrel print dress is the epitome of autumn with its modest length and retro style, orange buttons. It would look wonderful with a pair of thick tights and knee high boots. This frock — which is available in sizes XS to 4X — is sure to be an annual fall favorite, so don't forget to squirrel it away for next autumn.
Wildwood if You Could Dress, $89.99, modcloth.com
4. The Faux Fur Gilet
Part of autumn is looking great while also staying cozy and this plus size, faux fur vest helps wearers tick both boxes. Whether your favorite animal is a rabbit, a fox, or a wolf, you can channel your preferred woodland critter in this toasty yet stylish faux fur vest. Get ready to hibernate.
Asos Curve Longline Faux Fur Vest in Natural, $108, asos.com
5. The '70s Style Velvet Platforms
The fashion industry was hugely influenced by the 1970s this fall. Another big hit on the runways was velvet fashion, so why not combine two of autumn/winter 2015's biggest trends by wearing these fawn colored platforms? Bambi fans, this is your time to make a fawn-tastic style statement.
Asos Pendulum '70s Platform Shoes $81, asos.com
6. The Foxy Scarf
There's a ton of fox inspired fashion out there right now, which may be down to the seemingly never ending fox hunting debate going on in the UK. So support this beautiful creature in style and fly your fashion flag high for the fox.
Outfox The Eye Scarf In Royal, $49.99, modcloth.com
7. The Realistic Horse Chestnut Brooch
The horse chestnut, or conker, is Mother Nature's labor of love. The hard conker grows inside its prickly casing and then it often ends up on the end of a piece of string in a vigorous battle between children. Wear this conker brooch with pride as a nod towards nature and the awe-inspiring things it creates.
Autumn Horse Chestnut (Conker) Pin Brooch, $24.24, etsy.com
8. The Catbus Tee
If My Neighbor Totoro made it onto your list of favorite movies, then you're going to want this cute Catbus inspired T-shirt in your life. Not only does it feature the incredible Catbus, but it also features a couple of sweet Soot Sprites. The autumnal color scheme and the whimsical toadstool (which takes the place of the "T" in the word "Catbus") make for a delightful top that Studio Ghibli fans will most likely adore. This design is available in XS to 2X.
Studio Ghibli Her Universe My Neighbor Totoro Catbus Girls T-Shirt, $15.98, hottopic.com
9. The Leaf Crown
This crown is for hardcore fans of A Midsummer Night's Dream. If you get bored with wearing the same styles year in year out, mix up your style and add a bucketful of whimsy to your ensemble with this ethereal leaf crown.
Asos Double Filigree Leaf Hair Crown, $45, asos.com
If you go down to the woods today, you're sure to feel right at home.
Images: Courtesy Brands