9 Ways To Style Your Favorite Vintage Accessories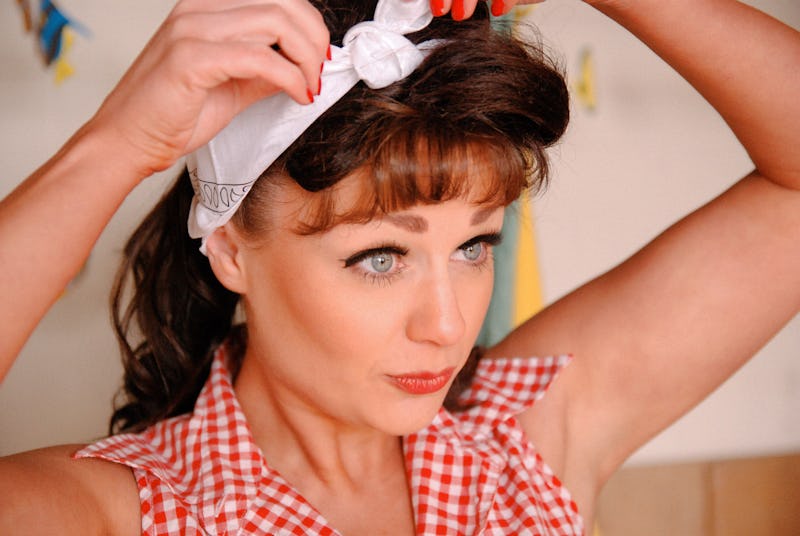 At first glance, a vintage ensemble might appear difficult to master, as there are often many different pieces that pull together to complete the whole puzzle. Yes, a gorgeous vintage gown looks stunning on its own, but the entire outfit is made complete by figuring out how to style vintage accessories. Some people like to wear head to toe vintage, while others like to base their outfit around one or two retro-inspired pieces. Others believe that vintage accessories look fabulous with modern apparel, or that contemporary accessories look brilliant when teamed with old-school garments. It all goes to show that there are a lot of ways to embrace vintage style. How you do it just depends on whether you wish to keep things low-key or opt of a full on flaunt-your-vintage style.
Pinup photo shoots are becoming increasingly popular as of late as well, probably because they are a timeless way to capture the beautiful, enigmatic, and strong women that we are. So if you're contemplating what to wear to a pinup shoot, or you just love sporting vintage fashion in your everyday life, then these snaps that show you how to style vintage accessories should be useful in inspiring the vintage vixen within you.
1. The Vintage Style Sunglasses
Vintage inspired sunglasses are possibly the easiest retro accessory to wear. I personally wear my vintage style sunnies with literally everything. I pair 'em with modern outfits comprised of pleather skirts, tees, and boots, but I will also wear them with 1950s inspired frocks. If you are a little scared of dipping your toe into the vintage pool, sunglasses are a great place to start.
If you're thinking of wearing them with multiple outfit variations that span across the decades and up to 2015, then pick a pair that has a neutral color scheme, such as black or faux tortoise shell, as these will go with everything. For those who wish to jump into the deep end, purchase a pair in a standout color such as a cherry red or a mint green hue — often the more colorful they are, the stronger the vintage vibe they'll exude.
2. The Hourglass Belt
This lovely lady has created a classic hourglass figure by cinching in her waist with a contrasting belt. While no one should have to change their natural shape (considering all body shapes are beautiful), the hourglass figure was a popular look for pinup girls and vintage Hollywood starlets and it's an easy one to adopt. Just fasten your belt around the smallest part of your waist and you're done. Bonus points for using a belt that contrasts with your ensemble, as it will draw the eye to your waist almost immediately.
3. The Veiled Fascinator
Here is a beautiful fascinator with a pretty net veil. Fascinators are a must for special occasions, and the feminine veil will add a touch of vintage vibes. A veiled fascinator is sure to finish off your formal vintage outfit stylishly.
4. Pearls
Pearls are timeless and can add a sophisticated touch to any ensemble, old or new. Think of new ways to wear pearls like winding them casually around your wrist or wearing layers of pearls together.
5. Flower Hair Clips
Floral hair clips add a touch of whimsy to your outfit. They don't just need to be reserved for summer, either. In fall, think burnt orange blooms, and in winter go for white flowers. You can even add a little something extra like this lady with her cherries, but replace the cherries with faux autumn leaves in the fall, and in winter use holly and ivy inspired hair accessories.
6. Lace Gloves
Lace gloves are a fantastic accessory to wear to a pinup shoot. However, they needn't be bound to the boudoir. Pick shorter, wrist length gloves in lighter shades to accompany your vintage inspired daytime looks.
7. The Dazzling Choker
Do a Marilyn and prove that diamonds really are a girl's best friend. Although a diamond-encrusted choker may be a little on the expensive side, go for a thriftier costume jewelry version that is super sparkly. Instead of opting for a '90s style choker, ensure your piece is either thick and decadent like this one or elegant and delicate.
8. The Vintage Scarf
The vintage style scarf can be adapted to suit your outfit and it can be worn in a variety of ways. This style, for which the scarf is worn behind the quiff/roll at the front of the head, is a fun and playful rockabilly look. It'll pair well with modern outfits and will add a feminine touch to more tomboyish styles.
This classic style is a great way to add a flourish of femme fatale to your outfit as well. It gives the wearer an air of mystery and intrigue while also adding a ladylike appeal to an ensemble.
A vintage scarf can also be worn as a neckerchief, adding the finishing touch to your outfit and used in place of a necklace.
9. The Satchel
There are a ton of different satchels available on the market, so you can probably find your favorite color or a cute or quirky patterned satchel to suit your taste. Not only is the satchel a stylish autumnal piece, but it is also very useful in carrying around your necessities.
So put the va-va-voom back into your modern and retro outfits alike with vintage inspired accessories.
Images: Phoebe Waller/ Moonstone Photographic