I Tried The Jason Wu NYFW Beauty Look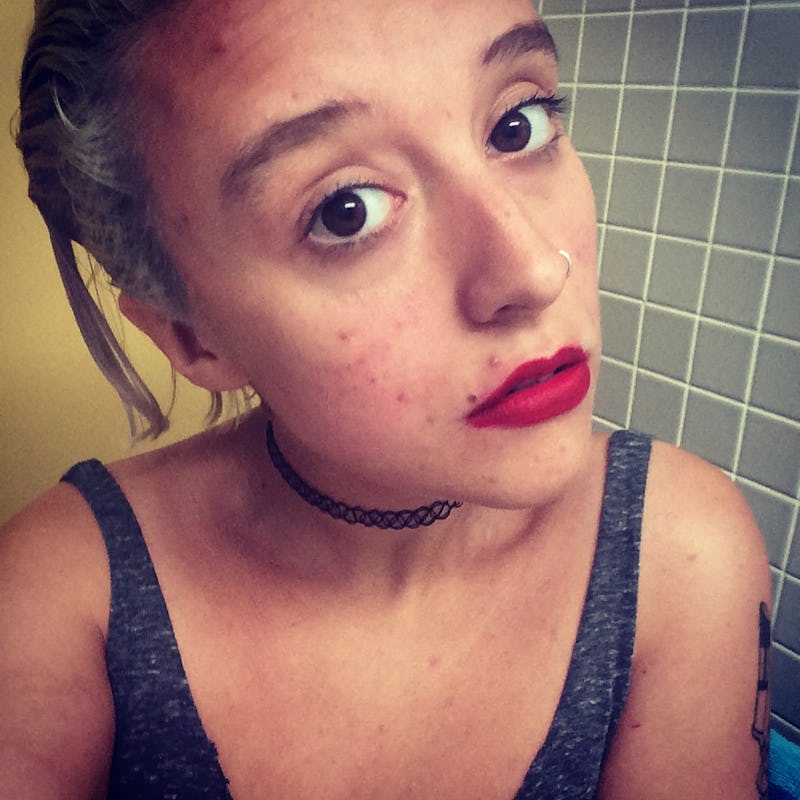 Of all the interesting looks at New York Fashion Week so far, Jason Wu's beauty look has been one of the most wearable of them all. The makeup, which consisted of crimson lips, bare skin, and slicked back hair, requires minimal skill and product. It's basically perfect for anyone on a budget, those who love to embrace their natural skin as much as they love to rock a red lip, and all the lazy folks of the world. As for anyone who loves to try new trends but is intimidated by runway looks, you have no reason to fear, either. Thus, I figured this was the perfect NYFW beauty look to try to recreate at home.
The man behind the face is Maybelline's Global Makeup Artist Yadim, who sought to "make a red lip modern" for the show, according to Fashionista. First and foremost, you start with fresh skin, which generally means zero makeup. With the exception of using concealer for blemishes, there was no face makeup involved in this look (not even eyebrows, guys). It's unbelievable to me how ethereal these models' faces appear without any cosmetics slathered on to enhance their features. Plus, I love an easy but striking beauty routine.
Let's move onto the main event, though: The lips. Yadim used a mixture of two Maybelline Vivid Matte Liquid Lipsticks (one blue-based and one orange-based). He also lined the lips with red pencil, exaggerating the fullness of the cupid's bow. The look was finished off by tapping some red dry pigment over the lips right before the models hit the runway, making for a beautifully textured velvet appearance.
If you ask me, the result was breathtaking, so I just had to try to imitate the look myself — with products that I already owned. With my minimal toolbox and funds, I embarked on the journey. Unsurprisingly, since the look is pretty simple, I had everything I needed ready to go (well, with the help of some lovely friends, too).
I borrowed my roommate's Cover Girl Cheekers Blush in Deep Rose, replacing the highly coveted Maybelline dry pigment Yadim used. A good friend of mine loaned me their Wet 'N Wild Color Icon Liner Lip Pencil in Berry Red to line my lips with (I have every color of lipstick in the rainbow, but no lip liner).
In my own makeup bag, I had UK brand Max Factor's Color Elixir Lipstick in Ruby Tuesday (an orange red) and Hourglass Opaque Rouge Liquid Lipstick in Icon (a blue-based shade). To provide a base for all this lip action I had going on, as well as counteract my friend's lip liner's super-drying properties, I started with a coat of Glossier's Coconut Balm Dotcom. But really, any moisturizing base will suffice. In the name of body positivity and general personal comfort, I decided not to use concealer to hide my blemishes.
I started the lip liner before the color itself (unlike Yadim), because that seemed way more logical to me. My first attempt at lining my lips, thanks to my inexperience, shaky hand, and intention of achieving an over-exaggerated mouth, was a huge failure. I looked clownish — like a child had done my makeup. However, I started over — this time going slowly and more carefully, while still trying to exaggerate the shape of my lips a bit. It actually turned out way better.
This first step reminded me of the popular trend from my younger years, when people would wear lip liner that was darker than the rest of their lip color. As you can tell from the above, it's not a good look. At least not one I personally gravitate towards.
My friend suggested I fill in the whole lip with the liner first, which would help the color last longer as well as provide a sturdy base for the rest of the products, so I did that as well.
Lip liner (sort of) perfected, I moved on to phase two of my transformation: The color. I wasn't sure how I could combine a lipstick with liquid lip color, so I decided to layer them and see how that looked. First, I applied my orange-red lipstick, careful not to ruin any of the lines I had just labored over. The color looked way bolder than it usually looks with the liner base, which I was pleased to see. I also realized that the hue was pretty matte-ified, just like the Jason Wu one. I wondered how the look would change after adding the liquid lipstick.
I took an intermission from my labor of love to create the sleek hair look. I don't have any hair oils, so instead of stealing my roommate's olive oil, I slicked back my short hair with plenty of water. When I looked in the mirror, I was excited to see how well my transformation was going.
Next, I added a coat of liquid lipstick. The darker shade and vivid pigment definitely made my lips stand out more. However, I lost all of my matte-ifying powers in those few swipes of color. I had mistaken the product for being matte when dry, but, as liquid lipsticks tend to do, it took ages to dry.
To finish, I gently patted the blush onto my lips, which helped restore some of the matte while also giving my lips that velvety texture that Yadim had achieved at the Jason Wu show.
I was pretty pleased with the results, and felt super badass in my new look. The bold lip and the slicked back hair made me feel like a super sexy creature — a bit reminiscent of Demi Lovato in "Cool For The Summer." Minus the lip liner mistakes, this look didn't take very long to achieve, and I might even have a new beauty routine. I'm definitely going to be investing in my own lip liner, as I've realized that I too can have amazingly vivid and contoured red lips if I just put that extra bit of effort in.
The fashions paired with this look on the runway were mostly muted, feminine styles, complete with buttons and ruffles. I personally felt cooler pairing this look with a fiercer ensemble, involving my leather jacket, my tattoo choker, and all black everything.
My look may not have come out looking exactly like the one the models rocked on the runway (we can't strive for perfection here). But this equal parts bold and natural style is accessible to anyone, and can work with any combination of beauty products you have at your disposal.
Images: Meg Zulch