You Won't See Sylar On 'Heroes Reborn'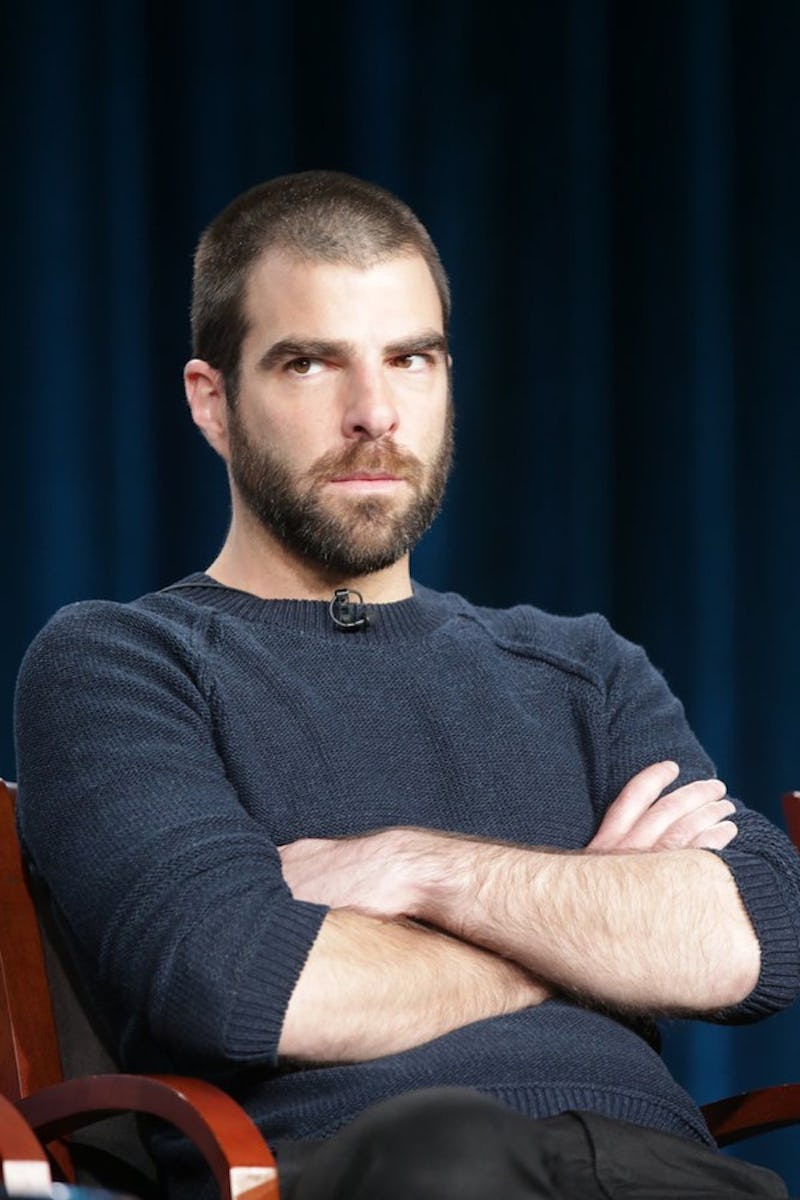 For the four years that Heroes aired on NBC, Zachary Quinto was recognizable for his role as the evil, turned good, turned bad, turned good Sylar. But now? Well, viewers are more likely to recognize him as Spock from the current Star Trek reboot or from his incredibly unlikable role as Ace on Girls. I was only 12-years-old when Heroes premiered in September 2006, so I actually think of Quinto as a villain from American Horror Story— where his luscious eyebrows made him appear sinister, but simultaneously made you a little envious. It was only in my prep for Heroes Reborn that I remembered I had seen those beautiful brows on TV before, when beauty trends were closer to slathering on the lip gloss instead of maintaining "eyebrows on fleek." Immediately I had to know if Quinto would appear on Heroes Reborn as Sylar, and I discovered that six former Heroes stars would be returning for the miniseries, while other notable actors would not. So where does Quinto fall?
Unfortunately, Quinto confirmed to BuzzFeed that he will not be coming back to Heroes after having a conversation about his role with creator Tim Kring. Despite loving his job as Sylar, he said, "I just felt like I didn't want to go back to it ... I just felt like I need to cultivate other outlets for myself." But if we won't see Quinto in the Heroes miniseries, where can we expect to see him instead?
Snowden
While Joseph Gordon Levitt will take on the main role of Edward Snowden, the film is littered with buzzworthy names including Nicolas Cage and Shailene Woodley. Quinto joins the biographical drama thriller as Glenn Greenwald, a former Guardian journalist and the author of No Place To Hide: Edward Snowden, the NSA and the U.S. Surveillance State. Fans eager to see Hollywood take another stab at portraying Snowden can expect the film to hit theaters in 2016.
Star Trek
Quinto is reviving his role as Spock once again for Star Trek Beyond, the third installment in the rebooted film franchise. The movie will be released in 2016 during the 50th anniversary of the Star Trek franchise. It will also be the first film since Leonard Nimoy passing away, the original Spock and close friend of Quinto. And even though Star Trek Beyond is still filming and Quinto is currently sporting half eyebrows, a Star Trek 4 has already been announced.
Hannibal
When Quinto suddenly showed up as a dead corpse on Hannibal, viewers were surprised to see the recognizable actor take on a such a minor TV role. He returned later in Season 3 to reprise his tiny role before the series finale of Hannibal in August. The entire third season is still available on NBC for any viewers hoping to catch a quick glimpse.
American Horror Story
There is a reason that I recognize Quinto from his role on American Horror Story. Even though he only stars in the first two seasons, his characters are diabolical, smart, and sassy all at once. And if Quinto's role pulls you in to the show, the crazy storylines and creative direction will keep you around. After all American Horror Story: Freak Show won five Creative Arts Emmys in September, giving it the second highest number of Emmy's behind only Game of Thrones. You can even plan a Saturday night Netflix marathon and watch the first three seasons.
So even though you might not catch Quinto as Sylar any time soon, there are plenty of other ways to admire those eyebrows. That is, until the the Heroes Reborn miniseries is renewed as its own full-length series, and Quinto comes back after all. We can dream, right?