Everyone Sorta Looks The Same On 'AHS: Hotel'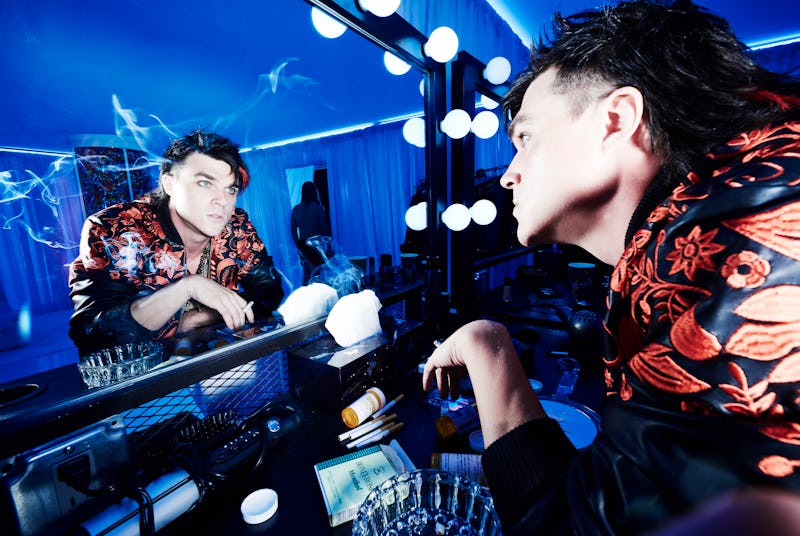 In last week's Season 5 premiere of Ryan Murphy's anthology series, viewers may have noticed a certain trend: Matt Bomer, Wes Bentley, Cheyenne Jackson, Max Greenfield... Forget Hotel ; this iteration of American Horror Story might as well be subtitled Tall, Dark & Handsome Edition. (Maybe not as concise but certainly just as accurate.) And, that's before cast members Finn Wittrock, Darren Criss, and Evan Peters — who has dyed his fair hair black this season — have even made an appearance! By the time all of their characters are introduced, there will be a rather large contingent of similar-looking men. Handsome, yes. But, remarkably similar. So, why does everyone on AHS: Hotel look the same? (Not that I'm complaining, of course.)
The quick, tongue-in-cheek conclusion to jump to is that creator Ryan Murphy obviously has a "type." When everyone you cast on your show is not only extremely attractive, but extremely attractive in a very specific way, that's an easy assumption to make. But, he insists that's not the case. "I love the theory that they're all my type," Murphy said in an interview with Entertainment Weekly after the premiere. "When I read that, I was like that's hilarious. Yes, I completely cast the show with all men that are my sexual prototype," he joked.
So, what's his explanation, then? Was there a conscious decision behind the casting or was it all simply a remarkable coincidence? "Of course there's a reason!" Murphy insisted. "It's established. Matt Bomer even says it in the second episode. There is a reason for [The Countess'] insanity that's very deeply wounded and her core wound. Why are all these men who have a very similar aesthetic around her? Why is she the only platinum blonde? I just love reading people's theories on it."
Given that Matt Bomer is playing the lover of Lady Gaga's character, it's clear that Countess Elizabeth has a predilection for men with dark features, enviable physiques, and "jawlines for days." In fact, her overwhelming desire for this specific type appears to be capable of drawing even more of them to the Hotel Cortez, like flies to honey. In the span of one episode, Wes Bentley's Detective John Lowe had checked in, Cheyenne Jackson's Will Drake had bought the hotel, and Max Greenfield's Gabriel had gotten more than he bargained for in one of the Cortez's rooms.
On Wednesday we'll meet Finn Wittrock's male model Tristan as well as Evan Peters' Mr. March, the homicidal founder of the Hotel Cortez; and in Episode 5, "Room Service," Darren Criss's hipster Justin will pay the Cortez a visit. What is it about these men that has The Countess salivating? The obvious guess is that all of them look like someone from Elizabeth's past. Perhaps her very first lover, who broke her heart centuries ago? Perhaps her father, in some weird reverse-Oedipal-complex situation? Or perhaps her "creator," the man who gave her the curse/gift of vampirism in the first place?
If Lady Gaga's character is loosely based on the real-life tale of Hungarian countess Elizabeth Bathory, the most prolific serial killer in history who liked to bathe in the blood of her victims, then will her maker be based on a similar historical figure-turned-legend? Perhaps Vlad the Impaler, aka Count Vlad III Dracula? By the way, Ryan Murphy... You know who else would fit perfectly in your cadre of tall, dark, and handsome stars? This guy. Maybe it's not too late to cast Zachary Quinto in a flashback cameo as Dracula himself! After all, AHS: Hotel has already had one reference to the infamous Count: in the Countess's silent introductory sequence, she and Donovan were seen attending an outdoor screening of Nosferatu, the 1922 German silent film adaptation of Bram Stoker's novel.
Tune in to American Horror Story: Hotel's second episode, "Chutes And Ladders," at 10:00 p.m. ET on FX this Wednesday to see if we learn the truth behind The Countess's tall, dark, and handsome fetish.
Images: Frank Ockenfels/FX; totalariana/tumblr; Giphy