7 Ways To Wear A Choker This Halloween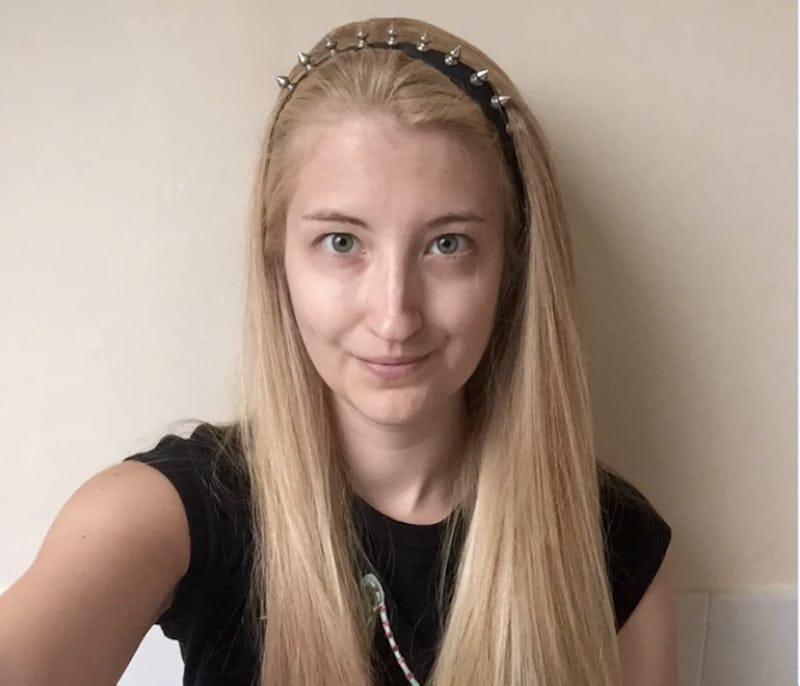 There are times when you feel you have nothing to wear, but you don't have the funds to invest in new clothes or accessories. This is where styling swoops in to your rescue. In the spirit of Halloween, I wanted to share alternative ways to wear a choker. The particular choker in question is one which you may still have from your angsty youth: the spiked or studded choker. This style was seen on many '90s female icons such as Nancy Downs from The Craft. Plus I can totally imagine a range of emo, goth, and grunge babes wearing one such as Daria, Enid from Ghost World , and Avril Lavigne.
You might not be able to afford a new outfit for a Halloween party or an upcoming night out due to the fact you're saving for an expensive "adult" purchase or maybe you just blew all your money on Chipotle. So you need to take a leaf out of your grandmother's book and get creative. Our grandparents knew how to make do and mend probably better than we ever will, as we are members of a throwaway generation. Even if you don't have a studded choker, you can pick one up relatively cheaply and use it to revamp your current wardrobe, so there's no need to keep spending money on clothes you'll only wear once.
So here's how to style your studded choker in seven ways so you can be a goth girl all year round.
1. The Classic Collar
To begin, I wanted to demonstrate the "classic" look as worn by alternative girls or fans of gothic fashion. The studded or spiked choker must be worn fairly tightly (make sure you can still breathe and swallow comfortably, of course) and with a top which shows it off. I tried it with a shirt beforehand but the collar was too close to the choker and the edgy effect was lost. Try juxtaposing this gothic look with a feminine ensemble such as a pastel lace dress or a floating chiffon tunic to make it really stand out.
2. The Spiked Bracelet
Take a leaf out of Lavigne's book and copy her retro emo fashion style by wearing your choker wrapped around your wrist. This style mimics the spiked cuffs of our youth which Avril and many other emo artists and pop punk bands, such as Good Charlotte and Blink-182 used to wear. IMO flaunting it on your wrist as opposed to your neck softens the gothic vibe and it'll give your outfit more of a punk or grunge feel.
3. The Punk Arm Cuff
To me this style just screams of the rebellious Tank Girl, who is renowned for wearing masculine clothes and multiple accessories in fun ways. Her most memorable piece of clothing is probably her bazooka bra. This style reminded me of a punk inspired tourniquet and I could imagine Tank Girl tearing off her spiked choker and using it on her arm for such a purpose. Because of the pairing with my cherry T-shirt, '80s girl band The Runaways sprang to mind, who also had their own unique style which was a mashup of glam rock, punk, and biker. This is definitely a style for all the badass babes out there.
4. The Gothic Garter
This style is my personal favorite and I love how it blurs the lines between sexy, feminine, and gothic. I have to admit that this wasn't actually my idea; I had seen the models of Black Milk wearing their spiked chokers around their thighs and I just had to try it to see what it looked like IRL. I must say I was pretty impressed, so much so that I am going to wear my choker on my thigh this evening at a rock concert.
5. The Bondage Hairband
Although I felt a little like a bondage mistress in this style, I liked how the spikes contrasted with my hair worn down in a girly fashion. It reminded me of Alice in Wonderland as an alternative girl and I think this would be a super look for pastel goths. My choker wasn't long enough to fasten around my head, so I used bobby pins to secure the ends behind my ears. I then brought my hair forward to cover my sneaky fastenings.
6. The Glamorously Gothic Hair Tie
I was pleasantly surprised at how simple this style was — as I couldn't see the top of my head very well it involved a lot of feeling my way around and a bit of guesswork, but it was worth it for the end result. To achieve this look I tied my hair in a high pony tail using a regular hair tie. Then I wrapped my choker around my hair tie and fastened it close to my head. If you have a friend or partner who can help you with this, it'll save you time and effort. I was really happy about how stable it was and I loved the overall effect. Although it reminded me a little of heavy metal band Slipknot (which kind of scare me), I enjoyed the dark Tim Burton vibes this look gave off.
7. The Angst-Ridden Anklet
To achieve this final look I literally wrapped my choker around my upper ankle, and I secured it by looping the buckle around one of the spikes. My ankle was too small for the choker to fasten properly so I remedied this by overlapping the buckle-less end underneath the other layers and then hoisting the buckle over a spike to keep it tight. I love how eerily delicate this style is and I imagine this would be an accessory that Jenny Humphrey of Gossip Girl would have worn in her goth stage.
Fashion is supposed to be experimented with and it's interesting how many different looks you can get out of one accessory. So get experimental and discover your favorite styles.
Images: Phoebe Waller