9 Emo Styles That Are Still Fashionable Today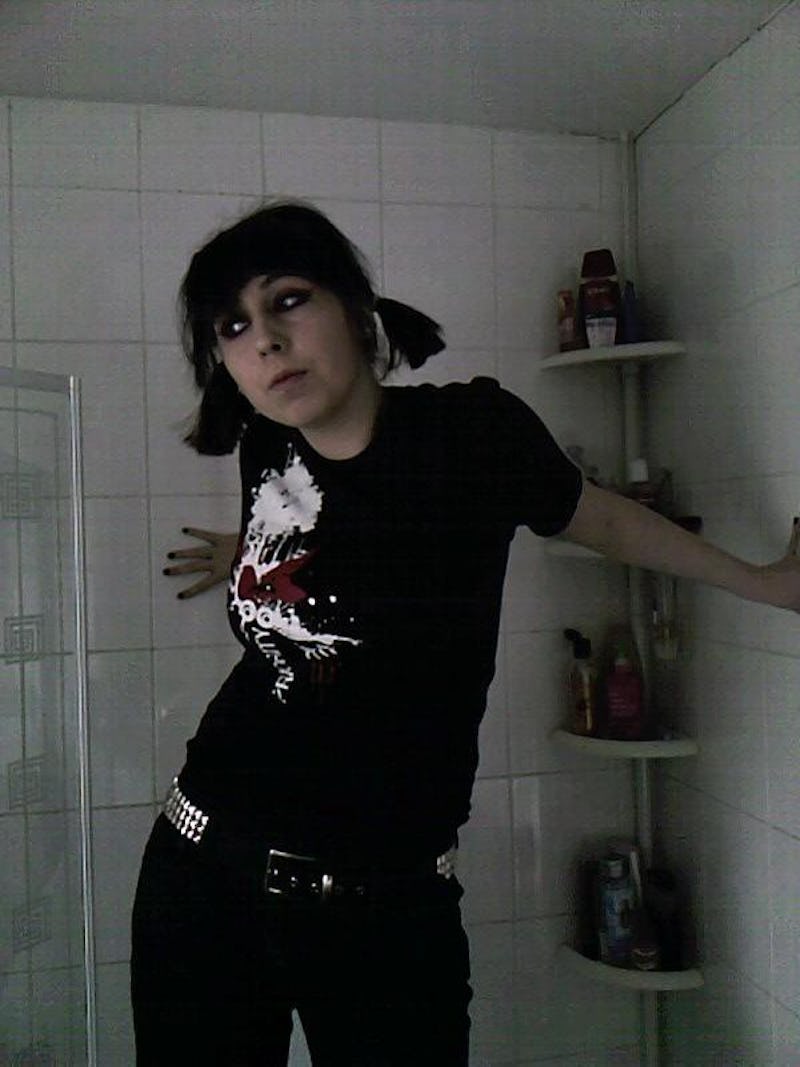 There seems to be a whole lot of nostalgia surrounding being emo on the Internet as of late, with countless lists about emo fashions every emotional-kid definitely owned floating around cyberspace. Seriously, they make me almost miss having an emo uniform to put on every day. Although it's almost embarrassing to admit that you were an emo kid, enough time has passed to look back fondly on the mosh pits and the angel bites without too much regret. Personally, I laugh with good humor about my poor sartorial choices because without them, I wouldn't be the fabulously tacky queen I am today.
That being said, do you ever wonder if in 10 years, emo will be a throwback trend in Topshop? Maybe we'll all be wandering around as suave 30-somethings while teenagers rock raccoon extensions and make our heads explode. I often wonder how my mom copes every time there's a fashion turnaround and I'm wearing exactly what she sported in the '80s (hello mom jeans).
Some stylistic emo choices definitely haven't stood the test of time, of course — rubber bracelets and studded belts, I do not miss you — but others have made it into our daily lives. These days, most of us don't even consider the emo connotations of our outfits. Yet emo styles remain a simple ways to remain effortlessly cool. Here are just nine looks most of us are still putting on our bodies today.
1. Skinny Jeans
Although flares are on their way back this year with the return of '70s style and the resurrection of mom jeans is going strong, wearing anything other than skinny jeans was kind of a fashion no-no from 2009 until now.
2. Converse
Converse used to have to be dirty and torn to be cool. Now, your high or low-tops must be pristine and white. IMO, Converse have never stopped being cool, and us former emos have been proving as such since 2005.
3. Winged Eyeliner
Winged eyeliner, although a tricky life skill to learn, is invaluable once you know how to do it. Having a few years of an emo head start, us former emo kids were ahead of everyone else with this trend.
4. Tattoos
Tattoos definitely aren't alternative anymore, considering one in five Americans now have them, according to The Harris Poll. Since they're literally permanent, I feel like this trend is one that's going to last.
5. Big Hair
The higher the hair, the closer to God! These days, the styles are less backcombed and more bouncy, but the message of remains the same.
6. Vans
Tyler, the Creator's Vans collaboration dropped in Aug. 2015, firmly cementing Vans in the arena of still-cool.
7. Band T-Shirts
Although I used to have about 20 My Chemical Romance tees, my arsenal of tops is a bit more varied now. In the current world of band T-shirts, the more obscure the better. If that's not an emo mantra, I don't know what is.
8. Nose Rings
Excessive facial jewelry was totally emo, and although most of the lip piercing trends (angel bites, what were we thinking?) have passed, many of the nose ones have stayed. The only lesson you need from Edginess 101: Get a septum piercing.
9. Backpacks
We might have moved from Dickies to Kanken, but the sophisticated backpack is here to stay. They're practical, stylish, and perfect for carrying around your extra black eyeliner and a second pair of Converse.
See: We're all a little emo at heart.
Images: Georgina Jones