A Guide To Who's Who On 'Fargo' Season 2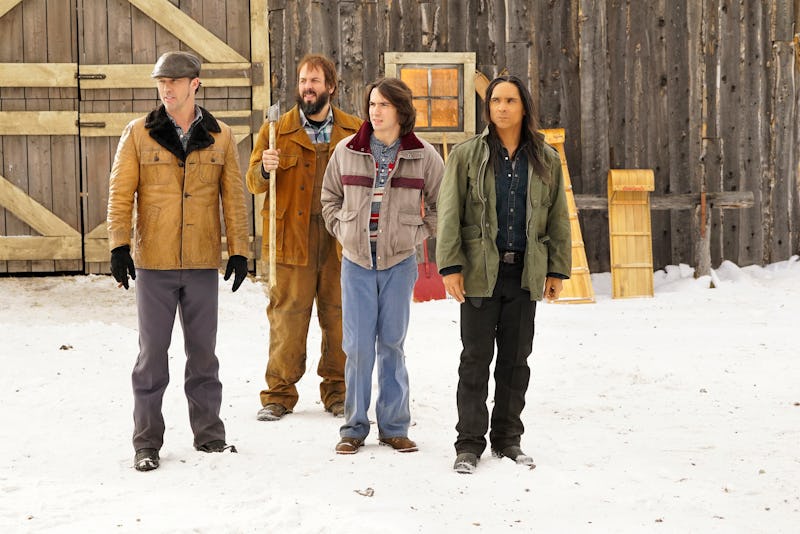 With flashy stars like Billy Bob Thornton, Matthew McConaughey, and Jessica Lange signing onto anthology series left and right these days — and taking home piles of Emmy Awards — it's easy to get distracted by the glitz and glamor of the movie stars in shows like Fargo, True Detective, and American Horror Story. But these programs are also stuffed to the gills with prolific actors who have been putting in hard work on the small screen for years; the kind of actor whose face you recognize but who you're never quite able to put a name to. The Fargo Season 2 cast is no exception in that regard. With big name stars like Kirsten Dunst, Patrick Wilson, Jean Smart, and Ted Danson stealing most of the focus, it's sometimes easy to forget that Fargo is actually an ensemble show stuffed to the gills with talented — if slightly less famous — actors.
The cast of Season 1 set the bar high, with Bob Odenkirk (Better Call Saul), Kate Walsh (Private Practice), Glenn Howerton (It's Always Sunny In Philadelphia), Keith Carradine (Deadwood), Keegan-Michael Key and Jordan Peele (Key & Peele) putting in supporting performances alongside Thornton, Martin Freeman, and Colin Hanks. Since Season 2 rewinds the clock 27 years into the past, none of those actors are back for another go-'round... but showrunner Noah Hawley found just as many terrific character actors to take their place.
Here are nine of Fargo Season 2's supporting actors whose names you should definitely know:
1. Adam Arkin
Who he plays: Hamish Broker, the shadowy manager of the Kansas City crime syndicate who dispatches his minions to absorb the Gerhardt family's business at the end of the Season 2 premiere.
What you know him from: Main character Dr. Aaron Shutt on all six seasons of CBS' Chicago Hope; recurring roles on the likes of Northern Exposure, The West Wing, Sons Of Anarchy, Justified, Masters Of Sex; also the son of Oscar-winner Alan Arkin (Little Miss Sunshine).
2. Ann Cusack
Who she plays: The judge who is murdered by Rye Gerhardt at the Waffle Hut, setting off Season 2's bloody chain of events.
What you know her from: At least one episode from pretty much all of your favorite shows, including Ally McBeal, Frasier, Six Feet Under, Grey's Anatomy, Bones, Private Practice, Scandal, and Castle. Oh, and she's the sister of fellow actors John and Joan Cusack. (You know, the boom box guy and the recent Emmy winner.)
3. Jeffrey Donovan
Who he plays: Dodd Gerhardt, the eldest son of the Gerhardt family, itching to take over his father's position as mob boss.
What you know him from: Although he's practically unrecognizable with that atrocious accent and equally atrocious haircut, Donovan is hot off the success of seven seasons as former Special Forces soldier Michael Westen on USA's Burn Notice. (On which he starred with his future Fargo co-star Bruce Campbell, who will be appearing later this season as presidential hopeful Ronald Reagan.)
4. Brad Garrett
Who he plays: Joe Bulo, the underling dispatched from Kansas City by Hamish to complete the absorption of the Gerhardt family's business.
What you know him from: Garrett was nominated for five Emmys — and won three of them! — for playing Ray's older brother Robert on the CBS sitcom Everybody Loves Raymond. His film work has included voicing several characters in animated films like Ratatouille (as Remy's idol Auguste Gusteau) and Tangled (as Hook-Hand Thug).
5. Michael Hogan
Who he plays: Otto Gerhardt, the head of the Gerhardt family, whose sudden stroke sets off a power play between his wife and three sons.
What you know him from: Viewers may never guess it, given the size of Otto's brief role, but he's played an actor many probably know very well: Hogan, most famous for his role as Colonel Saul Tigh on Battlestar Galactica. (Maybe the lack of an eyepatch threw you off?)
6. Elizabeth Marvel
Who she plays: Constance Heck, the owner of the beauty parlor where Peggy works — as well as Peggy's not-so-secret admirer.
What you know her from: Netflix fans will likely recognize Marvel as the woman behind House Of Card's Heather Dunbar — even if that cool politician is a far cry from Marvel's current role as a chatty Minnesotan. On the big screen, the actress has worked with a large array of famous filmmakers, including Charlie Kaufman (Synecdoche, New York), the Coen Brothers (Burn After Reading, True Grit), and Steven Spielberg (Lincoln).
7. Zahn McClarnon
Who he plays: Hanzee Dent, Dodd's right-hand-man and violent enforcer for the Gerhardt family.
What you know him from: Although McClarnon's highest-profile TV gig to date was a recurring role on A&E's (and then Netflix's) Longmire, you may also have seen him in the likes of Dr. Quinn, Medicine Woman, Ringer, and The Red Road.
8. Angus Sampson
Who he plays: Bear Gerhardt, the middle son of the Gerhardt family, single father to a son with cerebral palsy — and something of a momma's boy.
What you know him from: Unlike most of his Fargo co-stars, Sampson is probably most well-known for his work on film. He played paranormal investigator Tucker in all three Insidious movies, and he appeared in this summer's action hit Mad Max: Fury Road as The Organic Mechanic.
9. Bokeem Woodbine
Who he plays: Mike Milligan, ruthless enforcer for the Kansas City mafia, capable of intimidating his targets with just some calmly spoken words.
What you know him from: Woodbine straddles the worlds of television and film, having played recurring roles on the likes of Saving Grace and Southland, and supporting parts in the likes of The Rock, Ray, and Total Recall.
See all these terrific performers in action on the third episode of Fargo Season 2, "The Myth Of Sisyphus," airing this Monday night.
Images: Chris Large (6), Mathias Clamer (3)/FX